Supplied by Jenny Thompson, General Manager, Home Farm Café
When in Devon, do as the Devonians do! And this, without doubt, means clotted cream lavishly spread onto your warm scone FIRST, followed by a dollop of silky smooth strawberry jam.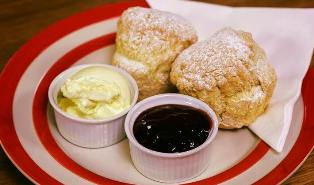 Devon Cream Teas are an essential treat when you are visiting Devon and we find the locals seem to be pretty happy indulging too. Here at Home Farm Café, our Devon cream teas are a best seller and sometimes our team of chefs can't bake the scones quick enough!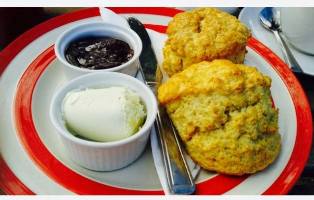 Each day starts with a fresh batch of fruit, plain and cheese scones coming from the oven filling the café with that lovely just baked smell. We take the sweet scones warm from the oven and serve them with lashings of local clotted cream from Riverford Organic Dairy in Staverton and lovingly made strawberry jam from Hogs Bottom Garden Delights in Lifton.
Our savoury cheese scones offer an alternative to those without such a naughty side! Aptly called a 'cheese tea', we serve this indulgence with mature West Country Cheddar and our own onion marmalade.
An eating pleasure such as a Devonshire Cream Tea simply must include a fine cuppa to drink alongside it. Always from a tea pot and always loose-leaf for that extra quality brew. We have the Devon Tea Company in Newton Abbot to thank for our fine selection of loose leaf teas. Most people take their Cream Tea with English Breakfast tea, but hey, we won't tell anyone if you want to break the rules and mix it up with some Earl Grey, Lapsang Souchong or even a coffee. Just remember the one rule you cannot break – it's cream first then jam!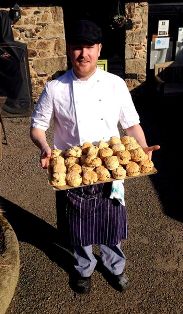 We'd love to see you in our sunny courtyard over the summer to enjoy one of our delightful Cream Teas, but if you can't make it here's a recipe from our Head Chef Tom for a batch of fruit scones to bake at home.
Home Farm Café Fruit Scones
Ingredients
Method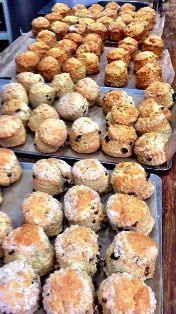 Heat your oven to 190°C and lightly grease a baking sheet.
Mix together the flour and salt and rub in the butter until it resembles bread crumbs.
Stir through the sultanas and sugar.
Add a beaten egg and use the milk, a little a time, to bring the mix together into a soft dough.
Put your mix onto a floured work surface and knead very lightly.
Pat out dough to 2cm thick and use a 5cm cutter to stamp out circles to place on your lightly greased baking sheet.
Brush the tops of the scones with a little more milk.
Bake for 12-15 minutes until well risen and golden.
Cool on a wire rack and tuck in!
Related
0 Comments