Guest Blog Post - Helen Scholes
Sometimes it's hard to believe I've lived in Devon for as long as I lived in London. I still consider myself a recent blow-in from the Big Smoke but, if I do the math, I've now been here for well over a decade.
The South West has always had a special place in my heart. Much of my childhood was spent Cornwall and my Mum lived in Somerset. But truth be told, until I met my now-husband and relocated, Devon was largely somewhere I passed through on the train to somewhere else.
Of course, 'visiting' and 'living' are two completely different things – all the places you eagerly go to on a weekend away are easy to forget about during day to day living. However, when time permits and the stars align, it's great to play at being a tourist in the place you live.
The South West Coast Path provides endless opportunities for days out: everything from an easy stroll to a full-on hike. One of my favourite sections is a circular route starting and finishing at Hope Cove in the South Hams. The walk takes you along the coast, across the fields and down country lanes in a meandering, scenic loop. We walk it in a couple of hours at a relaxed pace and then reward ourselves with a pit stop at The Cove Café Bar.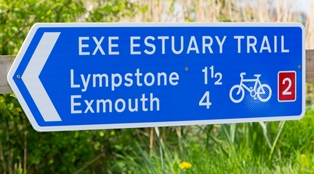 Further along the coast is the Exe Cycle Trail linking Exmouth, Lympstone, Exton, Topsham, Exeter, Powderham, Starcross and Dawlish. Still a work in progress, it is mostly flat and largely off road and a great way to explore the Exe Estuary. It's also an excuse to seek out and enjoy some of Devon's finest food and drink at places such as Ruby Kitchen (try the 'Faloumi', veggie burgers don't get any better), Darts Farm (voted 'Best Farm Shop in the UK') and Double Locks (fantastic range of local ales and ciders).
Finally, I must mention Exeter, the place I now call home. Here I live 'south of the river' (well, technically west), something I never did in London. Being this end of town means it's an easy stroll to Exeter Quayside, a hitherto underutilised part of the city that's now attracting lots of attention. Stand out destinations are Dr Ink's Curiosities for uniquely exquisite cocktails and, for an initial run of 16 weeks this summer, The Boatshed. This is The Bike Shed Theatre's audacious venture to develop an original quayside warehouses into a space housing 'theatre, visual art, live music, comedy, cocktails, ice-cream and the best mini golf course this side of Marsh Barton.
So thank you husband for living in such a fabulous place – it helped make the decision to follow my heart an absolute no brainer!
Helen Scholes is Marketing Manager at Stagecoach South West
Related
0 Comments