Guest Blog Post - Sharon Murdoch
It's 8.30am and my morning commute commences driving along the coastal road, with Slapton Ley on my left and the waves crashing on my right, weaving through the Devon lanes. My journey ends with the beautiful River Dart on my doorstep when I arrive to work at The Dart Marina Hotel & Spa – it certainly beats the tube!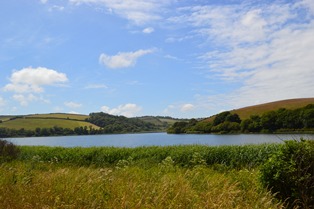 The South Hams is such a special place to live with magnificent moors nearby to have adventures on and so many blue flag beaches on my doorstep to splash in the sea, eat ice-creams and watch the sunset.
I haven't always lived in Devon, I grew up in a city 'up north' and moved to London at the tender age of 19 to begin my career in Hotel Management, such a vibrant city.
My partner grew up in Devon so we visited his family lots of times over many years and it always felt such a special, relaxing and welcoming place to be.
We decided to move here quite a few years ago as we wanted our children to grow up with the beach as their adventure – it was the best decision we ever made.
There is so many things to do for people of all ages, from the fantastic National Trust properties to the coastal walks and family activities to visit. For us the simplicity of picnics on the beach and walks in the woods with our dog are the most magical.
We have an influx of visitors to the South Hams in the summer months and I can totally understand why. Being able to live and breath it every day is the best feeling in the world.
Sharon Murdoch is Sales & Marketing Executive at the Dart Marina Hotel & Spa in Dartmouth.
Related
0 Comments