Guest Blog Post - The Only Girl in the House
Hi, I'm Jess aka The Only Girl in the House - I blog about our life as a blended family of 7; all the chaos, fun and struggles of living with 5 boys sprinkled with lashings of honesty and a dash of humour. After the long slog of summer holidays, we'd exhausted every activity option in a 50 miles radius, patience had run thin and "I'm bored" was even being muttered in the boys' sleep! So, we challenged Visit South Devon to keep our brood busy for 5 days and ensure the tales recanted to their new teachers in September were ones of wholesome family fun and not of the 8-hour Xbox-athon they had been in training for for 5 weeks!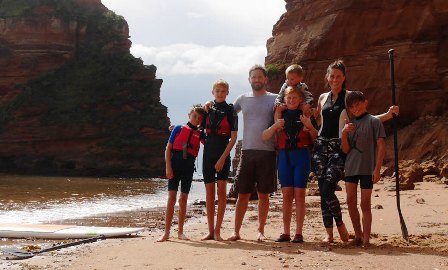 Where We Stayed
We stayed at Ladram Bay - a family owned, 5-star holiday park on the South Devon coast with a private beach, indoor swimming pool, climbing wall, adventure golf, a bevy of activities to keep even our rambunctious crew busy and a plethora of accommodation options from luxury lodges (equipped with hot tubs and games consoles) to glamping pods. Ladram Bay made the perfect base for our first trip to South Devon and we'd most definitely stay again when heading back to the Jurassic coast.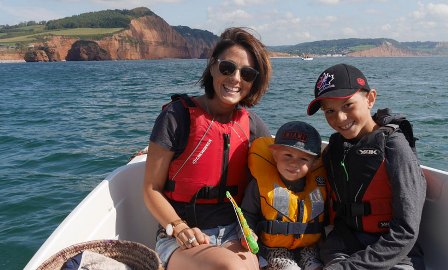 What We'd Recommend
With only 4 full days, a huge amount to do on our Ladram Bay-doorstep and the last days of warm summer heat calling us down to the beach we took full advantage of the paddle boarding, kayaking and boats on offer at our holiday park. Our favourite days were spent on the beautiful beach at Ladram, unsuccessfully fishing and rock pooling. But panic not, you don't have to be staying at Ladram Bay to take advantage of the facilities – you can park a car for £10 a day and stroll down to the beach, grab a bite in the Beach Shack and even stop off at "Crab Man" for a fresh catch!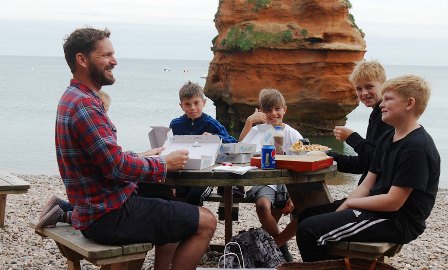 Top Tip: Hire the paddle boards from the Beach Shack (about £6 per half hour) – you don't have to have any experience, trust me, it's a doddle; then head around the big rock stacks to the left to a explore the hidden caves and secluded, sandy beach.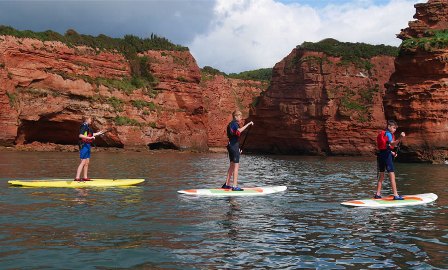 Crealy Adventure Park
We spent a day at the awesome Crealy Adventure Park – set in 100 acres with over 60 rides and attractions and 200+ zoo and farm animals – there was truly something for everyone in our clan. While the older boys got their thrill fill on the likes of Twister and the Vortex, Cas and I went on a Jurassic Park-like adventure on the Dino Jeeps; then we all came together for a good ol' chuckle at the High Dive Penguins show. After the log flume, the water blasters and the soak zone – we may have been a little soggy, but our faces ached from all the smiling and laughing of the day!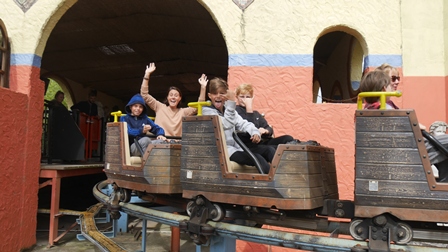 Top Tip: To avoid disappointing the little ones, measure them in advance to prepare them for which rides they'll be allowed on. There was plenty for our 2.5-year-old to get stuck into as he was 92cm, but he would have loved to have learnt to drive at the Junior Driving School. The height restrictions are 92cm and 1.2m.
Top Tip 2: Have to leave early? Started raining? Kids too tired to keep going? Don't worry, when you buy a day ticket for Crealy Adventure park, you get the following 6 days free too!! Just make sure you validate your ticket at the ticket desk before leaving.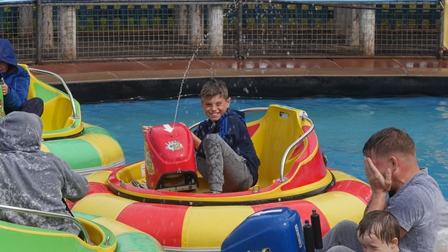 Exe Adventures
On our last day in South Devon and just before loading back into the car and heading home, we decided to go for it on the adventure scale. We met with Sam from Exe Adventures – a South Devon based water sports adventure company, for a "social paddle" on the River Exe. In a small group, Sam gave us some guidelines and tuition before we all set off down the River Exe on paddle boards, kayaks and canoes. We paddled down to the beautiful Turf Hotel (only accessible by footpath or river!) where we stopped for some great grub while the kids had a run around and played in the lock, then paddled back up the river. Sam's patience, knowledge and humour know no bounds (or at least not ones that were within our 5 boys reach!), so he's the right man for family trips and beginners.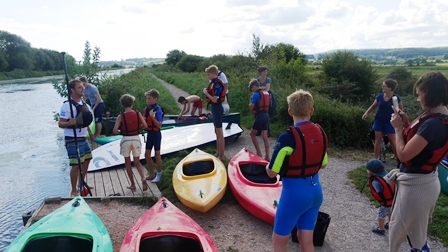 Top Tip: Not sure where you're going or how to get there? Don't worry, as Sam will collect you and your crew in his 15-seater minibus and drive you to your adventure (and back to your door again!)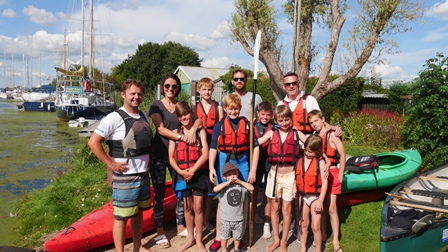 What We Don't Want to Miss Next Time
We were so surprised with just how much the whole family loved our late summer trip to South Devon, so much so that the kids (and us grownups) have started planning our 2018 trip. But is 5 days enough? Not for us! So next time we'll be sure to cram in trips to these places too… Bicton Park Gardens, Seaton Jurassic and Bantham Beach.
To see our full review of Ladram Bay Holiday Park you can head HERE. And if you have any questions about our South Devon stay feel free to comment or pop me a message HERE.
Visit South Devon would like to thank Ladram Bay, Crealy Adventure Park and Exe Adventures for helping us in welcoming Jess and her family to South Devon.
Other Posts You Might Like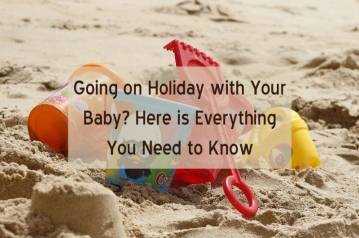 Related
0 Comments