Guest Blog Post - Jim Lewis-Clarke
Of Teignmouth, Keats wrote to his friend, 'Here all summer I could stay.'
I am one of the lucky ones who get to call South Devon my home - my perpetual summer holiday.
It's odd how we natives often fail to appreciate the natural wonders around us until someone comes from outside to point it out. I suppose familiarity breeds contempt and all that. I noticed the same when I collected some lovely coloured pebbles from the shoreline at Slapton Sands recently. They dulled in the hand as soon as I had collected them so I left them there to shine unseen.
I sometimes took for granted the proximity of sea and high moorland and the diverse and poetic beauty of this place. If but a dim reflection of heaven it is, then I can't wait to book my ticket.
I have often asked myself the question,'If I were a holidaymaker in South Devon, where would I go?'
From the ever-changing light at Teignmouth back beach looking towards Shaldon, to the dramatic and rugged coastline between Bolt Head and Bolt Tail, every place has its own treasures and pleasures.
As a boy I holidayed at South Sands in Salcombe and fished for gobies in the clear rock pools. As a teenager I sunbathed and surfed at Bantham and paddled my surf ski to Burgh Island, where the sun still shines every day in my memory.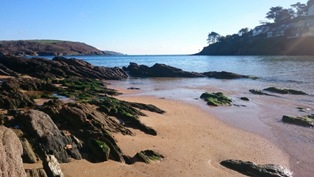 These places are etched into my consciousness; my own unique photograph of the past.
I still love the iconic drive along Slapton line, between the Ley and Sea, towards the crystal clear waters of Blackpool sands. This year a visiting humpback whale entertained us, feeding on the shoals close to shore.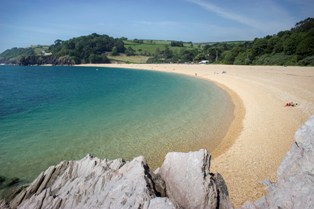 Now I am older and have children of my own, I look on all these places with new eyes and renewed appreciation. It seems that each place I visit is my new favourite place to be. Each has unique beauty and new memories to be made.
My latest, favourite place is Babbacombe Beach - a quiet jade gem, hidden beneath the cliffs of Babbacombe Downs and the bustle of Torquay. My wife, booked a night in a beach hut at the Cary Arms: An extravagant celebration to mark our anniversary.
On arrival we were generously upgraded to one of the large cabins. We sat on the balcony, completely awestricken by the tranquil beauty.
The sea gently washed against the clitter of craggy rock below; a sea-song lullaby to my mind. I felt the crease above the bridge of my nose begin to relax and smooth like the oil slick sea.
Keats might have been thinking about this place when he wrote wrote;
'Often 'tis in such gentle temper found,
That scarcely will the very smallest shell
Be moved for days from where it sometime fell.'
I stared vacantly over the smoked glass table of the sea to the distant headlands that stretched out like groynes to Portland Bill where haze finally obscured them. Prehistoric, red cliffs edged the green and yellow patchwork of ruffled eiderdown - the comforting Devon hills. Low, dark cloud accentuated the colours as light covered the surface and reflected as a bedside lamp.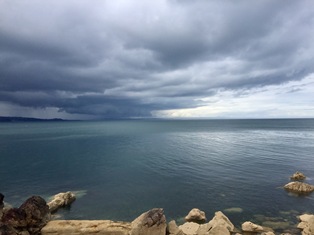 Now and again the surface bubbled and shimmered with shoals of mackerel as fishermen cast from the little pier. A seagull rested on a rocky ledge, dressed for dinner in splendid starch white shirt. A pair of seals performed, bobbing dog-faced in expectation of a free meal.
We sat on the balcony again for breakfast, dressed in crisp white waffled robes, eager to catch the matinee performance. Sure enough the seals were here again; oil black animation to this serene watercolour canvas. We walked onto the pier and spoke to the fisherman and his wife.
"The seal took one off my line just now. It was a keeper too. Last night he came up the steps and took a whole bucket of fish."
We watched the graceful beasts glide effortlessly through the water and then rest and yawn sleepily at the foot of the pier steps.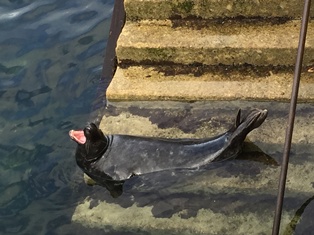 "Isn't it beautiful here," I said, looking to the horizon one last time; "If only we could stay another day."
Piece written by Jim Lewis-Clarke. 'After recent illness I have found a renewed love of life, nature and travel. Nearly 30 years a police officer, I'm learning to love people again too.' You can visit his blog at Jl-c.net.
Related
0 Comments