Guest Blog Post - Dean Lissaman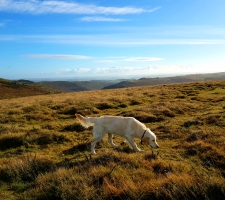 Dean Lissaman is a dog owner and travel blogger living in Devon, you can read more of his adventures at www.lifeoutthehive.com
South Devon is known to be one of the most beautiful parts of the country and with visitor numbers rising every year it's proven to be one popular destination. Winter travel is not always the first holiday people think about but South Devon has so much to offer during Christmas and winter. For tourists visiting the region with their dogs or if you're a new owner, it can be a bit of a mine field when heading out and about with your dog, so I've decided to share some of my own experiences and show you how dog friendly Devon can be. Visiting South Devon in the winter is a great experience and when you have a dog with you it becomes even more of an adventure, because rain or shine they will love it.
Dartmoor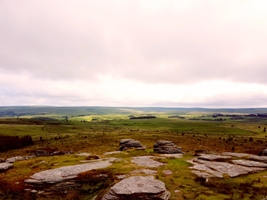 Dartmoor is a place of mystery and with miles of historic landscape to explore; it has to be one of the best places to take your dog. During the winter you can experience clear cool air, tors dusted with snow and icy landscapes stretching as far as the eye can see. If you want more of a woodland walk, I have to recommend Bellever Forest as it has everything you and your dog could want. With an abundance of walking trails, you can stroll through the huge pine forests and trek all the way to the top of Bellever Tor, casting your eye on some unbelievable views, look out for the Christmas trees growing in the forest. Another one of my firm favourites when exploring Dartmoor is Venford Reservoir, which is placed centrally amongst giant hillsides and surrounded by trees. If you park in the higher car park located on the Hexworthy side of the bridge, there are some great walks leading away from the reservoir. These walks trail off onto the open moorland with plenty of new smells and places to explore for your dog. Dartmoor is the perfect place to take your dog and the best advice I can give you would be to have an adventure, that is what Dartmoor is meant for. Remember to take your camera as Dartmoor in the winter time comes alive with colour, but wrap up warm as the temperature is very cold.
Beaches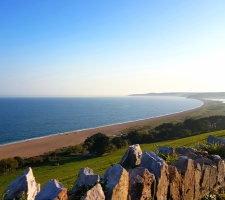 South Devon is home to some fantastic beaches and with so many to choose from I'm going to give you some of my favourites. When it comes to "Dog Friendly" most beaches allow dogs in the winter time, this makes the winter the best time to visit Devon. Another great reason to visit Devon's beaches in the winter is the fact that during the summer you are overrun by crowds and as you will probably know when there's lots of other things going on, your dog may struggle to refrain from investigating. Winter time allows you and your dog to experience great open beaches with lots of like minded people and furry friends to meet. Tor Cross at Slapton is a huge stretch of beach, which allows dogs all year round so a perfect place to take your dog. There is plenty of room to run and if your dog loves to swim the waters at Slapton are close by and tend to lap the shoreline with small waves, unless you have come on a particularly choppy day. Another firm favourite and a very popular beach is Thurlestone, situated between Bantham and Hope Cove. Bantham is another huge beach which in the winter time dogs love to run around, in the summer time dogs aren't allowed to visit so winter is a great opportunity to enjoy Bantham. Thurlestone tends to be the most popular beach for dogs as it's an all year-round beach and one of the main points for the South West Coast Path. There's lots of room for your dog to play and if you want to extend your outing you can walk a bit of the coastal path offering fantastic views, although be careful where you let your dog roam as the cliffs have sharp drops. During the winter, Hope Cove can be great fun as the wind sweeps through it at high speed; you will often find sea foam racing across the beach which your dog will love to chase…. I know mine did.
Pubs
I know it can be a bit of a pain when you don't want to leave your dog at home alone but you also want to go out and treat yourself to a drink or nice meal. During the winter months pubs become great places to take your dog, the experience of stumbling into a cosy pub, sitting by a roaring fire after a jam-packed day of walking, and enjoying a drink or two with your pal can be one of the most relaxing things to do. Dog friendly Devon offers lots of great pubs that allow dogs and finding one is closer than you think. Pubs are businesses at the end of the day and they know who their customers are, taking this into account you will find most pubs on any main dog walking route cater well for dogs, although do check before going. I suggest after a day exploring the coastal path and running around the beach at Bantham, which is dog friendly all through the winter, visiting the Sloop just up from Bantham beach is a great option. They have a roaring fire and some amazing food to enjoy; dogs are welcome in all areas of the Inn, as long as they are well behaved of course. You may want to incorporate some of your walking activities into your pub visits so I would suggest the Rugglestone Inn on Dartmoor. Located in "Widecombe-in-the-Moor" where there are plenty of walking routes with amazing views to enjoy, and at the end of the day you can stumble into the Rugglestone Inn which has some amazing food and is very much a traditional pub in all aspects.
See South Devon By Steam Train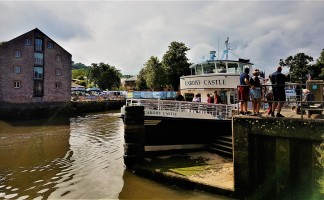 If you don't feel like walking around much or if you have walked to your hearts content and are now ready to relax a bit more, seeing Devon by steam is a great option to keep warm during the winter whilst spending time with your furry pal. There are two great options when deciding to explore South Devon by steam train; you have the South Devon Railway and the Dartmouth Steam Railway and River Boat Company. Both have very different areas they explore however, the latter offers cruises that are a lot more extensive depending on the tour you choose. With the Dartmouth Steam Railway and River Boat Company you can choose between a variety of different tours including the famous Round Robin which explores South Devon by boat, train and bus, a great experience if you're taking your dog along. If you want a day that's less busy, then the South Devon Railway is very traditional and explores the rural areas of South Devon stopping at Totnes, Buckfastleigh and Staverton.
National Trust
The National Trust own such a large part of the UK its almost impossible not to be walking or driving across it. Not only do they own land and coastline, they also own and run a lot of historic buildings. If you're ever stuck for ideas in the winter and you want to take your dog somewhere different the National Trust has a great selection of places to go. During Christmas walking through Parke near Bovey Tracey can be a magical experience, being such a vast area of woodland with an abundance of wildlife. There are great trails to wander along which include visiting secret gardens and along old abandoned railway tracks. After a busy time exploring take a visit to the Parke Café which is dog friendly and serves up some lovely winter warming food and drink. Killerton House just outside Exeter is another National Trust run location which welcomes dogs into its grounds. Killerton house is set in the beautiful Devon countryside with miles of walking paths and gardens to explore. You can take your dog around the grounds and in some areas they can be off the lead which is great to release some of that doggy energy. It's worth noting you can't take your dog inside the house or the chapel grounds so be aware of this when entering different areas. There are so many National Trust areas and buildings which you and your dog will enjoy so wherever you stay or live in Devon you can be sure there will be one nearby.
I hope reading this has let you realise what a wonderful place Devon is to own a dog. So, let owning a dog be your motivation for exploring South Devon and experience all the wonderful places Devon has to offer.
Related
0 Comments