Guest Blog Post - Visit Totnes
Visit Totnes is the official information website for Totnes. You can visit their website here.
We asked our visitors what you thought the Top Reasons for Visiting Totnes were and we had some excellent answers. Here is our Top 10.
Local and Unique Shopping Experiences
Wit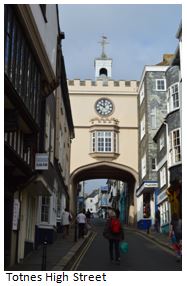 h many beautiful independent shops and the renowned eclectic Totnes markets you will always find something different, personal and special when you come shopping here.
The vibrant and colourful Friday and Saturday Totnes Markets offer an escape from the norm and a chance to get lost exploring the many interesting, affordable and sometimes unusual treasures on sale...I mean where else can you find whittled wands for your wannabe Potters?! And so much more besides: from sparkly jewellery to second-hand books, tasty local food to floaty scarves. If you're looking for something different then this really is the perfect place.

Not many High Streets can boast so many independent shops these days either. When you walk through our pretty, historic town you'll find boutiques to rival the suburbs of London with clothes at the height of fashion to suit all budgets and tastes, plus stunning trinkets for the home, luxury bedding, lighting, gifts and so much more. Many of the shops stock locally and sustainably sourced items, and crafts which have been lovingly designed and handmade here in Totnes including jewellery, ethical leather shoes, artwork, clothes and even unique beds for your pets!
And not to forget the Shops at Dartington just outside the town where each of the individual hubs epitomise the word 'local' and once again offer something unique!
Local Food & Drink
After spending time shopping you won't have to look far to find a delicious coffee and cake with over 40 independent cafes in the town alone, and all tastes are catered for with the extensive choice of restaurants, pubs and take aways. Many of the menus boast locally sourced produce which reflect the different seasons and if you're vegan, vegetarian or need gluten free we've definitely got that covered as well.

There is also the Totnes Good Food Market every third Sunday of the month where you'll find some of the best local producers from around the county offering their delicious ingredients or food to go. Come and be inspired or just enjoy the smells, colours and ambience while eating what's on offer.

And we don't just serve some of the best food here, we produce it as well, with world class wine and cheese from Sharpham, tasty treats from Roly's Fudge, goat's milk ice cream from Dartington Dairy, sweet and refreshing cider from Hunt's Cider and so much more from our surrounding areas including chillies, organic soft drinks and chocolates.

If you're looking for a cosy pub meal or a drink in a sunny beer garden, a quick cuppa or some fine dining we've got it all covered - and we don't forget your furry friends either with many places offering a glass (or bowl) for them as well!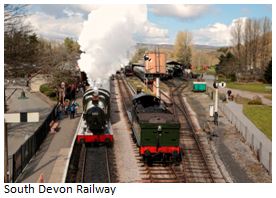 We're extremely lucky to live in a county with so many diverse, top quality attractions for all ages and tastes. Totnes is no exception with something for train spotters, animal lovers, budding artists, history buffs, fun-seeking families and more.

Take a steam train into the countryside or a boat down the river, paint a ceramic souvenir or get close to the animals, get lost exploring the many historical landmarks and museums or take a tour of a stunning vineyard...you're spoilt for choice.
With an abundance of beautiful countryside and the impressive River Dart you can arrive in Totnes, take a deep breath and relax. Soak up the views and immerse yourself in the landscape by walking, cycling, canoeing or kayaking, or taking a guided tour of the town.
The Welcoming People
Visit Totnes and you'll experience for yourself how welcoming and friendly the people are and whether there's an event on or not, there's always a great atmosphere and vibe. The Totnesians are very passionate people with the environment and sustainability at the heart of the town's values.
Totnes doesn't stand still or be quiet for long, and for a small town there is a huge variety and number of events happening throughout the year. Looking for lively music or cultural arts, mouth-watering food or outdoor adventure, spooky fun or festive shopping, there really is something for everyone. There'll even be events you've never thought of but are bound to love...chasing oranges down a hill? Only in Totnes!
The River Dart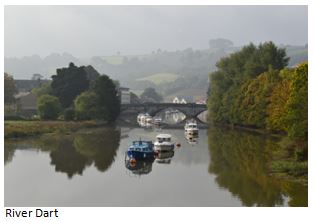 This stunning river begins on Dartmoor and eventually meets the sea at Dartmouth passing through Totnes on the way. It offers something for all with walks along the beautiful bank including a peaceful and easy, short walk to The Dartington Hall Trust or a chance to sit, read and relax on the benches. If you want a completely different perspective, a chance to immerse yourself in the water and get close to nature why not try swimming, or in the spring and summer you can go kayaking or canoeing with Canoe Adventures Devon or Totnes Kayaks. Suitable for all abilities, groups, couples, families or individuals, why not bring a picnic or stop at one of the many charming eateries along the way.

With the Waterside Bistro and Steam Packet Inn offering indoor and outdoor seating directly on the waterfront you can enjoy some food while (literally) drinking in the scenery.
Surrounding Villages, Towns & Beaches
If you're staying in Totnes for a short break or holiday you might want to explore some of the local villages or nearby towns and beaches. Use the river to take a boat to Dartmouth, take a steam train to Buckfastleigh with South Devon Railway, a bus to one of the many towns, or you can drive or walk to some of the surrounding villages.

The coast is also so close to Totnes with the English Riviera only a short drive, train or bus ride away and some of the most beautiful, unspoilt beaches in the South Hams.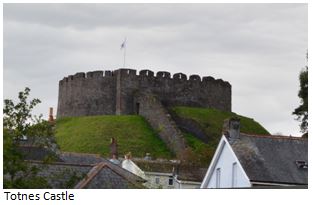 With a town dating back to Saxon times, Totnes is rich in history and there is something interesting around every corner, tucked in every back street and in plain view with Totnes Castle and the beautiful St. Mary's Church. If you're a history buff or just love exploring old buildings and monuments you can also find the historic Guildhall tucked behind the High Street offering nearly a thousand years of history, and the 15th Century Berry Pomeroy Castle, a romantic ruin on the outskirts of town which is steeped in history and dripping with intrigue.
Totnes is renowned for having strong environmental values and Transition Town Totnes and Totnes Pound are two organisations at the heart of this.

From the first Transition Town over 10 years ago to today with a series of many local projects and events in housing, food and more, this charitable organisation hasn't slowed down. The successful Totnes 10 Forking Local Food Festival celebrates the many producers and farmers in the area and the summer time Transition Walks will give you an insight into the work they do.

Totnes Pound is the local currency launched with the aim of boosting the local economy and preventing money 'leaking' out of town. Most businesses in town accept the currency and you can buy it as a souvenir or to spend while visiting.
Related
0 Comments