Guest Blog Post - South Devon AONB
To learn even more about the South Devon AONB, please visit their website here.
South Devon Area of Outstanding Beauty established as a protected landscape in 1960 stretches from Berry Head near Brixham to Jennycliff near Plymouth. It includes a stunning stretch of coastline and a network of streams rivers and estuaries as well as historic towns and villages.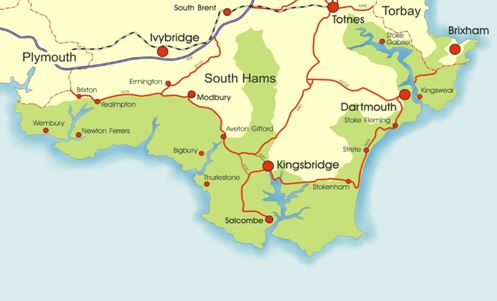 There is so much to do in the AONB it can be hard trying to fit it all in! Here are some ideas to get you started…
Only an hour?..
Pick up a pasty and head for the coast or one of our beautiful estuaries. Find a sunny spot and sit back to enjoy lunch with a view!
Stop for a coffee in one of the market towns or village pubs and watch AONB life bustle by around you.
Leave the car behind and step outside for a brisk walk and some fresh air – with this much natural beauty all around, you are never far from somewhere to revive your soul!
Half a day…
Head for the beach and let the bracing salty air fill your lungs.
Pop along to one of the farmers markets in Dartmouth or Kingsbridge to pick up some tasty local treats for dinner.
Download one of our self guided walks and discover somewhere new! www.southdevonaonb.org.uk/explore
Lambing Sunday takes place at Collaton Down Farm near Dartmouth on 18th March, from 2pm – 4.30pm www.southdevonaonb.org.uk/events
A day…
Trek some of the longest National Trail in the country – the South West Coast Path – see their website for inspiration.
Take to the water on a canoe and discover the quieter parts of the AONB estuaries. You can join an organised trip or hire a canoe for yourself.
Check out our events guide chock full of walks, crafts and activities – there is something for everyone!
Go Native! Find a farm to visit or look for village fetes, fairs or festivals – check out the information centres or local papers for details.
A weekend – or more (lucky you!)
Go for a heritage theme and visit one of the many National Trust properties in the area. Enjoy the gardens, history and of course, the fab cafes! Find out more about local history of the area at our local museums, Dartmouth and the Cookworthy in Kingsbridge. Finish off with one of our Cultural or Town trails, downloaded from the AONB website.
For a wilder weekend, book yourself a place on a boat trip to do a spot of seal watching; grab your binoculars and head to the cliffs to catch some birdlife; fly along to Slapton Ley National Nature Reserve to look for bats, badgers and dormice; then take a stroll through the beautiful Avon Valley and enjoy the woodland.
If it is adventure you are after, take a running jump on a coasteering session; test your balance on a Stand Up Paddle (SUP) board on the Avon; catch a wave with the surf instructors at Bigbury on Sea; take to two wheels and explore the fantastic green lane network on your mountain bike.
Related
0 Comments