Guest Blog Post - Exmouth Local Nature Reserve
Exmouth Local Nature Reserve (LNR) is a Site of Special Scientific Interest, protected under EU Law as a Special Protection Area for its bird life and is even a UNESCO RAMSAR site – it is the most highly designated wetland site in South West England! It is enjoyed by walkers, birders and families all year around, and is a hugely significant site for migrating birds.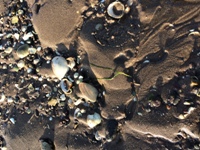 The sand at Exmouth is packed with life. Tiny hydrobia snails graze the surface film of algae, while cockles, scrobicularia and lugworm burrow into it and filter particles out of the estuary water. There are also large areas of eel grass, the only flowering plant which can grow totally submerged in sea water. Each winter these animals and plants provide vital protein to thousands of wigeon, pintail and dark bellied brent geese which spend the winter building up muscle and fattening-up before flying thousands of miles home to the arctic for the summer!
You can spot these birds feeding on eel grass at the area of the reserve known as the 'duck pond' and towards Lympstone in the muddy sand. It is vitally important that the birds are able to feed without disturbance. Exeter and East Devon District Council have joined together to protect the site and its important wildlife through mitigation work, overseen by the Exeter and East Devon Growth Point. The Devon Loves Dogs project and two mitigation wardens help educate people to walk their dogs responsibly during the winter months, and minimise water sport disturbance, so that the birds restore their precious energy.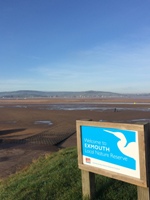 Did you know, that the number of dark bellied brent geese found wintering in England from Siberia, depends on the number of lemings in Siberia? If there are high numbers of leming in Siberia arctic foxes predate them and we see high numbers of young dark bellied brent geese in the UK. However if there are low leming numbers in Siberia, arctic foxes eat the goslings and we see a much lower ratio of young to old birds here in Exmouth.
Other birds found at Exmouth LNR include shelduck, oystercatcher, redshank, turnstone, little egret and green shank.
In the winter the best way to learn about the birds and to really take in the vast and beautiful estuary without disturbing the birds is to enjoy a bird watching boat trip.
In the summer, the LNR is a great place to walk and enjoy a mini beach experience without the crowds of the main town beach. The water which runs through the estuary can get lovely and warm on a summers day and you can walk across the sands and around the 'lakes' left at low tide. There is one sandbar which is full of mussels! Be aware that there are some dangerous sands to the east of the estuary. If you are walking and feel unsure or unsafe, turn around and follow your footsteps back to harder sand.
The East Devon District Council Countryside team run events throughout the year include Mud Walks on Exmouth LNR, visit wildeastdevon.co.uk to see what is coming up.
Enjoy exploring this wonderful site and share your photos the Countryside team on Facebook, Twitter and Instagram @wildeastdevon.
Related
0 Comments