Guest Blog Post - Beyond Escapes Devon
With the school holidays firmly upon us, there's no better time for children to explore the great outdoors. Yet a recent study by Beyond Escapes of 1,000 parents found that over a third, 36 per cent, of UK mums and dads don't think their children spend enough time playing outside.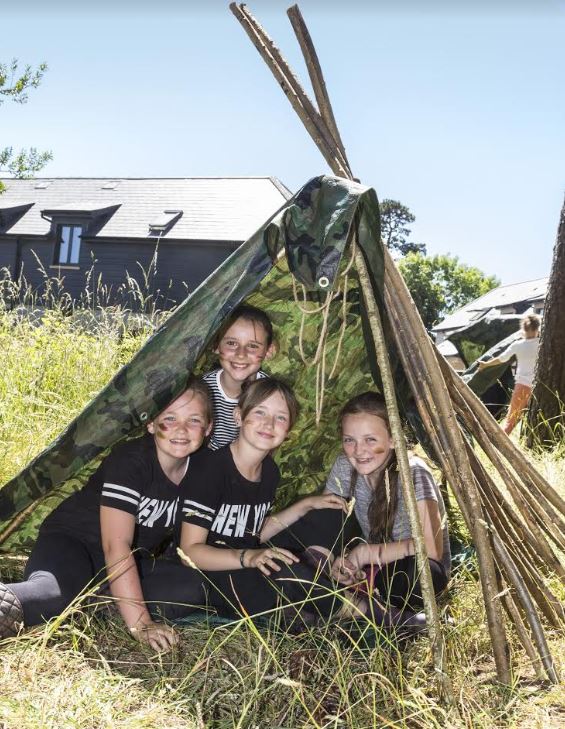 Whilst parents themselves nostalgically remember tree climbing (19 per cent), den-making (17 per cent), playing hide and seek (12 per cent) and even making mud pies (5 per cent of them!) being their favourite childhood activities, they don't think their own kids get outdoors enough.
That's why, Beyond Escapes, the new holiday and leisure experience based near Paignton, has teamed up The Wild Network to launch a new, exciting campaign to help kids BE Wild! and learn the lost art of den-making.
Encouraging kids to swap tech for trees this summer and beyond, Beyond Escapes will be offering complimentary den-making kits on a first-come, first served basis for guests to hire during their stay. The complimentary kits include instructions, a basic den, guides on foraging for natural materials, camouflage face paints and more, for use on the Beyond Escapes Devon grounds.
You can watch some of the first children in action, rewilding and building a den. Plus you'll get some tips on how to build the perfect den at home or when you visit Beyond Escapes with our how-to guide, and lots more about the campaign here: www.beyondescapes.co.uk/be-inspired/be-wild-a-den-hero.
The BEWild! campaign by Beyond Escapes Devon and The Wild Network is also supporting Save the Children's annual den day initiative, which helps to build a better world and make sure children have a safe place to sleep and play. Beyond Escapes is hoping to raise over £1,000 for Save the Children, with 50 pence donated for every different den picture posted on social media using #BEaDenHero, of dens built at the Beyond Escapes Devon resort.
For those keen to get den building in their own garden, or to practise their den building skills before visiting Beyond Escapes Devon, follow these seven key steps produced by BE Wild!
1. Find: Locate your perfect den spot
2. Forage: Source the material you want to use to make your den
3. Foundation: Pick your base tree to build your den around
4. Frame: Construct your den frame
5. Finesse: Add the final personal touches to your den
6. Fun: Games to play with your new den
7. Friends: Make den friends and have lots of adventure
For some extra inspiration on how to build the best den, watch Beyond Escapes video 'How to Be a Den Hero in 7 steps' here.
For more information about Beyond Escapes Devon, the BE Wild! campaign or to book a stay, visit www.beyondescapes.co.uk/be-inspired/be-wild-a-den-hero.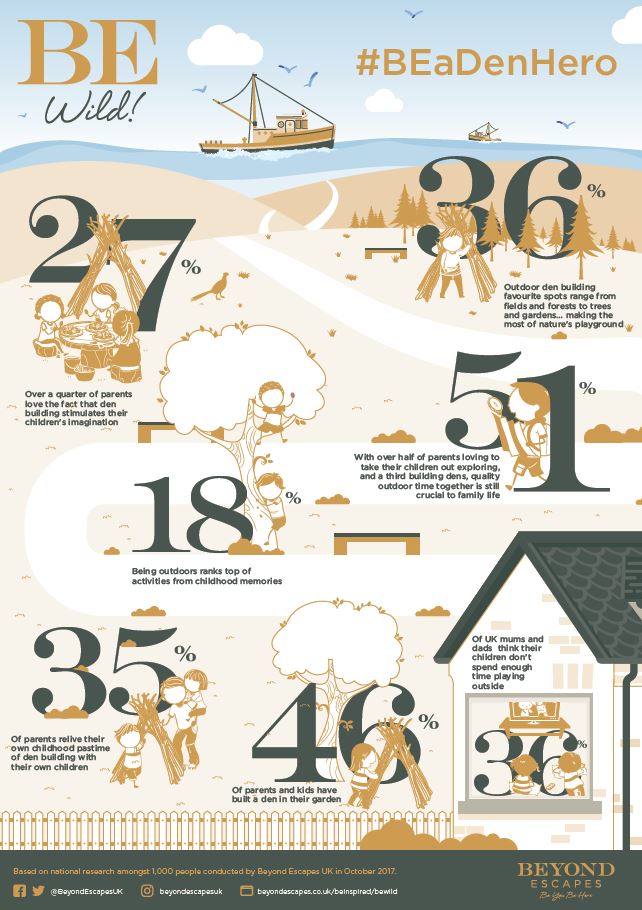 Related
0 Comments