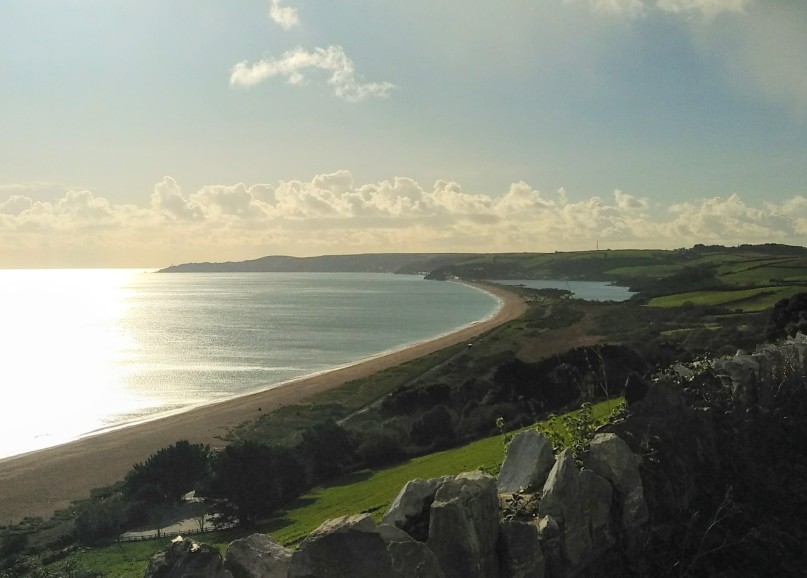 After the winter storms of 2018 and the damage to the A379 Slapton Line from Storm Emma at the beginning of March 2018, the road has now been successfully realigned, repaired and re-opened to traffic. With the opening of the new road the communities of Slapton and Strete Gate have been reconnected and full access to Slapton Ley Nature Reserve and Field Study Centre has been restored.
The easterly gales, strong waves and high tides of the storm caused damage to the road surface, increasing the vulnerability of its structure and making it impassable. Urgent work was needed to be carried out to restore the road surface and reinstate access.
In July, work started on realigning the southern section of the road and work has been done to move the junction at Sands Road inland by up to 10m. At points the road has been moved up to 20m inland of its earlier line and has been tied into previous realignment work which had been carried out.
Later in the summer, after planning permission was granted, work was started on the northern section of damaged road. Because the damage to this section of road was far more severe than first thought, new plans were submitted to move the road further North and West than previous plans allowed. The realignment work towards Strete Gate has moved the road inland by 17m, fitting in with the previously realigned section.
During the work a UXO radar search was carried out, this uncovered 13 items including supports for barbed wire and bullet casings which were all excavated from the site. Because of the roads close proximity to a National Nature Reserve an ecologist was on site to ensure that wildlife was kept safe.
As well as reinstating access and restoring the damaged Slapton road, the realignment was needed to move the road away from the vulnerable coastline and provide as much of a buffer from the beach that could be achieved given the restriction of this unique location.
Separated from the sea, by beach and the new road is Slapton Ley, the largest, natural, freshwater lake in South West England. The 1.5 miles long lake and surrounding woodland, marshes and reedbeds are a Site of Special Scientific Interest and in 1993 the area was declared a National Nature Reserve. The 490 acre reserve is a great destination for wildlife enthusiast and families looking to find out more about the diverse animals, insects and plant life which call the reserve home.
Keep up to date with everything that's going on in South Devon by liking us on Facebook and following us on Twitter!
Related
0 Comments