Guest Blog Post - Pennywell Farm
Bringing the Christmas Story to Life
It seems to happen earlier each year but once October is done and dusted, the festive season is upon us.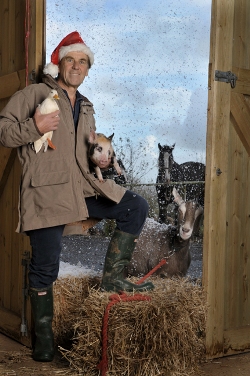 We're sold a dream of Christmas with happy families around the table, an abundance of gifts, goodwill and a happy time to be had by all. The realities often don't match our expectations, with the pre-Christmas rush being stressful, disagreements over who is going where for Christmas dinner and sometimes just the feeling of a huge anti-climax when the big day finally arrives.
There are very few places to escape the madness during December but you can leave it all behind and take a couple of hours to rediscover a simple Christmas story that took place over two thousand years ago.
Pennywell Farm offers a Nativity Play experience with a magical setting in a cosy barn. All the animals will be looking on and the audience make up the cast so that every child has the chance to dress up and become a star performer. There's a host of heavenly angels, shepherds watching their sheep, innkeepers, wise men and of course, Mary and Joseph.
Pennywell takes care of the narration as the children are led gently into their roles. The animals play their part too with Mary traveling on a real donkey to Bethlehem and the baby Jesus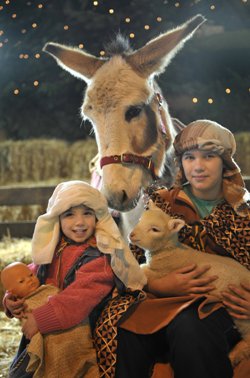 being presented with a real lamb.
The simplicity of the story unfolds with the help of some carols and the manger scene is complete with the arrival of baby Jesus to the singing of 'O Little Town of Bethlehem.' There's not a dry eye in the house.
After the Nativity Play, festive refreshments await in the form of mince pies and mulled wine for the adults, handmade Christmas biscuits and squash for the children.
All children then have the opportunity to visit Father Christmas to receive their Christmas gift.
A visit to a Pennywell Nativity Play is guaranteed to be the perfect start to your Christmas celebrations. It offers a rare opportunity to enjoy the Christmas spirt in an oasis of calm rather than joining the hustle and bustle of the high street or the endless Christmas markets.
Whether the Christmas story has any religious significance for you or not, taking some time to slow down and be part of something so traditional and simple is time well spent. Children will always remember the time at the farm when they dressed up as a shepherd or an angel.
The Nativity Plays begin on Sat 24 Nov and there are performances daily until 4pm on Christmas Eve, Booking is essential: www.pennywellfarm.co.uk
Related
0 Comments