Guest Blog Post - Francesca Cipriani & Davide D'Antonio (Runner Up in our 2018 South Devon Photo Competition)
Hello,
My name is Francesca Cipriani, I am 28 and I am a pharmacist and my boyfriend is Davide D'Antonio, he's 29 and he studied to become an electrician, even if he's not doing this job at the moment. We come from a little town in the North East of Italy called Montefiore Conca.
This summer we decided to plan a holiday in the UK for two reasons: first of all because, since I was a child, I've always loved everything about your country and I wanted to show my boyfriend some of its most beautiful places, given that he has never been there; and second of all, because we had a dream: to sleep in a lighthouse!
We spent ten days in your country and we visited several places: London, Bath, Glastonbury, Winchester and obviously, South Devon! The lighthouse where we had been for three days was in fact Start Point Lighthouse in Kingsbridge! We arrived there during a sunny June afternoon after having a terrible day: while we were reaching our destination, we had a mishap with our car. We weren't used to Devon's narrow streets so we hit a stone with the tire that split it. It was Sunday and we were in the middle of nowhere so we were particularly troubled. But fortunately we discovered a farm nearby and we found a farmer in there that was very kind and helpful to us: he called the assistance and while we were waiting, he offered us two cups of tea (with milk!).
After changing our car at Exeter Airport, we finally reached the lighthouse: as soon as we arrived there, we were struck by the beauty of the place and we immediately forgot all our misadventures! The first impression we had is that everything seemed so surreal: we were miles away from the so called civilization (supermarkets, bars, pharmacies, hospitals) but we will never forget the silence and the peace of that place! The only sounds we heard were the sea, the wind and the seagulls! We spent those three days in a lovely cottage, The Landward, and we also had the chance to visit the lighthouse thanks to our tour guide Hugh.
One evening, we were watching the sunset and Davide decided to explore the area and to reach the shore walking along the cliffs (even if it was forbidden!). He walked down there for almost an hour; in fact I started to be worried because he didn't answer to my call! So I returned home and finally he opened the door and exclaimed: "I took some wonderful pictures I think you're gonna like!" So I grabbed his phone and looked all of his shots and I immediately realized that among all those photos, one was amazing: the one that was a winner in this competition!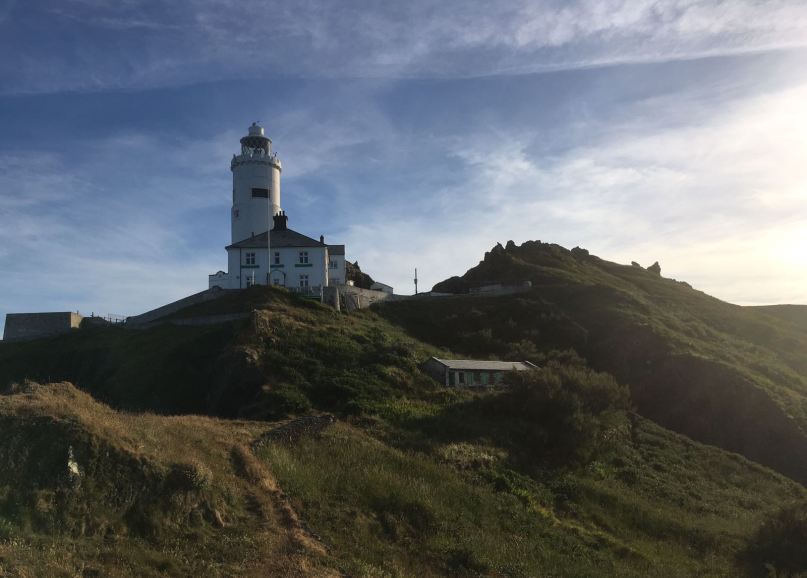 When we returned to Italy, I started to follow the Instagram page "Visit South Devon" and one day I read about the photo competition so I decided to choose the best shots we took during our holiday and I sent them, because one of our biggest wishes was to win the tickets that can allow us to return back to your beautiful region! I remember the moment when Anna told me our photo had been chosen as one of the 25 finalists! Me and Davide were so happy and started to ask all of our friends, family and followers to vote for us! And our happiness was even higher when we knew our photo had been chosen as the 2nd place image by the public! In my heart I felt our photo was special, but I would have never thought that it could have been so successful! I immediately called Davide and he couldn't believe what I was telling him! Our dream came true!
Now we are looking forward to coming back to Devon next year!
So, first of all, we would like to thank all the people who appreciated our photo and voted for us and then, everyone who let us experience ten unforgettable days!
A special thank goes to Rural Retreats, for letting us live in the stunning Start Point Lighthouse and, of course, to all of the Visit South Devon staff, for giving us this wonderful opportunity!
Related
0 Comments