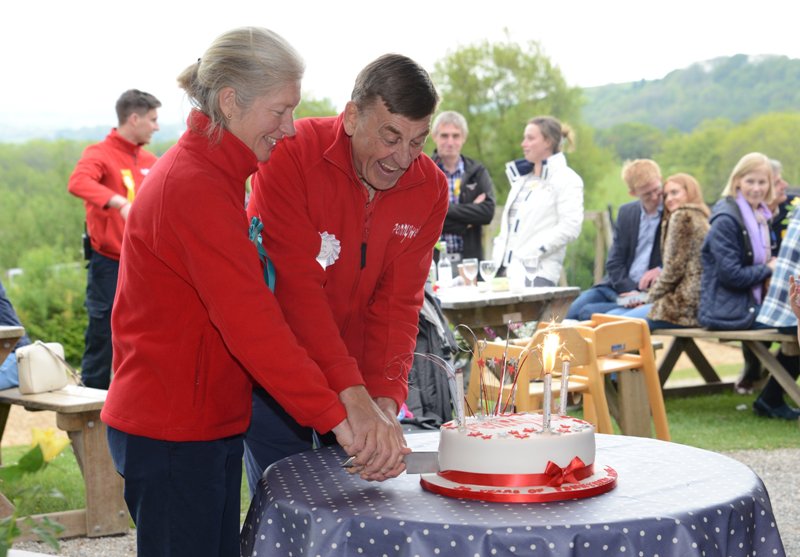 Guest Blog Post - Pennywell Farm
This year Pennywell Farm, owned and run by Chris and Nicky Murray, is celebrating its 30th Birthday so here are 30 fun facts from the attractions history that you may not know:
1. When the land for Pennywell was first brought by Chris and Nicky it was just bare fields with no hedges, power or water.
2. And the farm was open to the public for three years before it had mains power. Nicky Murray can clearly recall the deafening silence when the generator was switched off.
3. The farm name 'Pennywell' was created by Nicky Murray's mother; it has no real meaning and was picked because she thought it sounded nice.
4. Pennywell Farm has no mains water; they rely on their own boreholes.
5. Good Friday is almost always the busiest day of the year.
6. As part of English Tourism Week in 2003, Pennywell Farm welcomed The Countess of Wessex. She planted a tree which was given pride of place on the farm.
7. Pennywell has 25 permanent members of staff, this number increases to nearly 90 in the summer months.
8. Chris Murray was made Associate of Royal Agricultural Societies in 2011. This was in recognition of his distinguished achievement in the agricultural industry as well as receiving an Honourary Doctorate in Business from the University of Plymouth relating to his work in sustainable tourism.
9. Pennywell was the first Devon tourist attraction and the countries first farm attraction to be awarded Gold in the Green Tourism Business Scheme.
10. Crealy and Woodlands both started in the same year as Pennywell Farm, 1989. All three new attractions were completely unaware of each other at the time.
11. Pennywell is 600 feet above sea level, it's this elevated position that gives the whole farm glorious views.
12. Shortly after opening, the pond area was dug out. They are filled with runoff water from the barn roofs and the car parks which is filtered through a reed bed system. Just a few months after completion the ponds were teaming with life.
13. Every year Pennywell welcomes around ten thousand children on school or group visits. Groups can enjoy a structured day with a school guide or just come along and join in with the activities.
14. Pennywell's first resident farm sheepdog was called Fly. Every year The National Qualifier Sheepdog Trials by the Devon and Exmoor Sheepdog Society take place at the farm.
15. The farm was the first attraction to offer half hour activities, with a different hands on activity every 30 minutes, this formula has been repeated all over the country.
16. After a fund raising event in 1990 for Tear Fund the Pennywell Nativity Plays started. The Pennywell Christmas experience began after the nativity became popular with local schools.
17. Pennywell has hosted two wedding receptions in the last 30 years, one for Chris and Nicky's only daughter, Hetty. The farm has also hosted a wedding blessing in the animal barn. Over the years the farm has hosted Christening parties and several baptisms.
18. Every Thursday morning at 7.45am Pennywell hosts an ecumenical prayer breakfast which is open to anyone.
19. You can go fishing at Pennywell! In 2014 Fishponds were added, you can bring along a rod and catch your own tiddler!
20. After shooting to fame in 2017, the Pennywell Miniature Pigs have attracted a whole host of celebrity owners and media interest. The farm has welcomed film crews from Germany, America, Japan, Australia, South Korea as well as ITV, Sky and the BBC.
21. Shire horses Boxer and Fusilier were Pennywell's longest animal residents. They came to the farm when the National Shire Horse Centre closed in 2000. Fusilier died in 2017 and Boxer his long term friend died at the age of 30 in 2018.
22. Pennywell has seen a huge increase in the number of adults visiting without children over the past few years. This has lead them to produce a separate leaflet for students, friends and couples.
23. The farmhouse at Pennywell came 7 years after opening and allowed the family to live on site. The plans were only granted on appeal after the original planning application was refused.
24. Nicky's and Chris eldest son Angus was born just 20 days before Pennywell opened to the public. Angus celebrated his 30th birthday this year and he and his wife, Davina, recently added to the Murray family with a daughter, Cecilia.
25. Nicky Murray's twin sister, Fiona Peters, was the first member of staff back in 1989.
26. Pennywell has never celebrated Halloween, but instead the farm has come up with more upbeat ways to enjoy October Half Term. October 2018 saw the inaugural Gruffts, the world's greatest goat show.
27. In 2001 the foot and mouth outbreak virtually shut down the countryside and Pennywell closed its doors. This resulted in Pennywell losing 85% of its business for the year but it was saved by a large anonymous donation, Nicky and Chris believe this was a direct answer to prayer.
28. In support for charity THHN Pennywell organised the Pennywell Pursuit, a trail run event. It ran for 2 years, and there are plans to reinstate it in 2020.
29. Noah's Barn started as an animal barn, visitors could go into the pens providing the ultimate animal experience. Health and Safety put a stop to that two years later and the animals were moved out. Chris was so upset that he resigned. Fortunately, he changed his mind and Noah's Barn has become a happy play and indoor picnic area.
30. Looking ahead to the next 30 years, the next generation of the Murray family, with their own young families, are taking over the day to day running of Pennywell Farm.
Find out more about Pennywell Farm on their website here.
Related
0 Comments