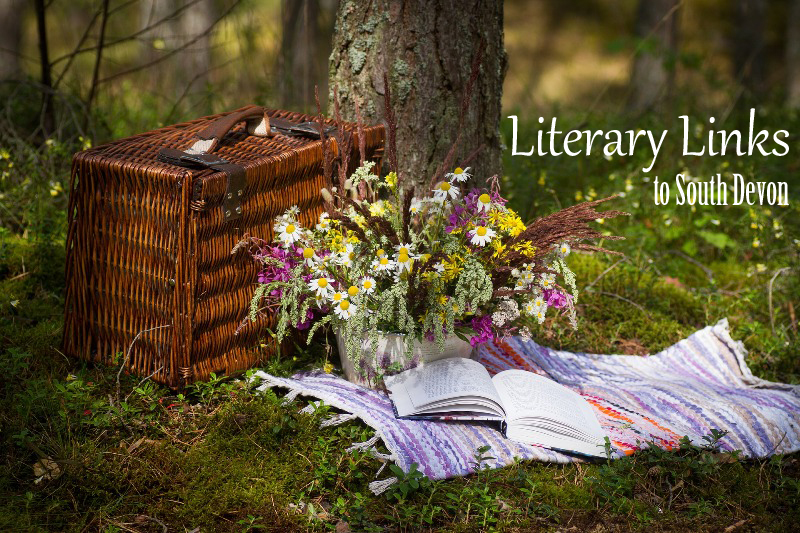 Over the years South Devon has seen its communities, landscapes and history inspire many great literary works, several of which are still high on many people's reading lists or have been turned in to prime time TV shows and blockbuster movies.
These writers have either used the landscapes as backdrops to their novels, were born and raised in this beautiful region or discovered the wonders of Devon later in life.
Below we've listed 10 great South Devon literary links, there are some which we're sure you've heard of, but hopefully a few which will tempt you to pick up a new book or try a new genre.
Agatha Christie
Probably the most well known South Devon novelist is Agatha Christie and she is credited as being one of the best selling novelists of all time. She was born in Torquay in 1890 and although she moved away after starting a family she purchased Greenway Estate near Dartmouth as her summer residence in 1938, this is now managed by the National Trust. As well as being born and living in Devon, Agatha Christie used the county and her holiday home as the setting and inspiration for several novels.
Ted Hughes
Ted Hughes was born in Yorkshire but moved to Devon in 1961, living in North Tawton. Many of his poems were inspired by the county's beauty and his love for the area. He became Poet Laureate in 1984 until his death in 1998.
In 2006 the Ted Hughes Poetry Trail was opened at Stover Country Park, Newton Abbot, to celebrate his poetry and long-standing links to Devon.
The Hounds of the Baskervilles – Sir Arthur Conan Doyle
The Hounds of the Baskervilles was the third Sherlock Holmes Novel written by Arthur Conan Doyle. The novel is set principally on Dartmoor where Holmes and Dr Watson investigate supernatural hounds that haunt the moor.
There have been numerous TV and movie adaptations of the story over the years each one bringing the story to a new audience.
Samuel Taylor Coleridge
Samuel Taylor Coleridge was an English poet who was born in 1772 in Ottery St Mary. He was a companion and collaborator of William Wordsworth in the early years of their careers, and was a founder of the Romantic Movement in England.
Clare Morrall
Clare Morral was born in Exeter, she grew up in the city before moving and living mainly in Birmingham. Clare's first novel Astonishing Splashes of Colour was shortlisted for the 2003 Man Booker Prize for Fiction.
Flora Thompson
Flora Thompson is the novelist behind the Lark Rise to Candleford trilogy, a series of three semi-autobiographical novels based on her childhood in the countryside in Oxfordshire where she was born. In later life Flora lived in Dartmouth and Brixham where she died and she is buried at Longcross Cemetery in Dartmouth.
In 2008 the trilogy was adapted for TV by the BBC and run for four series until 2011.
Sense and Sensibility – Jane Austen
Sense and Sensibility was written by Jane Austen and published in 1811. In the novel Mrs Dashwood moves her family to Barton Cottage in Devonshire where most of the book is set. Jane Austen was known to have visited the region during her early life staying in some Devonshire coastal towns during family holidays.
Christopher Milne
Christopher Robin Milne is the son of author AA Milne and is most well known for being the basis of Christopher Robin in the stories of Winnie-the-Pooh and two books of poems written by his father.
At the age of 31, Christopher moved to Stoke Fleming with his wife and together they opened Harbour Bookshop in Dartmouth. The shop remained open after his retirement in 1983 until it sadly closed in 2011. Nowadays, Dartmouth Community Bookshop stands in its place and they still have a 'Pooh Corner' for avid fans.
Mary Chudleigh
Mary Chudleigh was born in Devon in 1656 and she married Sir George Chuleigh, 3rd Baronet of Ashton in 1674. She was an English poet who published poetry and essays all dealing with feminist themes. She died in 1710 and is buried in the church of St John the Baptist in Higher Ashton.
William Trevor
William Trevor was born and raised in Ireland in 1928. After leaving Ireland and living and working in London, William and his wife moved to the Blackdown Hills in 1966. He remained in Devon until his death in 2016. Throughout his life he was nominated for and won many awards including the Whitbread Prize and the Booker Prize and was known as one of the best modern fiction writers.
To find out more about South Devon, make sure you like our Facebook page here. We'll keep you posted with the latest blog posts, competitions, news and more!
Other Posts You Might Like
Related
0 Comments