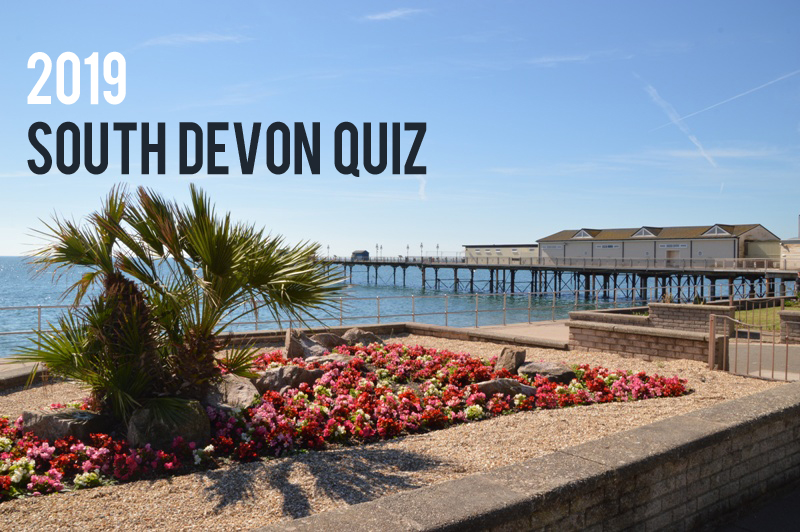 We're steadily approaching the end of the year and we decided what better way to round it off than have a little quiz about our beautiful region?! The questions are based on information that can be found throughout our 2019 blog posts so if you have been keeping up to date with them you should score pretty well!
So print off this page and gather some friends or grab a pen and keep note, we hope you enjoy it and remember, no cheating!
1. How many piers are there in South Devon?
a) 2
b) 3
c) 4
2. In the town of Exmouth, what does the Geoneedle at Orcombe Point mark?
a) One end of the English Riviera
b) One end of the South West Coast Path
c) One end of the Jurassic Coast
3. What product is Buckfast Abbey best known for?
a) Buckfast Toffee
b) Buckfast Tonic Wine
c) Buckfast Blue Cheese
4. Oldway Mansion in Paignton was originally built as a private residence for which inventor?
a) Thomas Edison
b) Alexander Graham Bell
c) Isaac Merritt Singer
5. What shape is the tumbling weir in Ottery St Mary?
a) Square
b) Triangular
c) Circular
6. What vessel sailed from Plymouth to the new world in America in 1620?
a) The Mayflower
b) The Speedwell
c) The Mary Rose
7. What Devon product was used in the building of Westminster Abbey and St Paul's Cathedral?
a) Newton Abbot Oak
b) Tiverton Clay
c) Beer Stone
8. Which Devon location held England's last execution for those accused of witchcraft?
a) Ivybridge
b) Honiton
c) Exeter
9. How long is Exmouth's beach?
a) 1 mile
b) 2 miles
c) 3 miles
10. England's reported oldest passenger ferry service operates between which two South Devon locations?
a) Teignmouth & Shaldon
b) Kingswear & Dartmouth
c) Starcross & Exmouth
11. The walking route from Haytor to Teignmouth which traces the journey that granite took from the moors to the coast is known by what name?
a) East Devon Way
b) The Templer Way
c) Dart Valley Trail
12. The third Eddystone Lighthouse, which stands on Plymouth Hoe, is known as what?
a) Smeaton's Tower
b) Fleming's Tower
c) Robertson's Tower
13. In which South Devon building did Oliver Cromwell plan the end of the Civil War in 1646?
a) Totnes Guildhall
b) Exeter Cathedral
c) Saltram House
14. A full size replica of the famous ship, The Golden Hind, can be found in Brixham Harbour. But who sailed around the world on the original?
a) Sir Walter Raleigh
b) Captain Cook
c) Sir Francis Drake
15. How many sides does the National Trust property, A La Ronde in Exmouth have?
a) 14
b) 16
c) 18
16. Which of these is NOT a railway line in South Devon?
a) Avocet Line
b) Riviera Line
c) Golden Valley Line
17. At what South Devon attraction will you find 'The Hall of Transport'?
a) Royal Albert Memorial Museum
b) World of Country Life
c) Woodlands Family Theme Park
18. Thousands of what flowers appear on Peak Hill in Sidmouth during the spring?
a) Daffodils
b) Snowdrops
c) Tulips
19. Where on the English Riviera can you find a cliff railway?
a) Preston
b) Broadsands
c) Babbacombe
20. Where is the cream tea said to have originated?
a) Buckland Abbey
b) Lee Abbey
c) Tavistock Abbey
21. In 2019 Pennywell Farm celebrated a big birthday. But what milestone did they reach?
a) 30 years
b) 40 years
c) 50 years
22. The 'world's smallest nightclub' in Kingsbridge can be found in what?
a) A phone box
b) A bus shelter
c) A postbox
23. What monarch stayed at Old Forde House in Newton Abbot in 1625?
a) King James I
b) King Charles I
c) King Henry I
24. How long is the River Teign?
a) 21 miles
b) 31 miles
c) 41 miles
25. The inner harbour in Dartmouth is known locally as what?
a) Boat Float
b) Ship Pit
c) Dinghy Thingy
26. What name is Crediton Parish Church is also known as?
a) St Philip's Episcopal Church
b) Collegiate Church of the Holy Cross and the Mother of Him who Hung Thereon
c) St Winifred's Church
27. Where was Tom Daley, Olympic medallist born?
a) Plymouth
b) Torquay
c) Exeter
28. To what Devon island can you catch a sea tractor?
a) Drake's Island
b) Lundy Island
c) Burgh Island
29. What well-known engineer was instrumental in bringing a main railway line to South Devon?
a) Isambard Kingdom Brunel
b) Thomas Newcomen
c) Emily Warren Roebling
30. The 11 mile long canal that runs from Tiverton to Lowdswell is known by what name?
a) Great Western Canal
b) Good Western Canal
c) Grand Western Canal
Now we weren't going to list the answers at the bottom!
Find out the answers on our other page here.
Other Posts You Might Like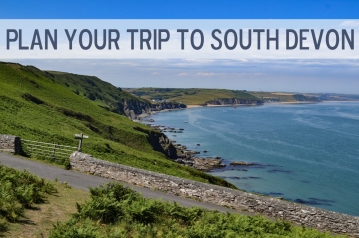 Related
0 Comments