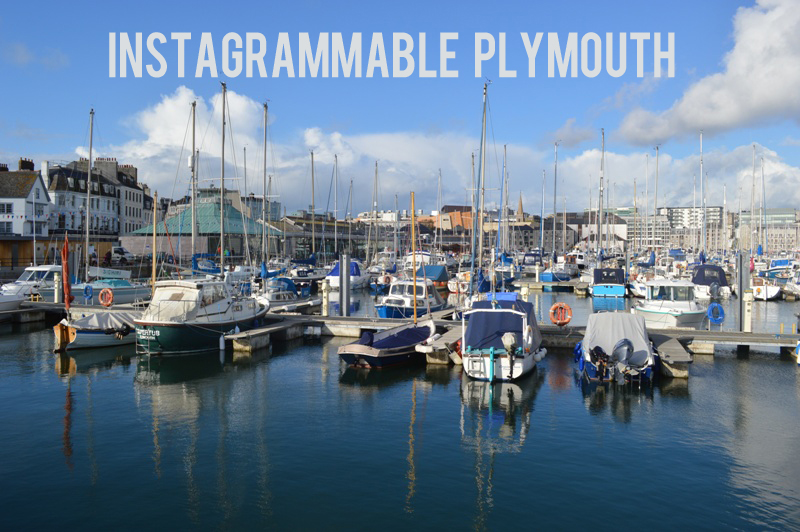 Cloaked in history and nicknamed Britain's Ocean City, it's no surprise that Plymouth has an abundance of unique and attractive places to visit. From iconic landmarks to historical sites, popular attractions to gorgeous viewpoints, there's a plethora of places to photograph in this waterside city. Discover our top 10 most instagrammable spots in Plymouth below.
The Barbican
Kicking off our list is the extremely picturesque Barbican. Plymouth's Barbican is the name given to the northern and western sides of Sutton Harbour which was previously Plymouth's original harbour. It's now a buzzing hotspot packed with chic eateries and stylish boutiques dotted within the charming cobbled streets alongside gorgeous view overlooking the boats in the marina.
Tinside Lido
An art-deco Grade II listed attraction, Tinside Lido is a must visit on any trip to Plymouth. Open during the summer months for visitors and locals to use, this salt water swimming pool boasts stunning views overlooking the ocean. The signature stripes on the bottom of the pool and the appealing location are perfect for an Insta-worthy shot that is sure to rake in the likes!
National Marine Aquarium
The UK's largest aquarium, the National Marine Aquarium can be found at Sutton Harbour next to the Barbican. Little ones (and big kids!) will adore this unique attraction which is home to over 4000 ocean animals. Walk side by side with sharks and uncover this magical underwater world which is also the ideal destination to capture some beautiful imagery for your Instagram feed or other social media accounts.
Royal William Yard
Royal William Yard is a Grade I listed, ex-Naval victualling yard filled with fantastic places to eat, drink, stay and shop. With big name restaurants alongside independent brands, it's the ideal place for a touch of retail therapy and a bite to eat. Throughout the year, Royal William Yard also welcomes lots of fantastic events, from markets to performances; it's also pretty picture-worthy too!
Mount Edgcumbe
Okay, so this one is technically in the county of Cornwall, but it can be so easily reached from Plymouth and is a stunning place to visit that we just had to include it in our list. To get to Mount Edgcumbe you can hop aboard the Cremyll Ferry which departs from Admirals Hard at Stonehouse, just round the corner from Royal William Yard. Once there you'll be greeted with a grand house, gardens and park to explore with unbeatable views back across to Plymouth.
Tamar Bridge
Connecting Saltash in Cornwall to our beautiful Plymouth in Devon, the Tamar Bridge is a 335 metre long road bridge that straddles the River Tamar. Next door to this bridge is another, the Royal Albert Bridge, a railway Bridge designed by Isambard Kingdom Brunel. If you're a fan of bridges it's certainly worth heading to the area for a look and if you enjoy photography interesting structures, there's certainly some great shots to be had.
King Point Marina
Situated in the Millbay area in the historic inner dock basin, King Point Marina is Plymouth's newest marina. The contemporary location houses plenty of boats to look at and there's also a divine waterfront restaurant called The Dock which is perfect for grabbing refreshments and something to eat whilst you admire the lovely views.
Plymouth Hoe
Next up on our list of the most Insta-worthy spots in Plymouth is Plymouth Hoe. Arguably one of the most iconic areas of the city, the Hoe is home to Smeaton's Tower, a statue of Sir Francis Drake, a long promenade and plenty of green space for recreational use. Throughout the year Plymouth Hoe hosts a number of fantastic events and the views of Plymouth Sound are pretty epic too. We're sure you'll be able to capture a brilliant photo in this popular location.
Charles Church
Charles Church can be found in the heart of Plymouth city centre, strangely on a roundabout, close to the shopping centre of Drake Circus. Built in the 1640s and 50s with a spire added during 1708, not much of this post-Reformation Gothic style church remains, it is now merely a shell and serves as a reminder of the horrors of the Second World War. In 1941 the church was burned out by incendiary bombs during The Blitz.
Royal Citadel
The Royal Citadel is located to one end of Plymouth Hoe and is a 17th century fortress built to defend the coastline from the Dutch. Currently it still operates as a military establishment but tours are run by English Heritage. Unfortunately, at present no tours are on offer, however we recommend keeping an eye on the English Heritage website for any changes and if you're in the area, it is still an interesting building to view from the outside.
Make sure your following us on Instagram here for your regular dose of stunning South Devon. We share images by you so be sure to tag us in your photos of the region by using @visitsouthdevon, #southdevon or #visitsouthdevon – we might even feature your shot on our feed!
Other Posts You Might Like
Related
0 Comments