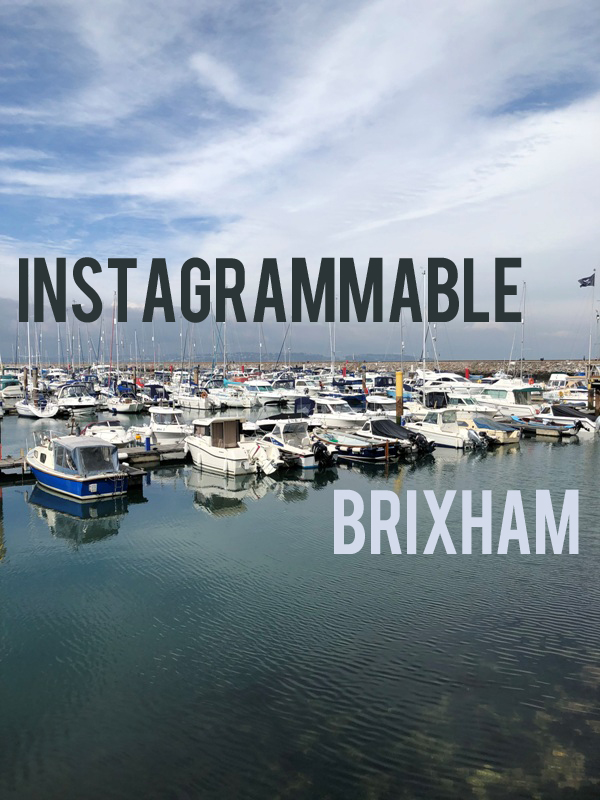 Widely known as a thriving fishing port, Brixham on the English Riviera, also known as Torbay, is a truly divine place to visit whilst you're in Devon. Whether it's for a day trip or a little longer, you'll not be short of things to do. There are fantastic eateries and bars, fabulous walks, charming scenery, great events and lots of wonderful places to hone your photography skills. Check out our favourite most Insta-worthy places in and around Brixham below.
Harbour
Starting off our list is arguably one of the main focal points of this pretty fishing town, Brixham Harbour. Pickled with colourful boats and surrounded by brilliant cafés, shops and bars, the harbour really is the main hub of Brixham for both visitors and locals. Whether you'd like to snap a close up shot of one of the boats or prefer a more panoramic view, Brixham Harbour is the perfect place to start when looking for photography spots in Brixham.
Breakwater
Similarly to the harbour, Brixham Breakwater is also a fantastic place to take photos and quite popular with photography enthusiasts. A walk along this half mile structure that juts out from the shore offers superb views towards the town, Breakwater Beach and out to sea. From all angles you're bound to capture a fantastic photo but one popular composition, and probably one of our favourites, is images of the charming lighthouse at the end of the breakwater.
Berry Head is home to a stunning nature reserve perfect for exploring whilst you're staying in Brixham or other parts of South Devon. The vast headland boasts a Napoleonic fort, lighthouse, acres of land and of course panoramic views of the magnificent South Devon coastline, ideal for photography. You could try wildlife watching, enjoy a peaceful walk around the historical site or grab a coffee in the café and just enjoy the views!
Churston Cove
Next up in our list of the most Insta-worthy places in Brixham is Churston Cove. Accessed via the South West Coast Path, this secluded shingle cove makes a perfect spot for a picnic after enjoying a walk from Brixham Battery and Battery Gardens, a scheduled monument with great historic interest. On your way you will also pass another popular beach, Fishcombe Cove. Both coves are idyllic and provide the ideal opportunity to get some really pretty shots of the diverse coastline.
Breakwater Beach
Another of our favourite beaches in Brixham and of course a fantastic place to get some dazzling photos is Breakwater Beach. It can be found to the eastern side of Brixham Breakwater and is a sand and shingle beach. Parking facilities are availably nearby and there is disabled access and toilet facilities. Not only is Breakwater Beach a Blue Flag beach, but it has also won a Seaside Award, and if that's not enough to tempt you, the crystal clear waters sure will!
Shoalstone Pool
Shoalstone Pool is about a ten minute walk or five minute drive from Breakwater Beach and is a 53 metre seawater lido. During the warmer months it is a hive of activity and a lovely place to enjoy those summer rays. In terms of photography, it's a really unique destination, with stunning views back across to the town and out to sea and interesting rocks around the area. Some of our favourite images are long exposure images showcasing the railings and structure, but even if you haven't got high tech camera equipment, you can still capture a great photo, especially at sunset!
Man Sands
Heading away from the centre of Brixham along the coast towards Kingswear is a quiet and secluded beach, Man Sands. It's probably lesser-visited due to its more rural location; visitors can park at Man Sands car park then walk for about three quarters of a mile down a steep track. It may sound like hard work, but we can assure you that it's definitely worth it. On a quiet day you may well be lucky enough to have this place all to yourself which is of course ideal if you're trying to grab a pic for your Instagram feed.
The Curious Kitchen
The Curious Kitchen can be found right in the heart of Brixham so is the perfect place to stop off whilst exploring all this beautiful town has to offer. The casual dining establishment should be on your hit list if you're looking to enjoy brunch in the town and we're pretty certain you'll want to take photos of your food – that's if you can resist diving straight in! Be sure to keep your eyes peeled for their stunning doughnuts too- these sweet treats make for a truly Insta-worthy shot!
Sharkham Point
Another place not too far from the town centre, Sharkham Point can be reached by walking along the South West Coast Path from the previously mentioned Berry Head. This dramatic headland offers stunning views of the coastline and overlooks St Mary's Bay. As you can imagine, this means there are plenty of captivating photo opportunities to be enjoyed, not just there, but on the walk to Sharkham Point too.
Scabbacombe Head is another example of the magnificent coastline close to Brixham, it's a little further along the coast from Sharkham Point and for those who enjoy a challenging walk, you could continue on from Sharkham, although be warned there are some rather steep ascents so it's not for the faint of heart! However, the scenery is breathtaking and you will definitely have plenty of photo ops.
Make sure to give us a follow on Instagram here so you can get your regular dose of South Devon! And don't forget to use @visitsouthdevon, #visitsouthdevon or #southdevon to tag us in your photos – we may even feature yours on our feed!
Other Posts You Might Like
Related
0 Comments