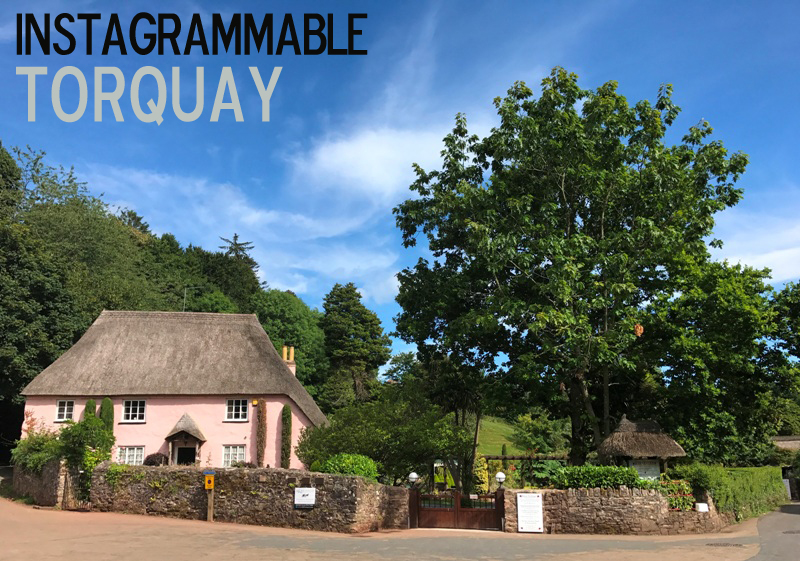 Part of Torbay, more commonly known to visitors as the English Riviera, Torquay is filled with ample things to see and do. The handsome town offers plenty for families, couples and guests of all ages and much like the rest of South Devon, you'll not be short of places to photograph during your trip. With Instagram being such a popular place to share imagery these days, we've put together a list of our top instagrammable places in Torquay below.
Cockington Village
Nestled on the edge of Torquay, the village of Cockington is always a hit with visitors to the area as well as local residents due to its quintessentially British feel. The pretty thatched cottages, historical structures and winding roads make it a beautiful place to photograph and we're certain you'll get a snap that will look sublime on your Instagram feed.
Thatcher's Rock
Much like Cockington Village, this beauty spot is very popular with budding photographers. Accessed on foot from Thatcher's Rock Green, a pathway leads out onto the cliff which provides panoramic views of the coastline towards Meadfoot Beach and Hopes Nose. Straight ahead you're greeted with that iconic view of Thatcher's Rock and we can bet you'll agree it is truly one of the most Insta-worthy spots in Torquay.
Rock Walk
Meandering along the cliff face that runs parallel to Torquay seafront, Rock Walk is characterized by its stunning views out to sea and zigzagging pathway. The wide variety of plants are ever changing throughout the seasons meaning whatever time of year that you visit, you're sure to capture a beautiful photograph for your social media feed.
Torquay Marina
Torquay Marina is always filled with a range of crafts, from high end yachts to quaint, retro boats; this diversity allows some great imagery. Sunset at the marina is a simply gorgeous thing to witness and the light really enhances all of the different vessels; it is the perfect time of day to grab a picture for your Instagram.
Ansteys Cove
Resting on the alluring Torquay coastline, Ansteys Cove is a quiet and secluded bay away from the hustle and bustle of the main beaches of Torquay. The serene environment is ideal for a spot of lunch, a relaxing swim or to simply sit back and bask in some South Devon sunshine. Along the coast of the English Riviera there are lots of beaches to photograph but we particularly love this one.
Babbacombe Beach
Babbacombe Beach is a small shingle and perfectly photogenic beach that sits beneath the cliffs of Babbacombe Downs. The calm waters are great to enjoy a paddle and the pier/breakwater is perfect for fishing or crabbing. The nearby Cary Arms Inn & Restaurant is a great place to enjoy a drink or bite to eat and soak up the idyllic surroundings.
Cockington Country Park
Although we've already included Cockington Village in our most instagrammable places in Torquay, we thought that Cockington Country Park deserved its own mention! Amble through canopied woodland, around tranquil lakes and Cockington Court and along pretty paths; the country park in Cockington is perfect for taking photos. We particularly love it in the autumn when the leaves change and everything seems to glow in shades of red and orange.
Torre Abbey Gardens
Torre Abbey Gardens can be found just on the other side of the road to the main beach in Torquay, Torre Abbey Sands. Torre Abbey itself is a magnificent place to visit, a museum housed within a historical structure. There's always lots taking place throughout the year and a beautiful tea rooms nearby to enjoy a Devon cream tea, but our star of the show is the spectacular gardens, any photo here is worth a spot on your Insta feed.
Torquay Harbour Bridge
Added to the harbour as part of a regeneration project in 2003, Torquay Harbour Bridge is a stand out piece of architecture that links the north and south pier of the marina. Although we have already mentioned Torquay Marina earlier, we wanted to include Torquay Harbour Bridge as a standalone place due to its unique, futuristic structure which is of course welcomed on any fantastic Instagram account.
Babbacombe Downs
Back in delightful Babbacombe, Babbacombe Downs just had to be on our most Insta-worthy places in Torquay. Not only can visitors enjoy peaceful walks with superb sea views, but the flower beds and arrangements on the downs change throughout the year and offer those looking to take photographs a brilliant natural frame in their images.
Follow us on Instagram here for your dose of stunning South Devon and don't forget to tag us in your pictures using @visitsouthdevon or #southdevon. We love seeing your photos of the region and we might even share yours with our followers too!
Other Posts You Might Like
Related
0 Comments