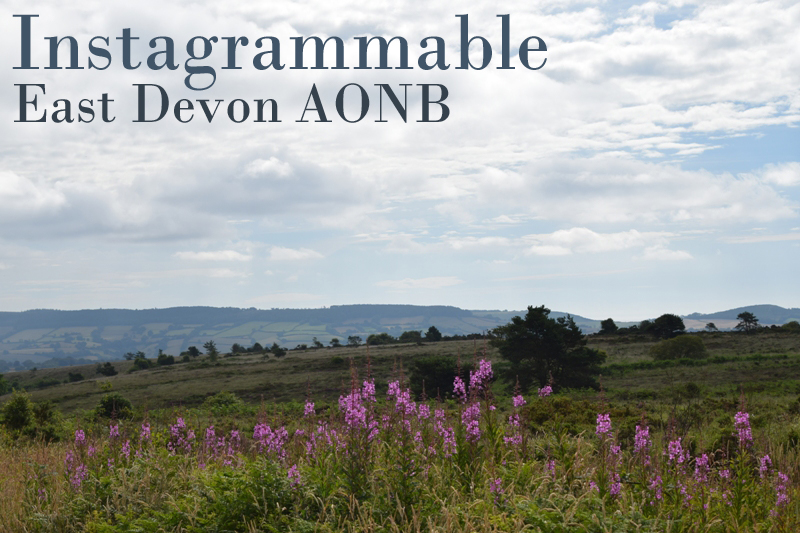 The East Devon Area of Outstanding Natural Beauty (AONB) covers most of the coastline between Exmouth and Lyme Regis and runs inland where it meets the Blackdown Hills AONB. As we're sure you can imagine, this means that there is an array of wonderful places to visit and things to see, and of course, some truly irresistible locations to photograph. It was tough but we've put together our top instagrammable places in the East Devon AONB for you to have a look at and hopefully give you some inspiration of where to visit to take photos when you're next in this stunning part of the county.
Woodbury Castle
Photo Credit: Baxter Bradford Photography
Starting off our list and one of our personal favourites in the East Devon AONB is Woodbury Castle. Contrary to its name, Woodbury Castle is actually an Iron Age hillfort with extensive ramparts that is 2,500 years old close to the village of Woodbury and 8 miles from Exeter. It is a popular place for a woodland walk next to Woodbury Common and the dense trees and views are just beautiful.
Branscombe is a quintessentially English village on the Jurassic Coast World Heritage Site near Beer. This chocolate-box collection of thatched cottages and historical buildings is a gorgeous place to wander and we're sure that it's a great destination for you to get a pretty photo for your Instagram feed. The beach here is delightful too!
Blackbury Camp
Another Iron Age hillfort on our list, (we just couldn't resist!) Blackbury Camp was constructed during the 4th century BC and is now managed by English Heritage. Similarly to Woodbury Castle, it's main lure to visitors is its dramatic woodland which creates captivating scenery for budding photographers, especially during the spring months when the bluebells are out in full force.
River Otter
Flowing for around 32km, from just inside the border of Somerset in the Blackdown Hills AONB to the English Channel at Budleigh Salterton, the River Otter is one of the main rivers of East Devon. Although about only a third of the River Otter lies within the East Devon AONB, it's a sublime and tranquil environment for walks and of course photography, which meant we just had to include it on our list!
Aylesbeare Common is an RSPB nature reserve close to the edge of the East Devon AONB just north west of Newton Poppleford. Home to a wide variety of birds and insects, its heathland, ponds and streams are a beautiful place to visit regardless of the time of year. It's a great destination to get a truly nature orientated shot for your Instagram feed if that's your style.
Similarly to Aylesbeare Common, Axmouth to Lyme Regis Undercliffs is a National Nature Reserve. It is managed by Natural England and is a site of great geological interest with rocks that span 185 million to 210 million years old. Magnificent views can be seen from the coast path along this site although visitors should always stick to the coast path and stay away from the cliffs as it is a very active landslide site, one of the largest active coastal landslide systems in Western Europe.
Harpford Woods
We just had to include Harpford Woods, north west of Sidmouth, in our most insta-worthy spots in the East Devon AONB. Not only is it a magical place to walk due to the dense woodland, but you'll find a few treats too! Not far into the woods you'll discover an abandoned railway bridge and there's also a tunnel too, perfect for an eerie shot to post on your social media.
Shute Barton
Photo Credit: Zoetica Ebb
Shute Barton is a medieval house near Axminster that is run by the National Trust and is available to rent out as a holiday cottage meaning visiting the site may be tricky. However, Shute Barton does open to the general public on four weekends a year, so if you're in the area, we'd definitely recommend it. The Gatehouse managed by The Landmark Trust is extremely impressive too and will look perfect on your Instagram, you can even stay there as well!
Cannington Viaduct
Cannington Viaduct is located in the village of Uplyme on the Devon-Dorset border. The viaduct was part of the Lyme Regis Branch Line which opened in 1903 and connected Axminster to Lyme Regis. It's an almost imposing structure in the surrounding countryside but a charming one that just had to be on our list of the most photogenic places in the East Devon AONB.
River Cottage HQ
Situated in Axminster, River Cottage HQ is the base for Hugh Fearnley-Whittingstall's Cookery and Chefs School. Throughout the year, River Cottage hosts different events and dinners for visitors to enjoy. The undulating countryside and pretty buildings mean you'll definitely get a photo to add to your growing Instagram collection.
Make sure you're following us on Instagram here to get your dose of South Devon whenever you need it! And don't forget to tag us in your photos of the region too by using @visitsouthdevon or #southdevon. We love seeing your images and we might even share it with our followers!
Other Posts You Might Like
Related
0 Comments