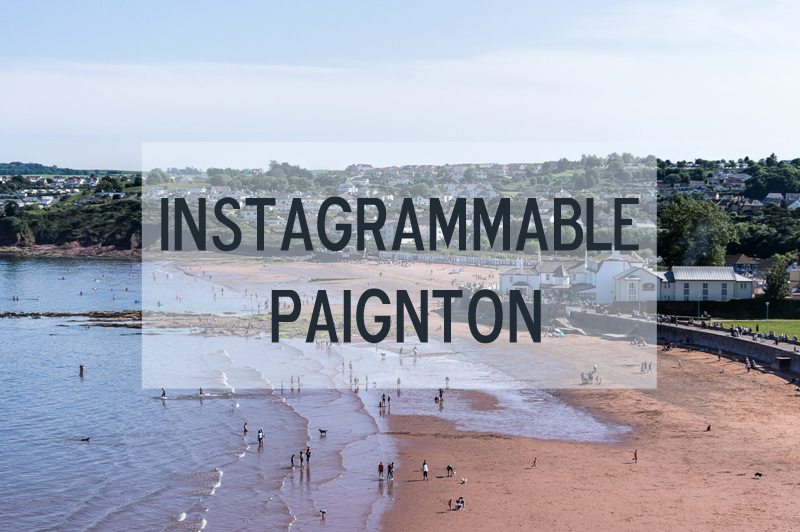 Sitting at the heart of the English Riviera, known locally as Torbay, Paignton is a hotspot for family seaside holidays. With a plethora of brilliant attractions, loads of great beaches and plenty to see, it's no wonder the town welcomes thousands of visitors every year. Paignton is also a pretty beautiful place too, with many spots that any budding photographer would enjoy photographing. As part of our instagrammable series, we've put together our top 10 Insta-worthy places in Paignton so that you'll have some inspiration on where to go and where to get that money shot!
Paignton Pier
Arguably one of the most iconic features of Paignton, Paignton Pier just had to be first on our list! Opening to the public in 1879, this large pleasure pier has dominated the seafront at Paignton over the decades and still offers an assortment of amusements and games for all ages. A visit to Paignton wouldn't be complete without a trip to the pier, grab an ice-cream or hit the 2p machines, however you decide to enjoy this traditional seaside attraction, make sure to grab a photo of it for your Insta too!
Another extremely popular visitor destination in the town, Paignton Zoo Environmental Park is bursting with things to do. Get up close and personal with some of the world's most fascinating species or let the little ones run wild on their indoor and outdoor play areas, at Paignton Zoo there's 80 acres of fun to be had. Moreover, the diverse range of animals mean there are plenty of interesting photo opportunities too. Find out more about Paignton Zoo Environmental Park here.
Roundham Head
A short walk from Paignton Harbour, heading along the coast, you'll find Roundham Head. The vast open green space is perfect for relaxing or playing a ball game and being on top of the cliff, there's plenty of fantastic views to be had of Torbay. One of our favourites is from the south side where you'll find a steep path that leads down to Goodrington Sands. Standing at the top, you'll be greeted with magnificent views over the beach and along the coastline towards Brixham.
Oldway Mansion
Oldway Mansion is located on the edge of the Preston area in Paignton and is a large house and gardens. Originally built as a private residence for Isaac Merritt Singer, it was later rebuilt in the style of the Palace of Versailles by his son, Paris Singer. Although this decadent structure is sadly not currently open to the public, the gardens and grounds are, meaning you can still wander and appreciate the majesty of this building from the outside - we're sure you'll completely understand why we just had to include it on our list of the most Insta-worthy spots in Paignton!
A short drive from the centre of Paignton, on the way to the fishing port of Brixham, you'll find Broadsands Beach. This sheltered bay is the ideal beach for families due to its shallow waters and great facilities. Apart from being a great beach for a fun-filled day out, walkers also enjoy this area and if you take a little stroll up and over the hill at the eastern end of the bay, you can welcome beautiful views of the coastline as well as some magical scenes of the rocks below. For more information about Broadsands Beach, please click here.
Shoreline
Shoreline is an elevated restaurant above the Eastern Esplanade on Paignton Seafront with panoramic views across the English Riviera. Besides its quite simply stunning location, they also serve up some of the best pizzas in town so it's a fantastic place to grab a bite to eat whilst you're visiting. We just had to include Shoreline in our top places to visit for an Instagram shot in Paignton, there's not many other places you can enjoy a coffee (or pint!) with a view of Paignton Sands like this!
Paignton Harbour
A little walk from the town centre of Paignton is Paignton Harbour where visitors can enjoy watching the maritime activity in this beautiful setting. A handful of restaurants and cafés surround the harbour meaning there's plenty of opportunities for refreshments, and being tidal means that Paignton Harbour is constantly changing throughout the day so if you have a few hours to spare, it's lovely to sit at one of the terraces at the restaurant and watch the goings on. These places are also great to snap a picture of this pretty spot too!
Compton Castle
Compton Castle is located in the parish of Marldon just outside of the main part of town. Managed by the National Trust, this grand manor house boasts an imposing and grandiose stature as well as small formal garden. We simply had to include Compton Castle on our list of the most instagrammable places in Paignton as it is as dramatic as it is beautiful and there are ample photographs to be had.
Elberry Cove
Near to Broadsands Beach, Elberry Cove can be reached by walking over the headland at the eastern side of Broadsands Beach and down through a short wooded area where you'll see the cove peeking through the leaves. A small and sheltered pebble and shingle bay, Elberry Cove is a particularly popular location with locals due to its more secluded location and crystal clear waters. To one end are the old ruins of an 18th century bathhouse.
Dartmouth Steam Railway & Riverboat Company
If you're visiting Paignton then a trip on the steam railway run by Dartmouth Steam Railway & Riverboat Company is a must! Climb aboard and enjoy a glorious journey along the sparkling coastline and through rolling countryside as you make your way to Kingswear on the River Dart. We've included this one on our list as we're sure that any train enthusiasts would love a photograph of one of the locomotives on their feed! But if that's not your thing, the journey will provide some outstanding views anyway so you could always take a photo or two of those instead!
Make sure you're following us on Instagram here where we're sharing all of our favourite photos of South Devon taken mostly by you! For your chance to be featured on our Instagram feed, tag us in your photos using @visitsouthdevon or use #southdevon or #visitsouthdevon!
Other Posts You Might Like
Related
0 Comments