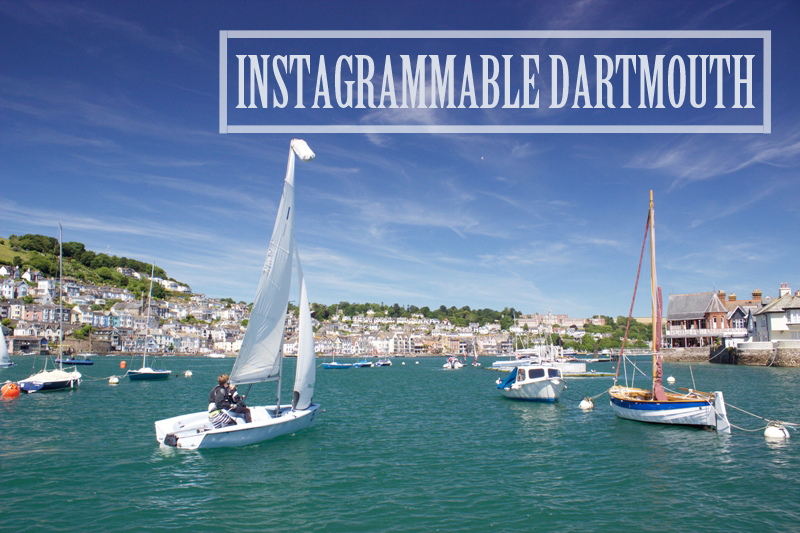 Next up in our instagrammable series is the beautiful Dartmouth. Residing peacefully on the River Dart and nestled within the South Devon Area of Outstanding Natural Beauty (AONB), Dartmouth is a town full of charm and character with plenty of things to do and places to visit. Steeped in history with a great array of shops, eateries and cafés, this pretty coastal town in South Devon is certainly one to add to your list. Find out our top 10 Insta-worthy spots in Dartmouth and the surrounding area below.
Gallants Bower
Gallants Bower is a Civil War fort which can be found not far from Dartmouth Castle and is often visited by those enjoying the Little Dartmouth circular walk. Although now not much more than ruins, Gallants Bower is still a magical place to explore with stunning views of the Dart Estuary. It's particularly at its peak in the springtime when the mounds are carpeted with bluebells.
Boat Float
Photo Credit: Lizzie Churchill
Probably the best recognised view of Dartmouth, we couldn't write a list of the most instagrammable places in Dartmouth without including the inner harbour, locally known as the Boat Float. A special place to sit and people watch, the colourful boats and constant buzz around this part of town mean that there's always a great photo to be had.
Jawbone Hill
Jawbone Hill will give you a view of Dartmouth and Kingswear unlike any other in the area. Gazing down upon the River Dart from this popular photography spot, you'll be spoilt for choice when it comes to capturing an image. There are iconic trees which are often the focus for imagery on Jawbone Hill but the view across to Kingswear is simply divine too.
A popular spot for locals and visitors to enjoy brunch, Café Alf Resco in the heart of Dartmouth is renowned for its scrumptious breakfast menu. Not only are you guaranteed to have a delicious meal, but the exterior of Café Alf Resco is pretty special too; quirky and intriguing, if you're Instagram nods toward a more urban feel, a shot of this is sure to suit your feed. Further information about Café Alf Resco is available here.
Situated near the village of Kingswear, Coleton Fishacre is an art deco house managed by the National Trust. With an eclectic collection of artefacts, chic décor and sublime coastal views from the gardens out to sea, it's no wonder we had to include it on our list of the most instagrammable places in Dartmouth and the surrounding area. Find out more about Coleton Fishacre here.
Radius 7 is a stylish restaurant and bar located in the village of Stoke Fleming just a short drive from the centre of Dartmouth and is part of Leonards Cove Holiday Park. Serving up heavenly dishes with a focus on local producers and suppliers, we're sure that you find an opportunity to snap a shot of something great off the menu. Discover more about Radius 7 here and Leonards Cove here.
A short walk from the centre of town, Dartmouth Castle is a popular destination for tourists and locals. It's historical importance, magnificent views and of course delightful tea rooms nearby create a plethora of scenery for budding photographers to capture a mesmerising image for their Instagram account. Find out more about Dartmouth Castle by clicking here.
Resting on the banks of the River Dart, Dart Marina Hotel & Spa is the place to go if you're looking for a touch of luxury. Whether you'll looking for elegant accommodation, somewhere to enjoy a cream tea or simply a refreshing drink, their beautiful terrace and wonderful views provide the perfect place to get a photo for your Insta feed. For more information about Dart Marina Hotel & Spa, please click here.
The Daymark
On the opposite side of the River Dart, high up on the cliff, you'll find The Daymark close to Kingswear. This grand stone tower is an 80 foot day beacon which acted as a landmark for those at sea. We had to include The Daymark in our most Insta-worthy spots in and around Dartmouth as it already has a popular presence on Instagram!
Blackpool Sands is located just a short drive from the town of Dartmouth within the South Devon Area of Outstanding Natural Beauty (AONB) and is the ideal place for a day out at the beach. Backed by evergreens and surrounded by glorious Devon countryside, Blackpool Sands had to be on our top 10 instagrammable spots in Dartmouth and the surrounding area due to its picturesque setting. Learn more about Blackpool Sands by clicking here.
Make sure to follow us on Instagram here and don't forget to tag us in your photos of South Devon using #southdevon or @visitsouthdevon. We love seeing your photos of South Devon and we might even feature your image on our feed!
Other Posts You Might Like
Related
0 Comments