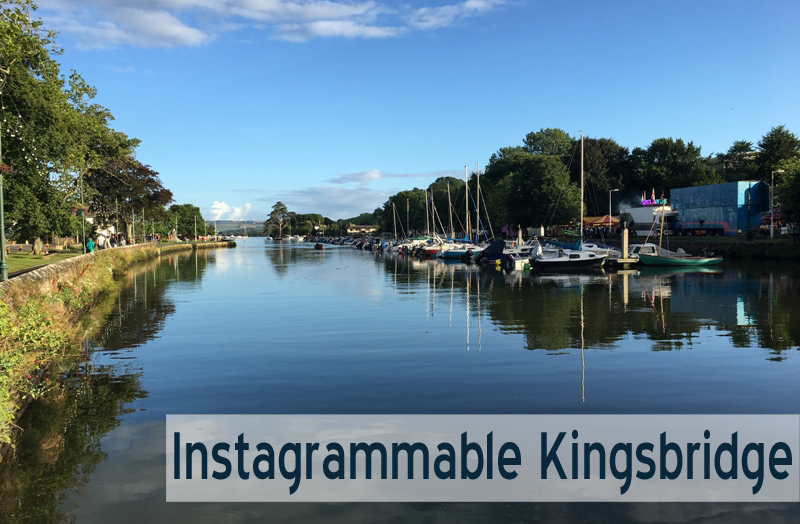 The enchanting town of Kingsbridge lies in the South Hams district of South Devon. Its estuary location and place within the South Devon AONB means that there are tons of places that are great to photograph, for more experienced photographers and amateurs alike. As part of our Instagrammable series, we've put together our favourite locations in and around the area that will make your Insta feed shine! Read on to find out our top ten Insta-worthy spots in Kingsbridge.
Kingsbridge Estuary
Starting our list off is of course the Kingsbridge Estuary. Meandering through the South Devon Area of Outstanding Natural Beauty, this mesmerizing waterway is the perfect place to snap a gorgeous shot for your Instagram feed. Whether you choose to focus on the array of boats in your image or simply capture the tranquillity from any angle, you're sure to capture an amazing photo that will make all your Insta friends jealous!
Buckland Tout-Saints is a fabulous country house hotel nestled within glorious South Hams countryside. It's opulent decor and magnificent grounds provide a luxurious stay or visit and their afternoon teas are simply divine. Photo opportunities are abundant so of course we had to include it in our list of the most instagrammable spots in Kingsbridge.
South Devon Chilli Farm can be found a short drive away from the centre of Kingsbridge close to the village of Loddiswell. A truly interesting place to visit, not only can you pick up some scrummy delights to take home with you such as chilli chocolate or chipotle sauce, but you can also explore the Show Tunnel from the end of May through to December and here is your best chance to get a great photograph of some of the fantastic chillies growing.
Bowcombe Creek
The most northern creek of the Kingsbridge Estuary, Bowcombe Creek is a wonderfully relaxing place to visit with its calming waters and idyllic views. For those of you looking to take a fabulous shot for your Instagram feed, New Bridge which crosses the creek is always a popular choice, or if you're feeling energetic, walks over the hills around Bowcombe Creek offer some magnificent views and photo opportunities.
Kings Cinema
For the latest films and blockbuster hits, Kings Cinema is the place to head to in the lovely waterside town. This quirky building in the heart of Kingsbridge town centre on Fore Street is famed for its unique blue clock which perches on its roof. And if you can get the angle right, it makes for a really interesting photograph to add to your social media feed.
A short car ride from Kingsbridge headed towards the charming town of Dartmouth, you'll find Slapton Ley Nature Reserve. The largest freshwater lake in the South West, Slapton Ley is home to a variety of fascinating wildlife and the ever-changing scenery means that whatever time of year you visit you're bound to be able to snap an extra special image.
Kingsbridge Phone Box Nightclub
Hailed as the 'world's smallest nightclub', this unusual landmark in Kingsbridge town centre made the news in 2018. A traditional phone box which has been converted into a mini disco boasts a glitter ball and classic club lighting. Visitors can now pay £1 to enjoy a song as opposed to making a telephone call with all proceeds going to a local charity. Certainly worth a look and of course a tune, it's also a pretty different location for a small photo shoot!
Not too far from Slapton Ley Nature Reserve is Torcross. A village at the southern end of Slapton Sands, the view looking down the beach and over the nature reserve is utterly breathtaking and one you'll come across on Instagram time and time again if you search for the area. With that in mind, we of course had to include Torcross in our most Insta-worthy places in and around Kingsbridge.
Harbour House
Harbour House is a wonderful centre for yoga and the arts in Kingsbridge. With yoga studios, exhibition space and a popular vegetarian café it's definitely worth a visit whilst you're in the town. The courtyard is a very pretty space and ideal for a stop whilst you're shopping or exploring Kingsbridge and obviously it wouldn't be included on our list if it didn't make a cute shot for social too!
Renowned as the village that slipped into the sea, Hallsands can be found on the South Devon coast just a small distance from Kingsbridge. After a storm in 1917, only one house from the previous village remained with the rest of it being taken by the ocean overnight. Ruins still stand and with a good camera or view from the water, a capture of this intriguing spot on the coastline is sure to diversify your Insta feed.
Make sure you're following our Instagram account here and don't forget to tag us in all your images of South Devon by using #southdevon or @visitsouthdevon, we might even share your photograph with our followers!
Other Posts You Might Like
Related
0 Comments