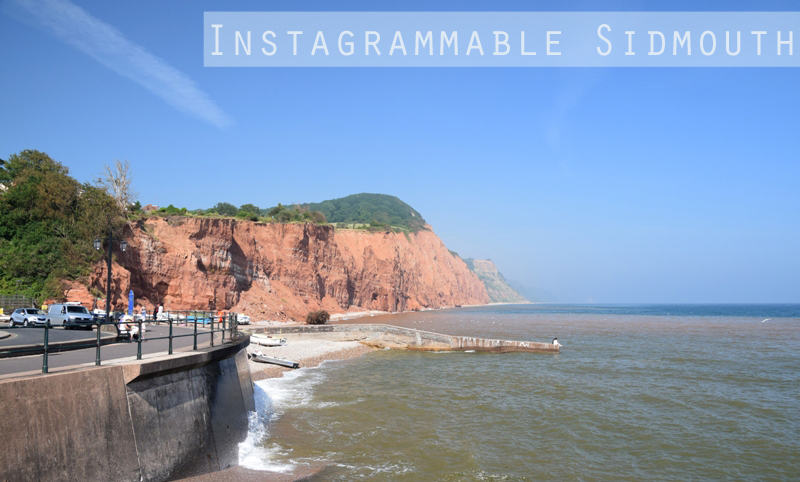 The Regency town of Sidmouth is sprinkled with glorious views and interesting places to visit. Many of which photograph wonderfully and in the age where we'd like to share our adventures with all our friends and family, it only seemed fitting to put together a list of some of our favourite photogenic places in the town. Read on to discover our top 10 instagrammable places in Sidmouth and the surrounding area.
Connaught Gardens
Overlooking Jacobs Ladder Beach in Sidmouth, Connaught Gardens holds a beautiful display of colourful shrubs throughout the year. The walled gardens are a popular attraction among tourists and locals and the beautiful arched entranceway looks out onto the cliffs and beach below. This spot is particularly photographed and will make a lovely addition to your Instagram feed.
The Donkey Sanctuary in Sidmouth makes for a wonderful day out for the whole family. With free admission and stunning surrounding countryside, it's no wonder we had to include it on our instagrammable list of Sidmouth. Whether you'd like a four legged beauty as the focal point of your image or idyllic scenery, you're sure to snap a cracking shot to upload to your social media. Find out more about The Donkey Sanctuary here.
Sidmouth Sea Front
The vast Sidmouth sea front provides ample opportunities for budding photographers. Standing to one end looking across the town along the coastline means you frame this seaside resort effortlessly and the large cliff faces provide a magical backdrop, we especially love the sunrise or sunset images that are taken of this view.
With panoramic views and a touch of glamour, Sidmouth Harbour Hotel is certain not to disappoint. Whether you decide to stay at this luxury hotel or simply enjoy a bite to eat in their picturesque restaurant, you'll not be short of scenery to grab a jealousy-inducing photo to add to your Insta account. Learn more about Sidmouth Harbour Hotel here.
The Byes Riverside Park
Image Credit: Nigel Jones
The Byes Riverside Park is situated in the heart of Sidmouth with the River Sid meandering through it. The tranquil waters and aged trees create a peaceful location for walkers and visitors whilst the wildflower meadows are simply delightful. A great place to relax it also makes our most Insta-worthy spots in Sidmouth list due to its range of fantastic images that can be captured here.
Ladram Bay
Image Credit: Grzegorz Gosciniak
A short way away from the centre of Sidmouth, heading along the coast towards Budleigh Salterton, you'll find the superb Ladram Bay Holiday Park. As well as being a great place to base yourself for exploring the varied area of East Devon, its secluded beach is extremely popular with visitors because of its distinctive red stacks – perfect for an unusual beach shot to add to your Instagram. More information can be found about Ladram Bay Holiday Park here.
The Clock Tower
If you're visiting Connaught Gardens as previously mentioned earlier, then be sure to stop of at The Clock Tower for a refreshment. Although technically this cute café is within the gardens, we thought it deserved its own spot on our top instagrammable places in Sidmouth as their adorable windows that frame the staggering Jurassic Coast are just a must to photograph if you're visiting the town.
Peak Hill
Peak Hill is just a short distance uphill from Sidmouth sea front and will provide magnificent views looking down on the town and along the coastline. In the spring months, the grassland leading away from Connaught Gardens is blanketed with sunny daffodils which make a great addition to this already sensational view.
Mutter's Moor
If you follow Peak Hill Road further away from the town, you'll come to Mutter's Moor. Here you can park your car in the designated car park and explore the woodland and scenery around. Far-reaching views show off the spectacular Devon countryside and Otter Valley. Of course, views like these will not go amiss on any visitors Instagram account!
Bicton Park Botanical Gardens
A short drive from Sidmouth is Bicton Park Botanical Gardens. Open to the public all year round, the historic gardens are full with things to do and see. Little ones will enjoy the varied events, maze and children's play areas, to name but a few activities, and we can all appreciate the fascinating museum, charming plantlife and historic glasshouses – which all of course take a great picture!
Don't forget to follow us on Instagram here for your daily dose of South Devon and make sure you tag us in your images of the region by using #southdevon or @visitsouthdevon. We might even feature one of your photos on our feed!
Other Posts You Might Like
Related
0 Comments