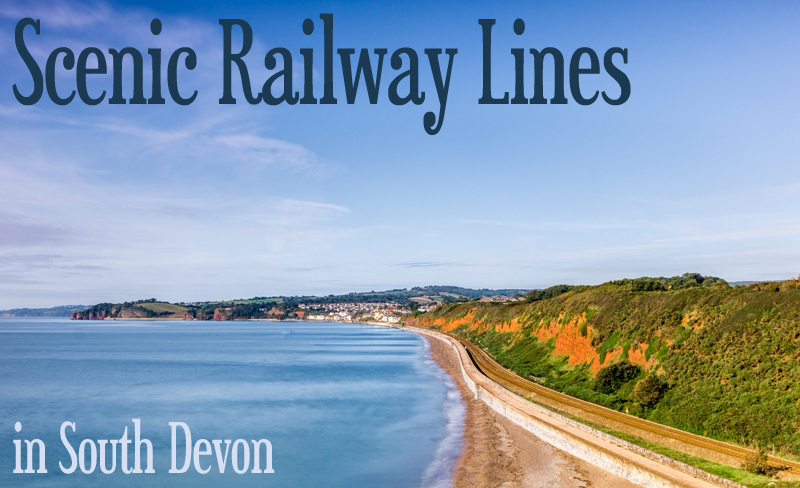 Travelling around South Devon by train needn't be boring; our railway routes are, in our opinion, some of the best in the whole country when it comes to views and scenery! From lines that trace a sea wall to trains that glide through spectacular countryside. The region benefits from four particularly attractive rail routes one which even links us to North Devon so you can explore even more of the county whilst you're here! Whether you intend to use the rail services in South Devon to get you from A to B and save driving or just for a pleasant journey and to see more of the region, we can promise you some breathtaking views out of the window! Find out about our most scenic railway lines in Devon below.
Main Lines
The main lines below will help you get to your destination but they're more than just a transport option, discover why below.
Riviera Line (Exeter Central – Paignton)
From the bustling city of Exeter to the family friendly seaside town of Paignton on the English Riviera, the Riviera Line is arguably one of the most scenic stretches of railway in the UK, at the very least the South West! The route takes you along the serene Exe Estuary, before passing by the iconic red cliff faces of Dawlish and onto the alluring waterfront resort of Teignmouth. From here, you'll discover more riverfront views as you travel inland along the Teign Estuary to Newton Abbot. The final stretch on the Riviera Line carries you to Paignton, past Torquay, both resorts famed for their place on the English Riviera, also known as Torbay.
Tarka Line (Exeter Central – Barnstaple)
A 39 mile route between Barnstaple in North Devon and Exeter here in the south, the Tarka Line has connected the two parts of the county since 1854. The line guides you through undulating Devon countryside and through the river valleys of the Taw and Yeo with plenty of towns and villages to explore on the way if you wish. You could alight at Crediton and discover this fascinating market town with its charming history or enjoy the route all the way to Barnstaple where you will find the Tarka Trail, a 180 mile walking and cycling route around Mid and North Devon.
Avocet Line (Exeter St Davids – Exmouth)
The Avocet Line runs between the cathedral city of Exeter and the beautiful town of Exmouth. Hugging the eastern banks of the Exe Estuary for the main part of the journey, this route offers unparalleled views of this captivating environment and is ideal for those who have an interest in bird watching. One stop along the railway line is Topsham, a vibrant town with an eclectic mix of shops and restaurants. From here you can either continue on the train or even hop on a passenger ferry down to Exmouth, either is beautiful, and once arriving in Exmouth you'll be greeted with a long sandy beach perfect for trying your hand at a new watersport.
East Devon Line (Exeter St Davids – Axminster)
From Exeter across East Devon to the historical town of Axminster runs the East Devon Line. Traversing through glorious Devonshire countryside this magical route makes its way through the hills past Cranbrook and on to Honiton. Known for its lace making industry, Honiton provides plenty to explore and is a great place to get off if you wish to catch a bus to the coastal town of Seaton. Further on from Honiton, passengers will enjoy a short trip through the Blackdown Hills AONB before heading into the East Devon AONB and carrying on to Axminster.
Steam Railways
For shorter routes and a more historical rail experience, South Devon has two fantastic steam railways for you to enjoy.
A branch line of the former Great Western Railway, South Devon Railway operates the tracks between Buckfastleigh and Totnes. Discover a magical 7 mile journey through idyllic South Devon countryside most of which is alongside the River Dart offering plenty to see including native wildlife if you're lucky! Throughout the year, South Devon Railway also hosts lots of brilliant events including galas and trains where you can dine on board. To find out more about this wonderful attraction, please click here.
Dartmouth Steam Railway (Paignton – Kingswear)
Part of the Dartmouth Steam Railway and River Boat Company, the Dartmouth Steam Railway runs steam trains between Paignton and Kingswear. Passing Goodrington Sands and on towards the River Dart before ending at Kingswear, this route is a favourite among those of all ages. From Kingswear visitors can hop on the ferry across to the coastal town of Dartmouth, a great town known for its galleries and enchanting architecture.
To keep up to date with all things South Devon, be sure to like our Facebook page here where we'll let you know about the latest competitions, blog posts and more!
Other Posts You Might Like
Related
0 Comments