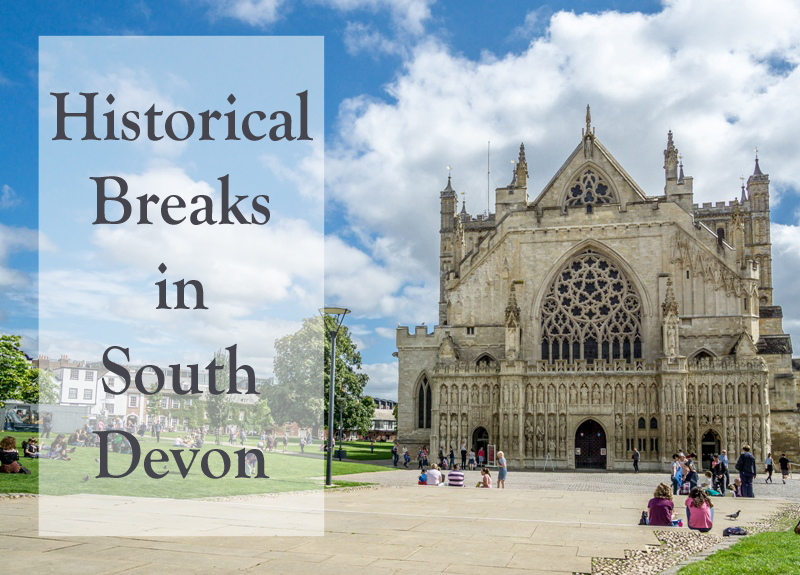 Historical forts, magnificent castles, ancient sites and a staggeringly beautiful prehistoric coastline, South Devon offers the ultimate location for a historical break packed with history and intrigue.
Historical Buildings
The towns and villages of South Devon are jam packed with historic and fascinating buildings which chart the history of the county and the Devonian people.
In the heart of Devon's capital city, Exeter, you'll find the 900 year old Exeter Cathedral. The medieval building houses the longest unbroken stretch of Gothic vaulting in the world and two impressive Norman towers.
A short drive from Exeter on the banks of the River Exe stands the splendid Powderham Castle. On a visit to the castle you can enjoy a guided tour of the many majestic rooms of the 600 year old home of the Earl and Countess of Devon.
If you're looking to visit a castle and learn about the regions historical battle defences, you'll be spoilt for choice. Some of the castles you may want to visit include; Totnes Castle, Dartmouth Castle, Bickleigh Castle and Compton Castle. Totnes Castle which overlooks the market town is a classic motte and bailey castle and was founded soon after the Conquest. The 600 year old Dartmouth Castle guards the entrance to the River Dart and saw action during the civil war and just south of Tiverton you'll find Bickleigh Castle, on a guided tour of the site you can find out about its history dating back to 600AD, all tours at Bickleigh Castle must be booked in advance.
There are also a number of National Trust properties across the region including Bradley Manor, a medieval manor house in Newton Abbot, the 600 year old Compton Castle near Paignton, the 1920's country retreat Coleton Fishacre and Agatha Christies 1950's holiday home, Greenway House, the latter two are both a short drive from the River Dart.
As well as the above there are many other fascinating historical buildings in South Devon, you can find out more about them here.
Historical Transport
If historical transport is more your thing, there are many exciting places to visit in Devon.
You can take a trip on a heritage line, the South Devon Railway, from Buckfastleigh to Totnes and travel behind a historic GWR steam engine through beautiful countryside along the banks of the River Dart. At Buckfastleigh Station you'll find a fascinating museum, workshops and historic steam and diesel engines. There is even a heritage bus service which runs to Buckfastleigh and Buckfast Abbey on some days.
To discover more of the regions industrial heritage head to Dartmouth, here you'll find the oldest preserved working steam engine in the world, the Newcomen Engine. Designed by Dartmouth-born engineer Thomas Newcomen, the Engine can be seen working in Dartmouth Visitor Centre.
Feel the wind in your hair and see Devon in style in a Morgan sports car hired from Berrybrook Motors. As well as these quintessential British sports cars, they also have Aixam, Reliant, Ligier and Micro Cars available.
To find out about more great historical transport attractions in South Devon check out the historical transport blog post on the website here.
Museums
A great place to visit to quench your thirst for Devonshire history is a local museum; these fascinating buildings are packed with stories and artefacts from the local area giving you a real insight into the regions past.
The Teign Heritage Teignmouth and Shaldon Museum in Teignmouth houses a range of interesting exhibits in two wonderful galleries which gives visitors and locals the opportunity to explore the area's fascinating heritage.
At World of Country Life in Exmouth you'll find The Hall of Transport which is home to one of the largest collections of vintage vehicles, motorcyles and steam engines in the South West. As well as being a great farmyard a day out, a visit here will be a wonderful treat for any automobile enthusiast.
As well as the above you'll find a local museum in most towns throughout the region and they are well worth a visit during your historical break to Devon.
Ancient History
Did you know that on a historical break to South Devon you can explore 185 million years of the Earth's past?
Running from Exmouth to the Dorset boarder is the Devon stretch of the Jurassic Coast, a UNESCO World Heritage site. By exploring the cliffs, caves and beaches along this section of coast you'll experience a 'walk through time' that includes the Triassic, Jurassic and Cretaceous periods. For an interactive visit to the Jurassic Coast, become an explorer at Seaton Jurassic and experience ancient landscapes, face scary monsters and get shrunk down to the size of a shrimp.
In the heart of Devon lays Dartmoor National Park, stretching across 368 square miles the diverse landscape is scattered with mysterious hut circles and standing stones, ancient woodlands and historic villages. As well as remnants of Bronze Age settlements, Dartmoor is also home to a 2,000 year old Benedictine monastery at Buckfast Abbey, a granite railway at Hay Tor and Dartmoor Prison and Museum in Princetown.
To the east of Devon, straddling the Somerset border is the Blackdown Hills Area of Outstanding Natural Beauty (AONB). This unspoilt rural landscape of steep valleys, forests and farmland is scattered with plenty of history to interest visitors, including Iron Age hill forts, a woollen mill built in 1799, two airfield heritage centres, a medieval castle and the Wellington Monument.
Tours and Trails
If you're visiting the area for the first time or are only here for a short while you might want join a tour to ensure you make the most of your time in the region. A guided tour is perfect if you're unsure about where to start your historical break, are short on time and want to ensure you see all the best bits or just want to hear history brought to life by a brilliant tour guide.
Unique Devon Tours provide exclusive guided tours of Devon for up to 6 people either planned or tailor-made to the interests of your party. Some popular tours include Fossil Hunting and Llama Walking, The Mayflower Tour of Devon, Agatha Christie Tour and The Historic Buildings of Devon Tour.
Enjoy a guided tour of Dartmouth and find out about the towns maritime history and its most important buildings. The Dartmouth Guided History Tour is a 1 to 1½ hour fun, informative and interactive walking tour presented by Les and Liz Ellis, Town Crier and consort of Dartmouth.
To discover more about the historic city of Exeter, join in with the city's free Red Coat Guided Tours. There are a variety of tours available, each one focusing on a different aspect of Exeter's history and culture.
If you prefer a self guided tour, collect a copy of the free Tiverton Merchants Trail from the towns information centre. From 1500 to 1750 Tiverton was famous for the manufacture of woollen cloth and the Merchants Trail tells the merchants' story as you walk around the town. The information centre to pick up your copy of the trail can be found at the Tiverton Museum of Mid Devon Life where you can also find out more about this fascinating town.
To commemorate the 100 anniversary of the Battle of the Somme and the First World War, Teignbridge Council has produced an informative map of the district showing the locations of the area's WW1 War memorials. Find out more about these fantastic monuments on our page here.
Keep up to date with all things South Devon and tips for planning your holiday by signing up to our e-newsletter here.
Other Posts You Might Like
Related
0 Comments