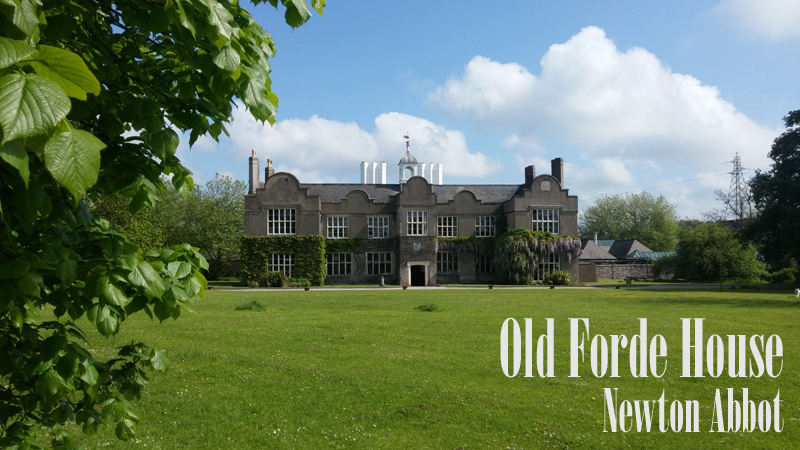 Old Forde House sits on the outskirts of the market town of Newton Abbot and is managed by Teignbridge District Council. Throughout the year, the house entertains a number of visitors for different tours and events. The historical building is also used by the council for various business events as well as being available to hire for weddings, conferences and business meetings. To find out about hiring Old Forde House for your business event, please click here.
The beautiful grounds and intricate architecture of the building make this a stunning setting for couples to tie the knot, with a variety of rooms on offer for the ceremony, each with their own unique character and charm. As well as exclusive use of the house, couples can hire the grounds also if they wish to. To find out about hiring Old Forde House, please click here.
Old Forde House has been passed between a handful of influential families over its 420 year history and started its life much smaller than what can be seen today. It is believed that the building found at the rear of the present day Forde House was the original manor built by John Gaverock in 1545. The structure residing today which can be seen from the Torquay Road, just off the Penn Inn roundabout, dates back to 1610 and is in stark contrast to the neighbouring industrial buildings.
Find out more about the fascinating Old Forde House in our 10 interesting facts below.
The house was named after a ford where the road to nearby villages crossed the Aller Brook.
Old Forde House is built in the shape of the letter E, many believe this to be in honour of Queen Elizabeth I who had recently passed.
The estate once included a Deer Park and the area now know as Decoy, did in fact include a decoy for trapping wildfowl.
In 1622, Richard Reynell, owner at the time, was knighted by James I.
King Charles I stayed at Old Forde House in 1625 on his way to Plymouth to inspect the fleet, he also stayed for a futher two nights just over a week later on his return.
Sir Thomas Fairfax together with Oliver Cromwell , stayed at Old Forde House in 1646 on their way to capture Dartmouth.
In 1688 William, Prince of Orange stayed overnight and the first floor room is named the Orange Room after him.
From 1960 to 1978 the house was used as a base for an antique business.
In 1980 Her Majesty Queen Elizabeth II visited Old Forde House to inaugurate the renovation of the building.
Old Forde House is believed to be haunted with some ghost hunts even taking place at the property over the years.
To keep up to date with all things South Devon, be sure to sign up to our e-newsletter here. We'll keep you posted about the latest competitions, blog posts and more.
Other Posts You Might Like
Related
0 Comments