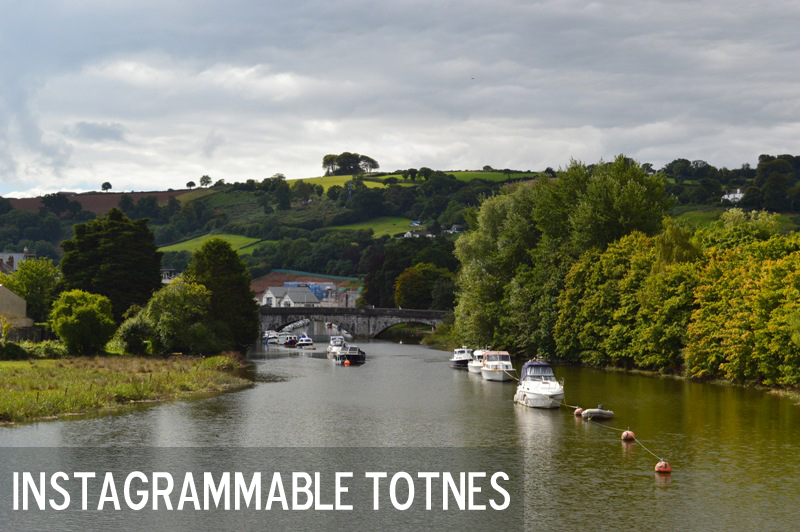 The town of Totnes is not only full of history but it also has lots of spots that deserve a place on your Instagram feed. A castle, quirky hotels and an extremely pretty high street, this popular South Hams town is a great place to explore and take plenty of photos! Have a browse at our ten favourite insta-worthy spots in Totnes and the surrounding area.
Totnes Guildhall
Totnes Guildhall is a 16th century, Grade I listed building which stands on the site of a former monastery. The original priory building from the monastery still exists too and dates back to 1088. Today, the guildhall is used by Totnes Town Council but visitors can still access this historic building on weekdays between April and October. You can even see the chamber where Oliver Cromwell planned the end of the Civil War in 1646. Totnes Guildhall is as beautiful on the outside as it is inside, so a quick snap of this won't go amiss on your social media!
Standing high upon a hill, looking down over the town, Totnes Castle is an 11th century, Norman motte and bailey castle now managed by English Heritage. Climb the multitude of steps to the top of this impressive structure and you'll be rewarded with panoramic views of this wonderful town. Whether you want a picture of the view or the castle itself, we're sure you won't be disappointed.
Totnes High Street
We couldn't write about the top instagrammable places in Totnes without including Totnes High Street! As you amble up the hill of the main street you'll gaze upon much historical architecture, including Tudor and Elizabethan, as well as an eclectic mix of shops, many independent stores offering all sorts, from vintage clothing and records to local produce and craft supplies. The East Gate Arch, more commonly referred to as the clock tower, looms above mid-way up and is the ideal focus for a photo.
The Royal Seven Stars in Totnes is an attractive hotel offering superb accommodation if you're looking to spend some time in the town. It also offers two bars, so for day trippers is a fantastic place to stop for a coffee or perhaps something stronger. The décor inside is an assortment of plants, luxurious furniture and other varied items that together provide a super backdrop for an Insta shot, our favourite place is the grand entrance hall.
Vire Island
Vire Island in Totnes takes its name from the town with which Totnes is twinned with, Vire in Normady, France. This narrow stretch of land is popular with the public for picnics and other recreational activities, the parkland offers wonderful imagery throughout the year, one of our favourite times to visit is during the autumn when the leaves have turned. The trees beautifully frame Totnes Bridge as well as the River Dart, making for a very pleasing, insta-worthy shot.
Totnes Bridge
Linking Bridgetown, a suburb on the outskirts, and Totnes, Totnes Bridge was constructed in 1826 to replace an earlier bridge across the River Dart. As mentioned above, it's a lovely piece of engineering for a picture, but we also like the view from it too. Both looking upstream or downstream, the vista is delightful, pickled with boats and the sparkling river, it will certainly up your Instagram game.
Sharpham Estate
Just down the River Dart from Totnes rests Sharpham Estate. It is home to an 18th century Palladian villa and wonderful grounds just waiting to be explored. Sharpham is known for its charity The Sharpham Trust as well as Sharpham Wine & Cheese, a spectacular vineyard that is renowned for its award winning wines. Sharpham itself is not short of photo opportunities so you're sure to find an Insta capture - our particular favourite is the view of the River Dart looking back towards Totnes.
Dartington Hall
Just outside of Totnes in a village named Dartington, you'll find Dartington Hall. Held within a grand estate, this unusual place is a wonderful place to visit all year round, with many events taking place as well as accommodation if you wish to stay there. It is famed for it's arts scene and the main building is a beautiful structure built in the late 14th century, which makes for a wonderful photograph - perfect to post on your Insta!
Dartington Hall Gardens
We may well have mentioned Dartington Hall above, and technically Dartington Hall Gardens is the same place but we thought it deserved its own spot on our top ten instagrammable places in Totnes list as the gardens are simply stunning in their own right. They're the perfect place to relax and appreciate nature with the added bonus of being so devastatingly gorgeous all year round that you'll find it hard to resist taking a picture for your Instagram feed.
The Barrel House Ballroom
Situated in the heart of Totnes, half way up the high street before you get to The Narrows, The Barrel House Ballroom is an amazing music venue offering a variety of performances. Although only open for gigs and private events, it's definitely worth heading there whilst you're in the area if you can - not only will you enjoy a night of great music, but the décor is pretty cool too, complete with disco-ball, chandelier and red drapes around the stage - ideal for a unique photo.
We hope you found some inspiration of places to go and photograph in our top ten instagrammable places in Totnes, we'd love to see them if you visit - just tag us on Instagram using @visitsouthdevon or #southdevon, we might even share them on our feed. Don't forget to follow us too for stunning photos of the whole of South Devon all year round, to head to our Instagram account, please click here.
Related
0 Comments