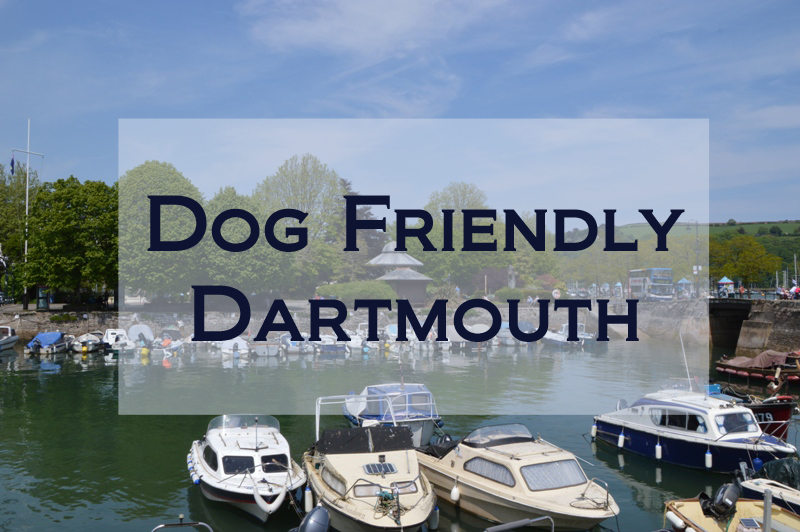 Dartmouth is a gorgeous waterfront town resting on the banks of the River Dart in the South Hams. It's a beautiful dog friendly destination to visit, be it for a day trip or longer. Below you'll find some information of where you can enjoy walking with you furry friend, where to stay, where to eat and more!
Walking
Whilst enjoying a dog friendly break in Dartmouth its paramount that your four legged pal gets to stretch their legs, and we think it's pretty important for owners too! Walking around the town or within the surrounding area of Dartmouth is sure to offer yourself and your pet hours of fun.
Starting at Dartmouth Castle, walkers can enjoy a stunning route to Little Dartmouth on the South West Coast Path. You'll be greeted with gorgeous coastline and for those who enjoy a longer hike; you could carry on to Stoke Fleming and Blackpool Sands.
Located on the other side of the River Dart in Kingswear, The Daymark is a navigational aid that protrudes from the cliff top. It's a unique structure and is an interesting sight to enjoy on a 2.4 mile walk from the village of Kingswear passing Froward Point.
Dart Valley Trail
The Dart Valley Trail connects the thriving hub of Totnes to the waterside resort of Dartmouth. It is around 12 miles long and runs alongside the River Dart and is a great option if you're looking for a longer walking route or can be used to walk to beautiful villages such as Ashprington or Dittisham.
Beaches
If a run around and a paddle in the sea is something your dog likes, then there's a collection of fantastic beaches in and around Dartmouth for you and your pup to enjoy. And if you fancy exploring some beaches a little further afield, there are plenty of other dog friendly beaches within the wider South Devon area, you can find out more about them here.
Dogs are welcomed all year round at the beautiful Castle Cove, a gorgeous hidden cove close to Dartmouth Castle and just a short walk from the centre of town. Discover more about Castle Cove by clicking here.
Next door to Castle Cove, you'll find Sugary Cove, another secluded bay where your four legged friend can enjoy a swim throughout the year. Additional information about Sugary Cove is available here.
A stunning beach, Blackpool Sands is backed by evergreens and is just a short drive from Dartmouth. Restrictions do apply with dogs not being permitted on the beach or in the car parks between March and October. Find out more about Blackpool Sands here.
Similarly to Sugary Cove and Castle Cove, Slapton Sands welcomes dogs regardless of season and the long shingle expanse means there's plenty of room for the pooches to enjoy a good run. Further details about Slapton Sands can be found here.
Attractions
Over 600 years old, Dartmouth Castle stands proud at the mouth of the River Dart guarding the entrance to the estuary. A fantastic day out for those of all ages, your dog is also welcome to join on a lead. Find out more about Dartmouth Castle here.
Although not quite an attraction, we couldn't talk about dog friendly Dartmouth without mentioning the fantastic festival Woofstock! A weekend long family festival, Woofstock is a festival for dogs, by dogs that takes place just outside of the town. Visitors and four legged companions can enjoy a whole host of fun and games as well as live music and more. To learn more about Woofstock, please click here.
Food & Drink
A short drive from the town centre of Dartmouth in the village of Stoke Fleming is Radius 7. It's a contemporary and chic establishment which focuses on serving up the best of local produce and dogs are allowed in the bar area. To find out more about Radius 7, click here.
Café Alf Resco sits right in the heart of Dartmouth and is renowned for its incredible breakfasts and brunches. It's a friendly eatery with a picture perfect façade and definitely worth a visit when you and your pooch come to town. If you would like to learn more about Café Alf Resco, please click here.
The cosy and welcoming bars, The Galleon Bar and Harbour Bar, can be found at the Royal Castle Hotel. Four legged visitors are invited to join their owners and light snacks, home cooked meals, cakes and more are available throughout the day. Explore more about The Galleon Bar & Harbour Bar by clicking here.
Accommodation
If you're heading to Dartmouth with your dog for more than a day trip, you'll certainly need somewhere to stay, and this town is not short of options. Perhaps you prefer self catering options out of town, or fancy a stylish hotel in the heart of all the action, there's plenty of dog friendly accommodation in Dartmouth for you to choose from.
Camping, Holidays Park & Caravan Sites
Situated alongside Woodlands Family Theme Park, Woodlands Grove Caravan & Camping Park offers a fun-packed holiday for all. Visitors staying at the caravan park have free access to the theme park during their stay and are just a short car ride away from the picturesque harbourside town of Dartmouth and the stunning Blackpool Sands, an award-winning beach. Pets are allowed on the campsite but not into the theme park – there are on-site kennels available for use. Find out more about Woodlands Grove Caravan & Camping Park here.
B&Bs
Just five miles away from Dartmouth, Strete Barton House boasts a fantastic location in the gorgeous village of Strete close to Blackpool Sands and Slapton Sands. The 16th century manor house is set in stunning grounds with fabulous rooms and welcomes well behaved pets in their Cottage Suite at an additional charge of £7 per pet, per night. Discover more information about Strete Barton House by clicking here.
Situated right in the heart of charming Dartmouth, Café Alf Resco, as mentioned previously is primarily a fantastic eatery. However, those wishing to also stay at the vibrant café can do so. Its selection of fresh yet traditional rooms and its location in the centre of town means guests are ensured to enjoy a comfortable stay and positioned perfectly to explore what Dartmouth has to offer. Café Alf Resco caters for a maximum of two well behaved dogs per room charged at £10 per pup per night. Please click here if you wish to learn more about Café Alf Resco.
Hotels
The Dart Marina Hotel & Spa is a stylish and luxurious establishment with spectacular river views. Relax in the spa or head into Dartmouth and explore the charming and historical town. Some rooms within the hotel are pet friendly although extra charges may apply – please get in touch directly with Dart Marina Hotel & Spa for more details. If you would like to find out more about the hotel, please click here.
Overlooking the charming inner harbour, also known as the Boat Float locally, the Royal Castle Hotel is a perfect base for exploring the town. As far as dog friendly accommodation in Dartmouth goes, this one is just as welcoming to your beloved pooches as the rest providing a pet bed, toy, treats and plenty of fuss for an additional charge of just £10 per dog per night. Discover further details about the Royal Castle Hotel by clicking here.
Self Catering
Watermill Cottages is a selection of five beautiful and welcoming dog friendly cottages just a short drive from Dartmouth close to Slapton. The cottages are either part of an 18th century watermill or a mill worker's cottage so are bursting with character. This is truly the place to come and relax in a secluded serene setting complete with 20 acres of woods, meadows, private gardens an orchard and more. Dogs are welcome and for more information about bringing your four legged friend along, please contact the accommodation provider directly. Find out more about Watermill Cottages here.
Nestled in the village of Strete, Anchor Cottage is a chic and modern yet charming residence which is ideal for a romantic retreat. This self catering option provides private parking for one car, Wi-Fi, patio area and great amenities for everything visitors may need for their stay. Up to two pets are welcomed at the cottage and further information can be obtained by contacting the accommodation provider directly. Please click here for additional details about Anchor Cottage.
Keep up to date with all things south Devon by making sure to sign up to our e-newsletter here. We'll let you know about the latest competitions, blog posts, events and plenty more!
Other Posts You Might Like
Related
0 Comments