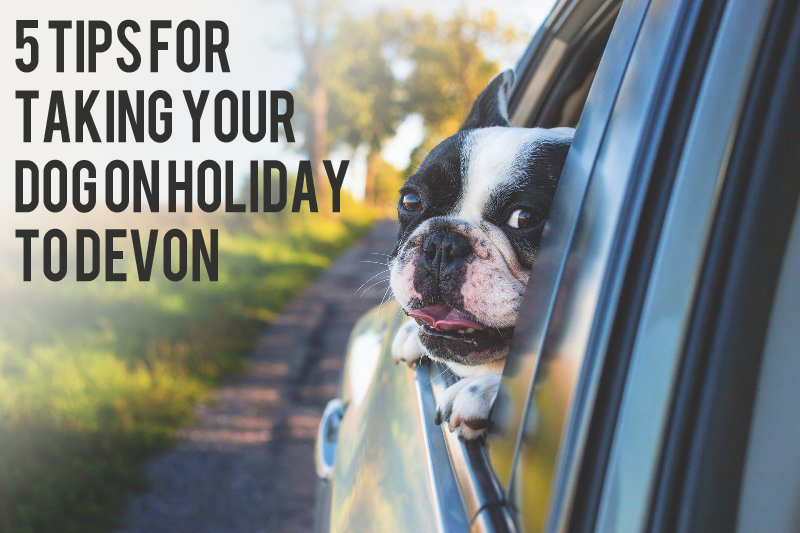 Guest Blog Post - Lyme Bay Holidays*
Our four-legged friends are often as much a part of the family as anyone else, and therefore why would you not want to take them on holiday with you? If you're planning a trip to Devon this year, then here are some tips for making the trip as smooth and fun for everyone as possible.
Dog Friendly Location
One of the most important things to check before you decide to take your dog on holiday with you is to ensure the destination you're visiting is accommodating for dogs. If you're planning on spending a lot of time in the outdoors with your pup, check the local dog friendly routes to ensure your days out are as seamless as possible.
An excellent dog walking spot in South Devon is Fingle Bridge, which offers two options for walking routes, one slightly more adventurous than the other, and the opportunity for your dog to take to the water! There are no lead restrictions round Fingle Bridge so head out and explore together.
It's also important to check that restaurants, pubs and cafes are dog friendly, this way you can enjoy a meal out together without hassle. Devon has a wide variety of establishments perfect for you and your pup, from traditional pubs like the Pig & Whistle, to taking in the views of a Donkey Sanctuary whilst enjoying local produce at The Kitchen in Sidmouth. Proper planning and research will ensure that you and your dog can enjoy a day out together without any restrictions.
Choose the right accommodation
The most essential aspect of your stay should be ensuring that your dog is welcome in your accommodation. Staying somewhere such as the Dog friendly holiday cottages from Lyme Bay Holidays means you can bring your dog along with you. Being able to bring your dog on holiday and stay in the accommodation with you will save you money and time finding boarding for your pup.
Prepare Your Transport
Before you travel, its important to prepare how your dog will travel with you. Whether this means checking your dog can come on public transport with you or putting equipment in the car to ensure a safe journey for all. Barriers in the boot will help keep your dog away from the main compartment of the car and the occupants whilst you're driving and will also give your dog their own space.
Its important to ensure that you stop regularly to give your dog a break, a walk and rest stops. Your car should also have toys to entertain your dog, a blanket to keep them warm and give them a place to sleep, along with access to food and drink for the journey. Giving your dog treats along the way will help keep them placated and happy on the journey. You could also do some test runs with your dog, taking smaller journeys so they get used to the space and travelling.
Your Dogs Health
If you're planning on travelling with your dog, its vital they are fit and well to travel. Having them checked at the vets before you go, seeing if they need any vaccinations and also having details of a vets near to your holiday destination will help give you peace of mind.
When on holiday, ensure you're taking your dog for regular walks as you usually would, and keep them on a lead in unfamiliar places to ensure they stay safe. Taking your dog with you can be highly beneficial for both you and them; you'll get plenty of extra exercise taking them on walks and they'll feel stimulated by the new environments and opportunities to explore.
Take the Right Equipment
When packing for a holiday you'll take all your essentials, and its important you do the same for your dog. Make sure to pack the correct leads and harnesses, plenty of toys for stimulation, a food and water bowl along with any medications they may need. Waste bags are also important to take with you wherever you go, and it may be worth checking your routes to see if there are bins for dog waste.
There are so many benefits to taking your dog on holiday with you and with the right planning and preparation you can ensure everyone enjoys their holiday together.
*Sponsored
Other Posts You Might Like
Related
0 Comments