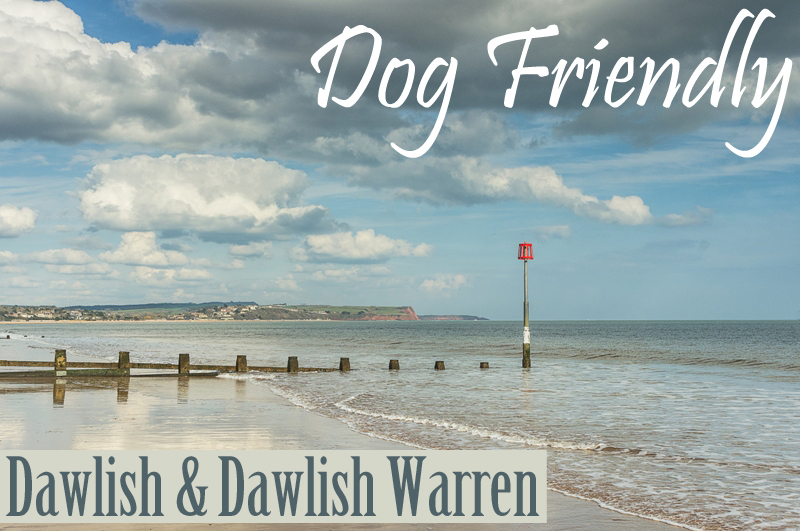 The popular coastal resorts of Dawlish and Dawlish Warren are jam packed with dog friendly attractions and accommodation. No pooch owner wants to leave their four legged friend when they go on holiday, and they won't need to if they're visiting this gorgeous part of South Devon. From fantastic dog friendly campsites in Dawlish and Dawlish Warren to cosy self catering breaks, every human and their best friend can enjoy a fun trip.
Walking
Dawlish Countryside Park is a wonderful location to take your dog for a walk. A 65 acre open public space, there's plenty for you and your furry pal to explore with great walking routes, woodland, grassland, viewpoints and more. Learn more about Dawlish Countryside Park by clicking here.
Mamhead
A brief car ride from Dawlish or Dawlish Warren, Mamhead is a small rural village which has a fantastic area to walk your dog. There are woodland trails available including the Mamhead Sensory Trail, which is actually part of Haldon Forest Park. The views from Mamhead Obelisk are also breathtaking, with views down to the coast and across the Exe Estuary.
The South West Coast Path offers superb walks and views from wherever you may be and the coastal walks around Dawlish are no different. Walking between Dawlish and Dawlish Warren is a great, mainly flat walk along the coastal wall with plenty to do whichever end is your destination. You can find out more about this route here. For those with energetic pets/owners and looking for a slightly longer walk, Dawlish to Teignmouth will provide wonderful views of the coastline and plenty of heart pumping inclines. Further details about this walk can be found here.
The Exe Estuary is a popular place for birdwatchers with many species of birds visiting throughout the year. It's also popular among ramblers and dog walkers due to its amazing scenery to enjoy. Please bear in mind that dog walkers are banned from certain areas so please do pay attention to local signage. Find out more about the Exe Estuary here.
Dawlish Warren Nature and Wildlife Reserve is of great interest to many locals and tourists due to its varying wildlife throughout the seasons. A beautiful place to explore, there are strict bylaws if you wish to bring your dog along. Clear signposts signal where you are allowed to bring your pooch and they must always be on a lead in the reserve. For more information about bringing your dog to Dawlish Warren Nature and Wildlife Reserve please see the Teignbridge District Council website here.
Beaches
Let your pup dash around in the sand at one of the dog friendly beaches in the area below.
You can enjoy a walk with your furry friend at Dawlish Town Beach from the slipway adjacent to the Railway Station until 230 metres before Red Rock at Dawlish Warren. Dogs are not permitted along the seashore from the slipway to Coryton Cove from the 1st of April until the 30th of September. Find out more about dogs on Dawlish Town Beach on the Teignbridge District Council website here.
The stunning Dawlish Warren Beach welcomes dogs all year round with certain restrictions. No dogs are allowed past groyne 9 on Dawlish Warren Beach at any time and up to groyne 3 on the beach dogs are not permitted between the 1st of April and 30th of September. Between groyne 3 and 9 dogs are allowed all year round. For more information about walking your four legged pal at Dawlish Warren Beach please see the Teignbridge District Council website here.
Attractions
Just a short drive from Dawlish and Dawlish Warren, Powderham Castle is located in Kenton and is a grand estate with plenty to see and do for those of all ages. A dog friendly attraction, your four legged friend is welcome in all areas on a lead except for the Walled Garden and Deer Park. Admission for your pooch is just £1, guide dogs are exempt from this fee.
Accommodation
Whether you're after a self catering apartment or coastal holiday park, Dawlish and Dawlish Warren have plenty of dog friendly accommodation. Have a browse at the options below.
Camping, Holidays Park & Caravan Sites
Lady's Mile Holiday Park is an award-winning and family run park close to the stunning beaches of Dawlish Warren. Guests can enjoy fantastic on site facilities including a gym, arcades, pools and more. Pets are accepted although additional fees may occur; please contact Lady's Mile Holiday Park directly. To find out more about this accommodation, please click here.
Located just a few minutes' walk away from Dawlish Warren's award-winning Blue Flag beach, Welcome Family Holiday Park is great for family holidays by the sea. Entertainment is top notch and there are fantastic facilities on site, including four pools! There is pet and dog friendly accommodation available at an added charge of £35 per week – up to two pets allowed per holiday home. More details about Welcome Family Holiday Park can be found here.
Situated in Dawlish Warren, just a stones throw from the center of the vibrant resort; Hazelwood Holiday Park provides fun, family-friendly accommodation in magnificent surroundings. The park itself boasts great evening entertainment, an outdoor heated swimming pool, play park and more. There are dog friendly chalets too so your pooch can enjoy the break as well, added fees may apply - contact Hazelwood Holiday Park directly for details on dog friendly breaks. More information about the park can be found here.
Cofton Holidays is a fabulous park with amazing facilities and lots to do. Nearby to Dawlish Warren Beach and surrounded by wonderful countryside to explore, you'll never be short of something to do, there's even fishing lakes on site! A variety of accommodation is on offer some of which is dog friendly so you can bring along your furry pal. Dogs are chargeable at certain times of the year so please get in touch with the park for further information. To discover more about Cofton Holidays, please click here.
Leadstone Camping is a camping and touring park perfectly located for exploring Dawlish, Dawlish Warren and further afield. With a children's playground on site and lots of attractions in the local area, it's ideal for those after a typical camping holiday in the area. The site is dog friendly and dogs are charged at an additional £3 or £3.50 per night depending on the season. Please click here to find out additional details about Leadstone Camping.
Hotels
The Langstone Cliff Hotel is a 3 star hotel in Dawlish Warren. With breath-taking views, indoor and outdoor swimming pools, a tennis court and more, the whole family will enjoy a stay here. Dogs are allowed at the hotel but added fees may apply. Please get in touch with Langstone Cliff Hotel directly to find out more about dog friendly stays. More information about the hotel is available here.
B&Bs
Overlooking Lyme Bay with views toward the Exe Estuary, Lyme Bay House in Dawlish is a welcoming guest house with all the comforts of home and even a fully licensed bar. A dog friendly establishment, pets are accepted by arrangement but an additional charge may apply – please contact Lyme Bay House directly for further details about dog friendly accommodation. For more information about the guest house, please click here.
Self Catering
A bright and spacious apartment in the heart of Dawlish, 13 Waterloo House is ideal for those looking for accommodation within easy reach of all the main attractions. One well-behaved dog is welcomed at this beautiful apartment, although this may come at an additional fee, it is recommended to confirm with the owners at the time of booking. Find out more about 13 Waterloo House here.
A lovely one bedroom flat close to Dawlish Warren Beach, Seagulls is in a great location with all the modern facilities you may need during your stay. One well-behaved pet is welcome at the apartment but there may be an added fee – details can be confirmed directly. For further information about Seagulls, please click here.
All information is correct to the best of our knowledge at time of publishing, please do check with businesses and places directly for information about dogs, some may be subject to change.
Keep up-to-date with everything happening across South Devon by signing up to our e-newsletter here. We'll keep you posted about upcoming events, special offers, competitions and more!
Other Posts You Might Like
Related
0 Comments