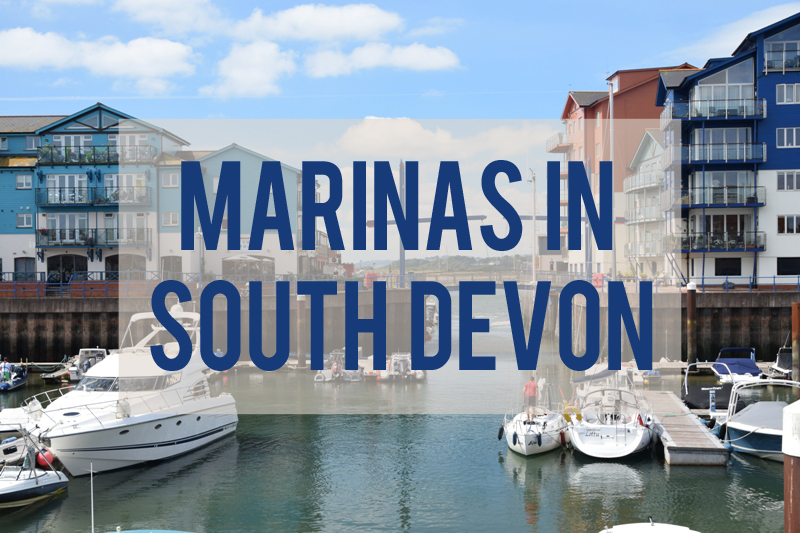 When most people think of visiting an area they think of travelling by car, train or even by plane, but with its fantastic coastline, numerous waterside communities and maritime history, South Devon is the ideal destination to visit by boat.
Whether you have your own boat and are looking for a new region to visit or are planning to hire one for a week or two, the marinas and harbours of South Devon provide the perfect place to head to for short break or longer holiday.
With great facilities on site, a range of stay durations available and great surrounding attractions and food and drink options, you'll get to enjoy everything that South Devon has to offer.
Here are details on some of South Devon marinas and harbours which you can visit or moor your boat.
Plymouth is known as Britain's Ocean City, and as its nickname suggests, has a strong affiliation with the sea. Its naval roots and international port has lead to the city becoming home to many marinas which can become your home during a visit.
Located between the River Tamar and the Plymouth Sound, Royal William Yard is one of the most westerly marinas in Devon. Surrounded by the Grade I listed ex-Naval victualling yard the area is steeped in history, but is now home to leading restaurants, bars, galleries and shops, all of which are within easy reach of the city centre. With visitor berthing options from 4 hours to weekly available, Royal William Yard Marina is perfect of a short stay or a longer visit. The marina can get busy during the summer so booking is advised.
Another of the county's most westerly marinas is the Mayflower Marina. The marina has a picturesque location and full tide access as well as luxury bathrooms and an award winning restaurant. Visitor berthing is available for up to 4 hours as well as daily, weekly and monthly, they also offer a 30 day flexible berthing option.
With some of the best access to the open sea from any marina in Plymouth, you can find yourself in Plymouth Sound within seconds after visiting Millbay Marina. Overnight berthing is available for visitors to the area, berths come with water and electricity supplies and access to on-shore shower and toilet facilities.
With daily or monthly visitor berthing rates as well as flex-berthing for 30 nights, Plymouth Yacht Haven offers a sheltered and secure port for visiting Plymouth and the surrounding area. Berths are all fully serviced with water, electricity and free Wi-Fi and the marina is open 24 hours a day, all year round, accessible at all states of tide. It is one of the only marinas in the area to offer a lift-out service, with the ability to hoist up to 74 tons. Onsite facilities include showers and washrooms, a laundry, restaurant, a well-stocked chandlery and convenience store.
Queen Anne's Battery offers outstanding facilities for yachtsmen and motor cruisers alike with berths for boats up to 18 metres. Queen Anne's Battery has a chandlery brokerage and yacht charter, a provisions shop selling essential items as well as a café, bar and restaurant. As an MDL Marina, stays here are included in the Freedom Berthing scheme which lets you explore any of their 18 UK marinas plus many more abroad. Visiting berths are available monthly or daily as well as up to 4 hour short stays.
In the centre of Plymouth, Sutton Harbour is surrounded by the bustling historical cobble streets of the Barbican with its array of eating, shopping and entrainment options. Sutton Harbour is probably one of the most well known harbours in Devon with a history dating back to the Spanish Armada and sailing of the Mayflower. Awarded The Yacht Harbour Association's 5 Gold Anchor Award for the superb facilities and customer service the marina offers serviced pontoons, luxury, hotel-quality wet-room showers and changing facilities, as well as 24 hour surveillance. Visiting berths are available daily, weekly or monthly.
Another marina located in Millbay is King Point Marina. The marina provides berthing packages which include walk-ashore pontoon berthing, 24hrs gated access, CCTV surveillance, quality WC and wet room facilities, Wi-Fi, power and water for sailing yachts and motor boats you to 13.4 meters in length. Visiting berths are available daily, weekly or monthly.
The coastal town of Salcombe is almost synonymous with sailing and most days you can watch an array of boats and yachts on the water. The harbour reaches from the sea all the way up to the town of Kingsbridge, which sits on a tidal inlet which is surrounded by stunning countryside. Visitor swing moorings are available off the town between Mill Bay and Fuel Barge, these are marked with a 'V' and state the maximum length. A large visitor's pontoon is marked with yellow pile caps and is located in 'The Bag' to the north west of Scoble Point. Water is available on the visitors pontoon during June - August daily from 10.00-11.00 with shower facilities available at Whitestrands and in Salcombe Yacht Club. Visitor charges are per meter either daily or weekly.
On the East Portlemouth side of the Salcombe Estuary you'll find the family run Port Waterhouse. Offering a custom package and personal service during your stay, Port Waterhouse can take care of your mooring, car parking, dinghy storage, equipment storage, trailer storage and basic maintenance. Temporary moorings are available with a minimum rental of a week.
Kingsbridge Estuary
About 3.5 miles up the estuary is the busy market town of Kingsbridge. For boats with drafts less than 2 metres and LOA less than 11 meters, who are prepared to take ground this is a charming town to visit. Situated at the head of the estuary the creek is navigable 2½ hours either side of high water, once you reach Kingsbridge visiting vessels can berth on the middle section of the main pontoon on the western side of the basin.
To the north of the town of Dartmouth, on the water's edge, you'll find the Dart Marina Hotel and Spa and its alluring Yacht Harbour. Accessible at all tides, the Dart Marina Yacht Harbour offers comfortable, fully serviced pontoons within easy reach of the town and the hotel, restaurant and spa is right on your doorstep. Dartmouth town is a delight to visit, it's packed full of galleries, independent shops, restaurants and has a fascinating nautical history. Visitor berths are available for short stays and longer holidays.
Located on the Kingswear side of the Dart Estuary, a short ferry ride from the historic town of Dartmouth is the Darthaven Marina. The marina has a dedicated visitor pontoon where facilities include Wi-Fi, electricity and water. Berths cannot be booked in advance during the summer months, however all visitors are advised to call ahead to ensure the team are aware of your planned arrival and they will do their best to help. During the summer and winter months a small number of seasonal berths are available.
Further up the River Dart is Noss on Dart Marina which offers daily visitor rates or for those looking to stay longer, winter or summer seasonal berthing. Run by Premier Marinas, Noss on Dart Marina provides a great base to explore the River Dart and its surrounding villages.
Protected by a Breakwater and wavescreen, Brixham Marina is located in the fishing port of Brixham at the south of Torbay, which is also known as the English Riviera. Brixham is a fascinating port to visit with a thriving fishing industry, daily fish market and busy harbour. Berthing is available for short stays of up to 4 hours, monthly and daily as well as on the events pontoon. As an MDL Marina, stays here are included in the Freedom Berthing scheme which lets you explore any of MDL Marina's 18 UK marinas plus many more abroad.
Brixham Harbour's visitor berthing is located along the Marina walkway on the Town Pontoon. Drying out berths are available within the Inner Harbour but must be booked in advance through the harbour office. The visitor pontoon moorings are not bookable in advance and are available on a first come, first served basis only.
Paignton Harbour welcomes visiting vessels of a suitable size to a floating pontoon on east quay. The harbour, which is a small drying harbour, is located to the west of the seafront about a 10 minute walk from the centre of town where plenty of shops and attractions can be found. There is a public slipway and limited facilities available at Paignton Harbour, the visitor mooring is available on a first come, first served basis and for short period use only.
Torquay Harbour can be found to the east of Torquay's Outer Harbour with the Haldon Pier providing protection to the south. The harbour provides non-drying visitor berthing facilities along the Town Pontoon and Haldon Pier pontoon during the summer season. Water is available along the Town Dock visiting pontoon but unfortunately not along Haldon Pier. Electricity is available to visitors but an electricity card is needed. The visitor pontoons are not bookable and are available on a first come, first served basis only with daily and weekly berths available.
Torquay Marina is located to the west of the Outer Harbour, encircled by the Princess Pier to the western side offering sheltered moorings. Torquay Marina provides modern facilities and superb bluewater cruising for both locals and visitors. The marina is a short walk from the bustling harbour and the main town with its shops, bars and restaurants. Visitor berthing is available monthly or daily as well as a short stay option of up to 4 hours. As an MDL Marina, stays here are included in the Freedom Berthing scheme which lets you explore any of their 18 UK marinas plus many more abroad.
The town of Teignmouth lies at the end of the River Teign opposite the village of Shaldon. The town has two visitor pontoons, The Jubilee and Trafalgar Pontoons, which are positioned just off Teignmouth's River Beach, also known as Back Beach, where there is a depth of 2.5 metres at chart datum. Visitor fees are charged daily or part of and during peak periods temporary moorings may also be available. Whether you are berthed on the pontoon or on a mooring you will need a dinghy to get ashore.
There are two public launching sites in Teignmouth for crafts on trailers. Polly Steps is the main site, which is located just upriver from the docks. This is a concrete slipway and has facilities for parking of trailers and cars as well as seasonal toilets and fresh water. The second is at Gales Hill which is situated immediately down river from the dock complex, where launching access is via the beach.
There is a public pontoon and landing steps available on Fish Quay, which is a short distance from the Jubilee Pontoon. Boats are not allowed to be left here and the pontoon and steps dry out at low tide. Access to and landing on the River Beach is unrestricted.
Located on the mouth of the River Exe, opposite Dawlish Warren, is the coastal town of Exmouth. Exmouth Marina enjoys a sheltered position on the estuary providing access to both the sea and the River Exe. Visitor berth holders enjoy full access to all marina facilities including toilets and showers, refuse disposal and fuel sales as well as an on-site chandlery, café and small shop. Visitor berths are located on the hammerhead in the middle of the basin, on the starboard side, and are allocated on a first come, first served basis so advance booking is recommended. Berths are available daily or for up to 4 hours, the maximum stay in a visitor berth is two weeks.
All information is correct at time of publication, please contact individual marinas for further details and up to date pricing and availability.
Keep up-to-date with all things South Devon by signing up to our e-newsletter here. We'll keep you posted with the latest blog posts, competitions and more.
Other Posts You Might Like
Related
0 Comments