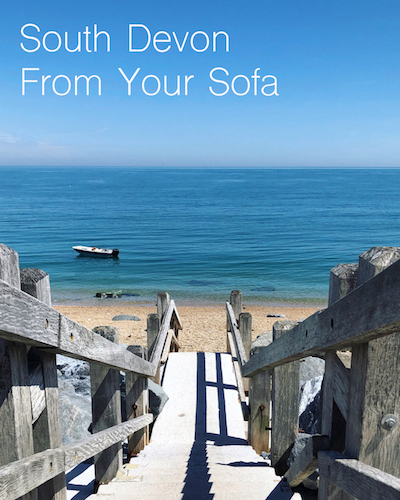 Things are still uncertain and you may not be able to come to South Devon at the moment but that doesn't mean you can't visit South Devon from wherever you are in the world, you'll just have to visit online! We're sure you're missing our beautiful region, so we've put together a round up of ways you can visit South Devon from your sofa! Whether it's watching videos, shopping for South Devon goodies online or planning a future visit, there's plenty of ways to enjoy stunning South Devon from your home.
Watching webcams & videos from businesses in South Devon, beaches and other locations is a great way to enjoy the area. You could watch animals such as donkeys or penguins, relax with a seafront view or enjoy a virtual tour from an accommodation provider, the choice is yours! Check out our full list of videos, webcams and virtual tours of South Devon in our Virtual South Devon blog post here.
Whilst you cant visit us at this present moment, you can still look forward to planning a future visit or shop online to have a little piece of South Devon come to you! Many accommodation providers, attractions and businesses have special offers going on at the moment meaning you can help support these wonderful businesses from afar whilst giving yourself something to get excited about, whether it's a piece of art or a future spa trip, there's something for everyone.
We've got our very own selection of videos showcasing South Devon over on our Visit South Devon Youtube channel. From food and drink to history and heritage, you can get a snapshot of the region as well as jumping into some awesome activities with our 360 virtual reality series. You can go rockpooling at Wembury Beach, meander along Tiverton Canal on a horse drawn barge, swing through the trees at Haldon Forest and more! Head over to our YouTube channel here to watch them.
At the end of 2019 we put together a quiz for our visitors and locals to enjoy! It's all about the region so is a great way to test your knowledge, learn some new facts and keep yourself busy during this period! Check it out here.
For quite a while, we've been putting together an Instagrammable South Devon series. Whether it's a particular town, city or area you can find our favourite places to photograph. Head to the Instagrammable section on our blog here and explore the different blog posts to give you some inspiration of where to visit when it's possible.
Discover Dartmouth have a great options for you to enjoy their beautiful harbourside town from home too. They also have a 2019 quiz for you to enjoy at home which can be found here.
If you're wanting to explore Exeter from home, be sure to have a look at Visit Exeter's blog here. They've got lots of great content including recipes, a quiz and plenty more to enjoy from your sofa, plus check out their Virtual Exeter blog post here for great videos and other ways to enjoy the city from wherever you are.
Why not take a virtual visit to the maritime city of Plymouth? Visit Plymouth's blog, Your Virtual Visit to Plymouth, which you can read here, covers great videos and a 360 view of the city. They also have an online shop here, meaning you can buy a little piece of Plymouth to enjoy now!
Wishing you could visit Dartmoor National Park right now? It may not be possible in person, but Visit Dartmoor have put together a brilliant list of books which feature Dartmoor meaning you can at least fantasise and potentially map out where on Dartmoor you'll go when you can. Take a look here.
You may be missing the trio of towns known as the English Riviera and if that's the case, make sure to head over to the English Riviera website's Virtual Activity Hub here. There's colouring pages, word searches and English Riviera inspired activities.
For the wider Devon area, go to Visit Devon's webcams page here and find webcams from North Devon as well as our stunning region.
For all things South Devon, make sure to like our Facebook page here and follow us on Twitter here!
Related
0 Comments