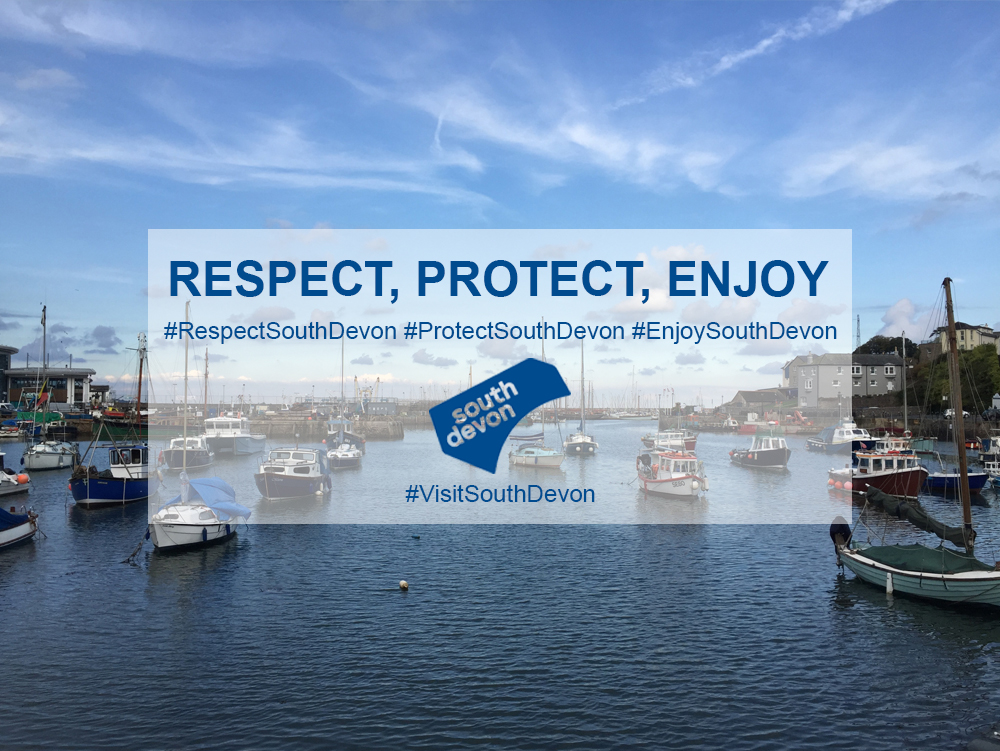 As we emerge from lockdown and restrictions on our daily lives are eased once again, we can all start to look forward to visiting some of our favourite places.
We're excited to begin welcoming you back, as much as you are looking forward to visiting, but anyone looking to come to South Devon should be aware that a day trip or holiday won't be quite the same as before. A number of government guidelines are still in place and should be followed to protect local people, the South Devon community and fellow visitors as well as yourselves.
Below we've covered a few things which you should keep in mind when planning a visit to South Devon, as we emerge further from lockdown.
#KnowBeforeYouGo
Some locations in South Devon will be re-opening quicker than others, welcoming visitors back before others do, and some will need a little extra time before you can visit again. As we come out of this lockdown you'll be able to explore parts of South Devon in person, whilst following the current guidelines, but other areas and businesses will still need to loved from afar for a little bit longer.
Follow and Know the Guidelines
To make sure you keep yourself and the people who live and work in the area you are visiting safe, it's important to make sure you know, understand and follow the current government guidelines as they are changing are not the same in different parts of the UK. The latest guidelines for England can be found here.
Be Prepared
With restrictions changing and everyone trying to get used to a new normal, it might be wise to take a few minutes and make sure you've planned your day out before setting off. Some facilities might not be open and you might have to follow certain advice when arriving or visiting places, a little preparation will ensure your day goes as smoothly as possible.
Some of the changes to look out for might include;
Changes to road layouts

Pre-booking; you might find that some places which were walk in before, now need to be booked.

Things might be different: all businesses that are open have made their premises Covid secure, so extras and changes may be in place such as; one way systems, social distancing, mandatory face coverings, arrivals, check in and breakfast times, online tickets and remote check in, welcome packs, PPE, extra cleaning and sanitiser stations.
All these measures are being put in place to keep everyone safe, so please follow them and if a member of staff asks you do something please follow their instructions, they are only trying to do their jobs.
#RespectSouthDevon
We want every visitor to South Devon to have a wonderful trip, so please respect our residents and businesses by following guidelines and allowing for things to take a little longer than normal.
Plan Your Day
Every business has it's busy times and to help customers social distance, manage footfall and allow people to spread out their visits, many have extended their opening times. To help avoid the crowds plan your day to try and make the most of these extra opening hours.
Queues
We're all used to having to queue, so make sure you leave extra time for queuing and be prepared to wait to enter somewhere.
Be Respectful and Follow Advice
Whatever type of business you visit they'll all have measures and guidelines in place to be Covid secure, so please be respectful and follow any advice given to you by members of staff or signage.
#ProtectSouthDevon
Help us to protect the environment and people of South Devon by keeping in mind a few of the points below.
Visit the Countryside and Coast Responsibly
As well as Covid guidelines, many other guidelines and codes are still relevant when going out for a day trip. The Countryside Code sets out how visitors to rural areas can behave safely and the RNLI have details on how to visit the coast responsibly.
Find the Countryside Code here.
Find the RNLI's information here.
Parking and Litter
Some parking facilities are limited so if your chosen car park is full please don't park in residential streets or on yellow lines. And with increased visitor numbers you might find bins getting full quickly, so please take your rubbish home and recycle it properly, Even with the current restrictions we still need to make sure we look after the environment and protect our beautiful region.
Bring Hand Sanitiser
Good hand hygiene is so important. Following a nice walk or after enjoying a take away or picnic you might not be able to find hand washing facilities so make sure you bring some hand sanitising gel with you, so you can use it after eating, touching shared surfaces and at regular intervals.
Go Green
Before the current situation we were all starting to think of the environment more when making travel choices. As we come out of lockdown it's important we consider the environment as we do. You can help protect the environment by travelling sustainably and staying local, and if you can try to travel by foot or bike.
#EnjoySouthDevon
Now more than ever it's important that we all enjoy this wonderful part of the country safely!
Be Patient, Considerate and Flexible
As we venture in to life out of lockdown and the new normal we need be flexible and prepared to change your plans and above all be considerate and patient with other people so we can all enjoy South Devon together.
Stay Away from Busy Places
If you arrive somewhere and it's busy, or it starts getting busy whilst you're there, and it's not possible to safely socially distance, be prepared to go elsewhere. This could be a great opportunity to find a new favourite spot in the area or visit somewhere you wouldn't normally go.
Support Local
We're all used to shopping and eating at the big names, but right now the local, small independent businesses need your support as much as ever. So when visiting South Devon for your day trip, help support the local tourist economy and shop local. However you choose to support our local shops and businesses, it will mean so much them and you'll probably find that the quality is much better too!
We hope you're looking forward to returning to South Devon or even visiting for the first time, either way we can't wait to welcome you back, please just remember to respect the people and places, help us protect our environment and of course, enjoy everything that the region has to offer!
Keep up to date with all things South Devon by signing up to our e-newsletter here.
Some restrictions and rules may still be in place. Check the latest Government guidance here: https://www.gov.uk/guidance/covid-19-coronavirus-restrictions-what-you-can-and-cannot-do
Related
0 Comments