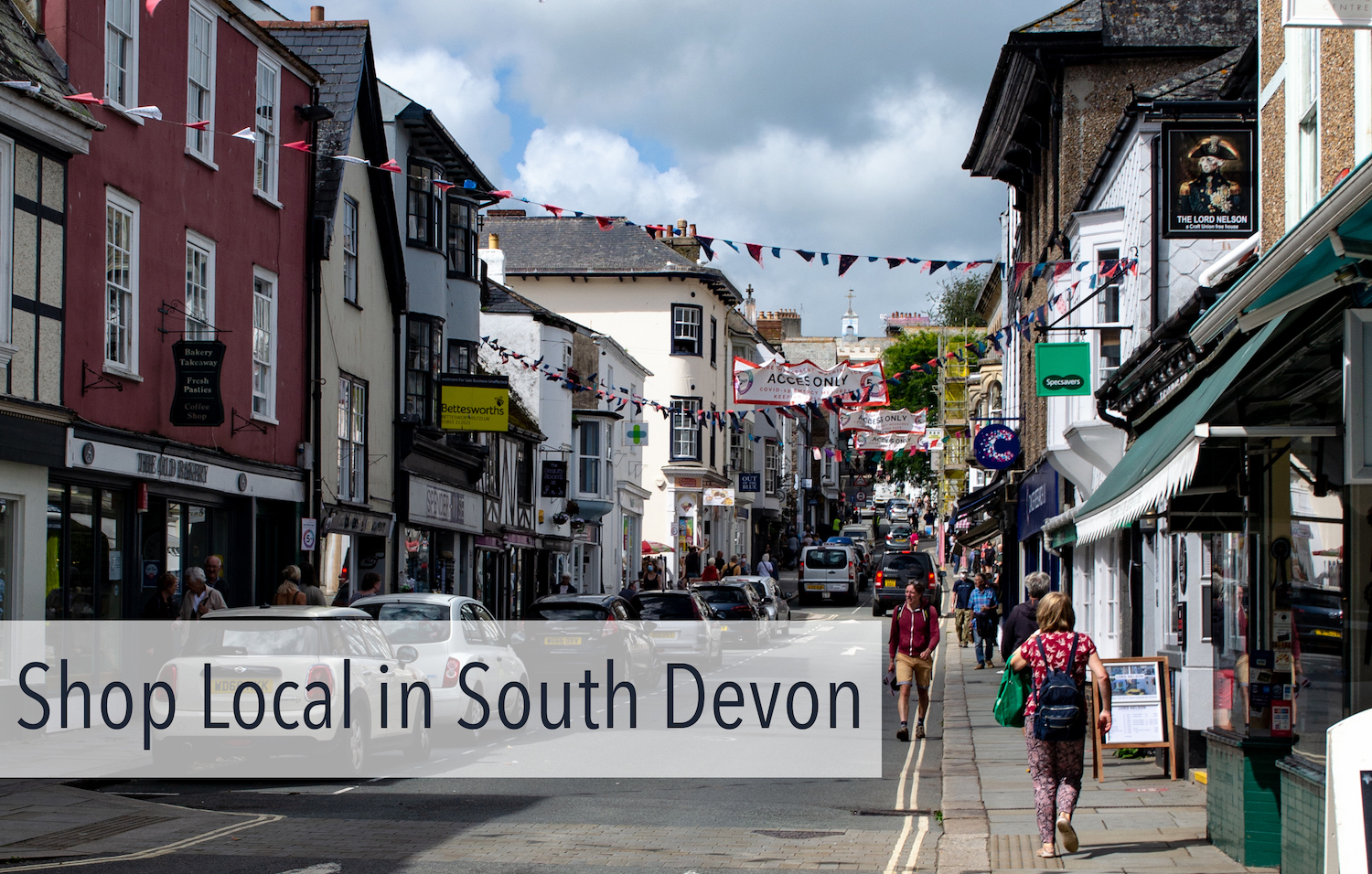 Now more than ever it's important for us to support our local businesses. They, like many, have struggled over the past year with lockdowns and changing restrictions meaning lots have only been open for short periods of time and one area which has been hit hard are our local shops. Now that non-essential shops have been able to reopen it means once again we can visit our favourite stores and enjoy what they have to offer. Take a look below at the types of shops on offer in South Devon and what you can look forward to when you visit.
There's a wide range of options when it comes to shopping for clothes or homeware in South Devon. We've of course have plenty of recognisable brands but we're lucky enough to boast a fantastic selection of independents too! Our two big cities, Plymouth and Exeter are a great place to start if you're wanting a big shopping trip! You'll find a great collection of shops in areas such as Princesshay in Exeter, not only do you have places to enjoy a spot of retail therapy but there's also options for food and drink too. If a city trip is a bit much or you're not staying nearby, you'll still be treated to a variety of shops in the towns across South Devon. Fleet Walk in Torquay is packed with over 50 independent and high street names with great clothes shops and in the East Devon town of Sidmouth there are some great independent fashion shops as well as locations to pick up some bits for your home. If you have a particular eye for antiques, be sure to take a look at Ashburton. Click here for more information on our Lifestyle and Clothing shops page.
The South West is known for its fabulous food and drink and our region in Devon is no different which means there is an array of fantastic shops to pick up some local produce or even some from further afield. Totnes is a brilliant destination for food and drink with some delicious delis, greengrocers and butchers as well as an ice cream shop and farm shop! One way to sample local drinks is to visit a vineyard, distillery or brewery. Many in South Devon not only offer tours and tastings but they also have a shop on site where you can purchase their drinks to enjoy when you get home! To find out more about Food and Drink shops in the area, please click here.
Gift shops are in abundance in South Devon and that probably has something to do with how many wonderful visitors we welcome each year. Many of us enjoy taking home presents from our holidays for loved ones or souvenirs for ourselves and it's really nice to pick up something that's locally made when doing so. Whether it's fudge or a mug, holiday hot spots like Teignmouth and Seaton won't leave you disappointed when it comes to gift options. We've also got some great craft stores in the region too to pick up any bits and bobs you might need for your creative endeavours. Discover more about Gift & Craft shops in South Devon here.
Garden centres are dotted around South Devon and can provide a great day out with more than just somewhere to pick up some plants. Alongside your regular garden centres selling shrubs, garden furniture, accessories and more, the region is home to some stores which offer play areas for little ones and cafés to enjoy a refreshment. Some are even part of much bigger shopping complexes with plenty to see and do whilst you're there.
If you're looking for places to get hold of some local products and produce, markets in South Devon are a great place to start. The majority of towns and lots of larger villages host regular markets throughout the year. From your traditional farmers markets to crafts and artisan markets, you're able to pick up almost anything at these regular events. Newton Abbot for example has a Produce Market every Friday, Outdoor Market on Wednesdays and Saturdays and also an Indoor Market and Food Hall from Monday to Saturday. Another town of note is Dartmouth which is home to the Old Market where they have permanent shops open Monday to Saturday as well as an Artisan Market on the 4th Saturday of the month and a new Farmers Market which begins on the 8th of May and will be held every 2nd Saturday of the month. Of course, these are just a few examples, for more details on markets across South Devon, please check out our Markets page here.
For all things South Devon, be sure to sign up to our e-newsletter here! We'll keep you updated with the latest news, competitions, events and more!
Related
0 Comments