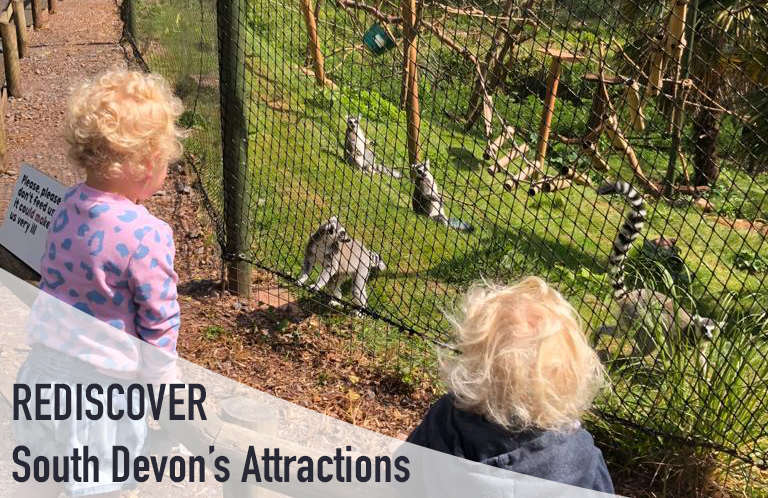 We're super excited that most of our South Devon attractions are once again open and ready to welcome all of our lovely visitors! We've got such a range of different attractions in the region for you to enjoy and want to help you rediscover your favourites as well as discover new places that you might not have visited before. Check out the different types of attractions in South Devon below.
Rediscover Creativity
South Devon is home to a brilliant selection of arts and crafts attractions which are certain to get your creative juices flowing during your visit. Many of the are indoors too meaning they're ideal for when our Great British weather isn't quite so great! If you're looking for an unusual souvenir to bring home from your trip, locations such as China Blue in Totnes and The Paint Hub in Dawlish Warren allow you to paint your own pottery. Or, if you're not keen to get hands on, you could take a trip to House of Marbles in Bovey Tracey where you can discover their glassworks and watch the artists at work firsthand. For all of the arts and crafts attractions in South Devon, please click here.
Rediscover Relaxing
Why not take a well earned break during your time in the region and visit one of our blissful spas. Lots of the larger hotels in South Devon as well as some of the smaller ones have fabulous onsite spas offering different treatments for you to enjoy and most of them are open to the public as well as guests of the hotel so you needn't stay there if that doesn't suit you! Another relaxing pastime to look forward to is going for a swim, this could be at one of those spas or one of the many pools we have. Discover our range of pools and spas in South Devon here.
Rediscover Family Time
South Devon boasts a wonderful range of attractions that the whole family will enjoy. You can enjoy active days out at destinations such as Haldon Forest Park near Exeter and River Dart Country Park near Ashburton. Or, if you're looking for an adrenaline rush for the grown-up kids and some fun soft play for the little ones, we've got a couple of brilliant theme parks that can cater to everyone such as Crealy Theme Park & Resort. For a more relaxing day with the family, a wander around Babbacombe Model Village in Torquay is a must. Find all of our family attractions in South Devon here.
Rediscover Animals
Visiting a zoo or animal attractions is a fantastic way to get up close to some unusual and adorable animals. Here in South Devon we've got loads of these attractions for you to choose from whether you wish to take a look at exotic creatures or farm friends and all of these are family friendly spots with most enjoying play areas and having refreshments available so you can really make a full day of it! Explore our animal attractions in South Devon here.
Rediscover Sports
If you're concerned about missing out on a match or two whilst you're away from home, you needn't be! Sure, we haven't got any Premier League teams in the region but we do have a pretty successful football club and rugby team in Exeter as well as a couple of fantastic racecourses for you to visit. You can enjoy a great sporting day out whilst you're here, including at Exeter Racecourse where they have lots of brilliant race days planned, including themed ones! Find out more about spectator sports in South Devon here.
Rediscover Food & Drink
The South West is recognised across the country for it's incredible food and drink, so it's no surprise that we have a varied and extremely tasty selection of brilliant food and drink attractions on offer. If you're looking for a relaxing morning whilst sampling some of the local produce, a trip to one of the local markets is a must! Sometimes they'll just be selling food and drink whilst others are more general and you can pick up other local goods as well. Or, if it's more of the drink that you're interested in, why not book in to a vineyard, distillery or brewery for a tour? Salcombe Brewery Co. offer a wonderful tour and you can enjoy even more of their beers in their onsite bar afterwards. And if wine is more your thing, Sharpham Vineyard and Cheese Dairy makes for a wonderful day out. Explore the food and drink attractions in South Devon here.
Rediscover Trips & Tours
One great way to soak up the sights of a particular area is by joining a trip or tour. There are plenty of options here in South Devon depending on where you want to see and how you want to travel. We've got trips by boat, guided kayaking, self guided walking tours, steam train rides, customised tours and so, so much more! To view all the options of trips and tours in the region, please click here.
Keep up to date with all of our news, latest blog posts, events, competitions and more by signing up to our e-newsletter here.
Related
0 Comments