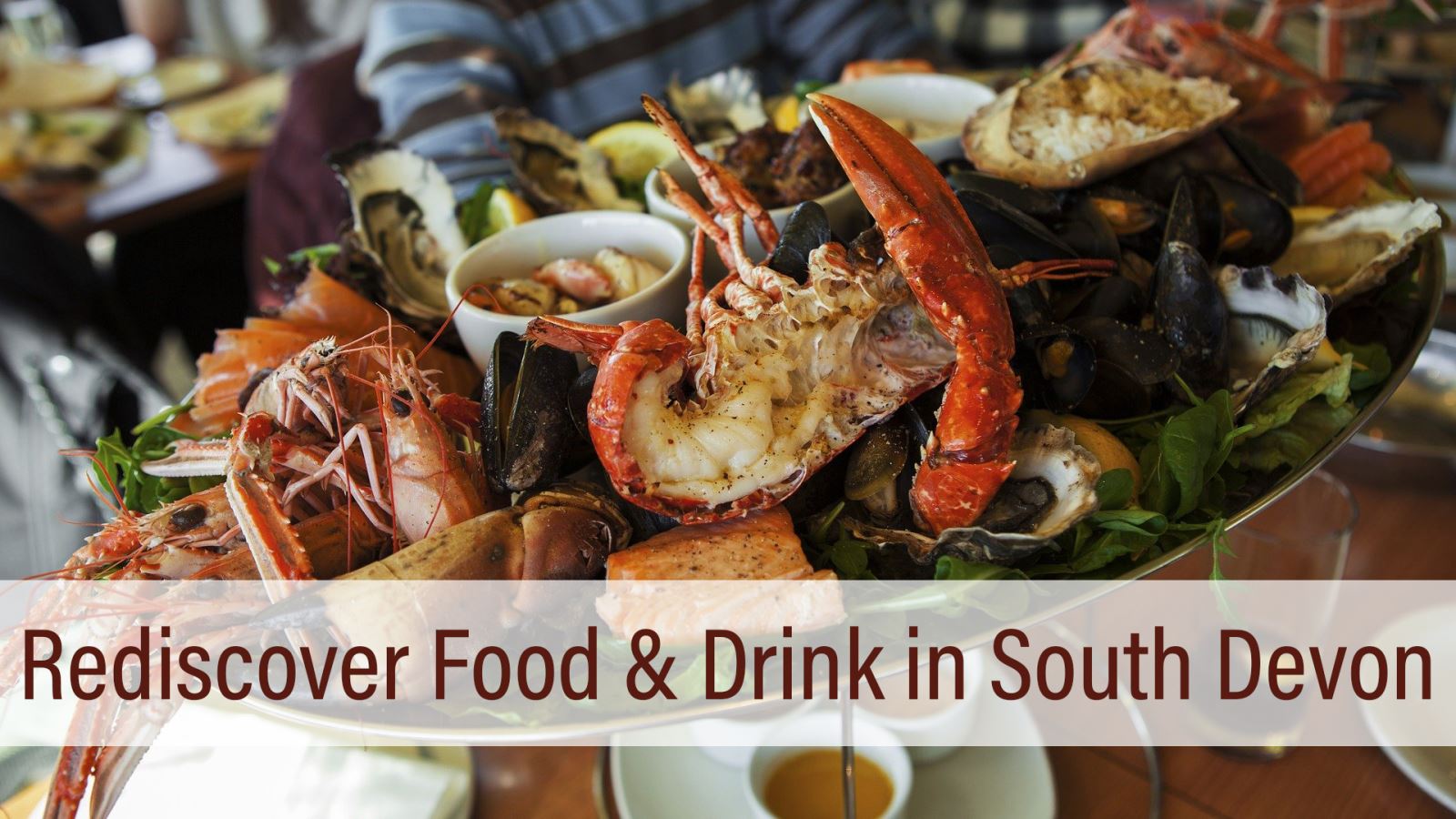 The South West is known for its quality food and drink and as businesses across the region continue to open and follow the most current guidelines, you can once again enjoy the fantastic food and drink available safely. From amazing vineyards serving up English wines to local cheeses and brilliant restaurants offering a wide range of locally produced goods. Whether you're looking to try sweet treats such as freshly baked cakes or locally made chocolate or if you fancy tasting some delicious wine or beer. Rediscover the best of South Devon's food and drink below.
One great way to discover some of our wonderful delicacies, is to visit a restaurant, pub or café. Many of the eateries in the region champion local produce and are proud to serve the best that South Devon has to offer. Due to our region's enviable location, it's no surprise we have some of the best seafood in the UK. Visit a coastal town in the region and you're sure to find at least a handful of incredible restaurants with fresh seafood dishes on the menu. Destinations such as Dartmouth are renowned for their crab sandwiches whilst Teignmouth is known for its delicious mussels that come straight from the River Teign. Check out our pubs and inns here, restaurants here, and cafés that are available here.
Enjoy a taste of Devon at one of our brilliant markets or farm shops. Across the region most large towns and some smaller villages host weekly or monthly farmers markets which are the perfect place to pick up some locally produced goods. Whether you're wanting to use them in your cooking whilst you stay or even grab an edible souvenir to take home, you won't be disappointed with what's on offer. Valley View Café & Aune Valley Meat Farmshop are based in the South Hams between Loddiswell and Kingsbridge. A family run business, the farm shop prides it self on offering a wide array of Local produce such as free range eggs veg and much more. The deli stocks home-made pies, Scotch eggs, pasties and sausage rolls, all of which are made on site. Check out our range of markets and farm shops in South Devon here.
For wine, why not try Lyme Bay Winery which is situated in Axminster. Pay a visit to their on-site shop where you can pick up a multitude of delicious beverages including English wine, sparkling fruit wine, mead, cider, spirits and plenty more. Another wonderful place to try some tantalising English wine is Sharpham Vineyard and Cheese Dairy. Located within the Sharpham Estate near Ashprington, Sharpham's beautifully positioned vineyard rests on the banks of the River Dart. Visitors can enjoy a self guided walk or a guided tasting and many other options to try their wines and cheese. However we're also home to some great breweries and distilleries if wine isn't your thing. Salcombe Brewery Co. which is located in Kingsbridge offers tours of the brewery as well as a shop where you can buy their wonderful artisan beers. If you're interested in a tour with a chance to meet the brewers and learn about the process, the tours are usually held between 3 o'clock and 5 o'clock on Thursdays during high season. Take a look at South Devon's vineyards, distilleries and breweries here.
Food and drink events are gradually returning to South Devon and we are looking forward to seeing plenty of great ones this year and into next. Many are annual events and highlights include Dartmouth Food Festival which is often frequented by famous chefs and recognisable faces, Abbfest in Newton Abbot which is a beer festival also serving up local food and music, or if you're visiting earlier on in the year, Salcombe Crab Fest in May is a wonderful charity event showcasing the some of the best seafood. And even if it's not a specifically focused food or drink event, you can be sure to enjoy some tasty Devon food and drink at all of our other events too! Christmas events especially are great for trying different foods from around the area, for example Totnes Christmas Markets for bring together a beautiful selection of stalls serving different types of cuisine by locals and the Christmas Markets in Exeter are known for this as well. Explore the region's food and drink events here.
Keep up to date with all things South Devon by signing up to our e-newsletter here. We'll let you know about the latest events, competitions, news and more.
Related
0 Comments