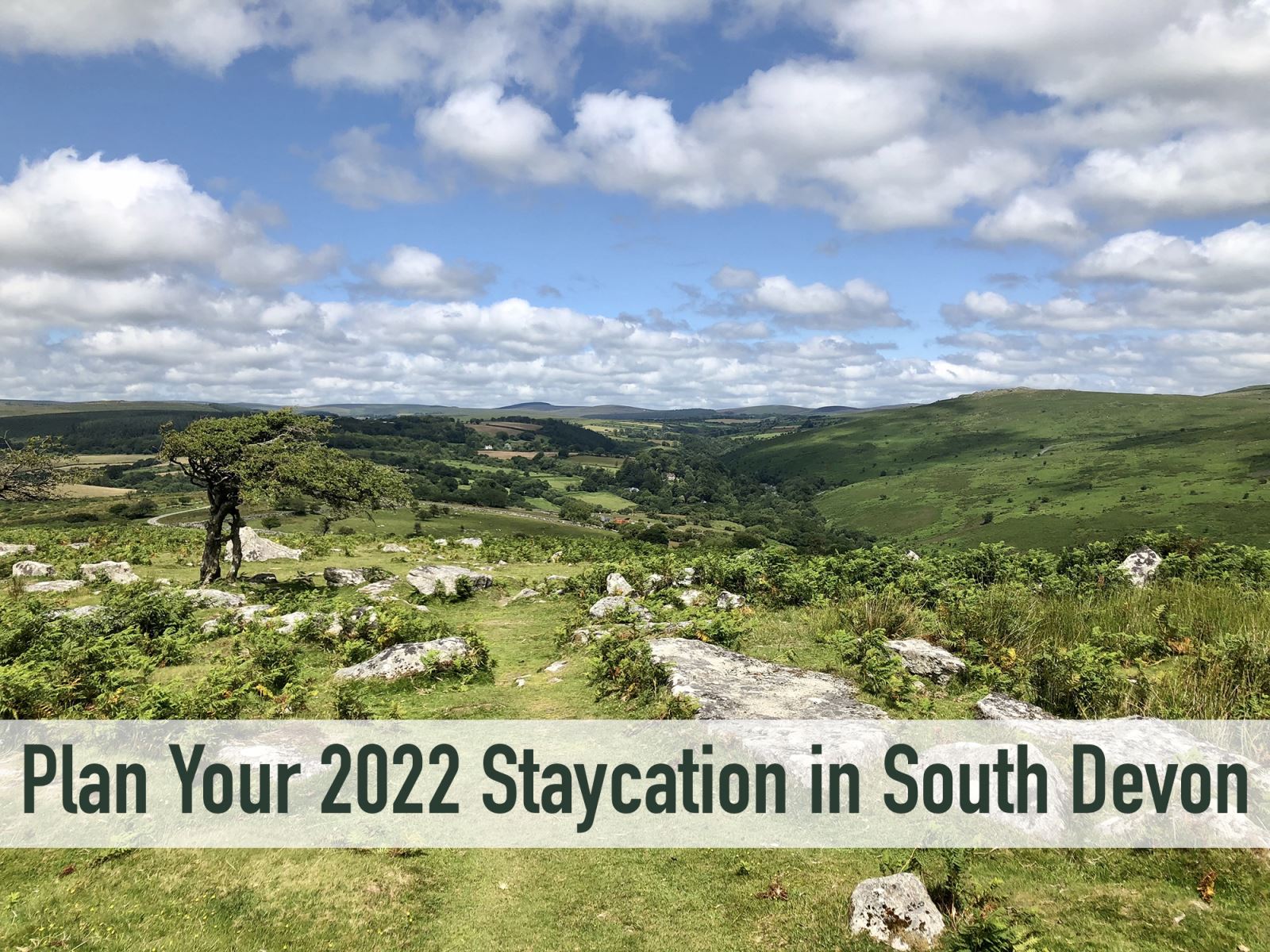 We're so excited to welcome 2022, after another challenging year, we can't wait to see what this year has to offer. Many South Devon businesses, events, communities and charities have struggled over the last couple of years just like everyone else. However, with all the negatives we still enjoyed plenty of positives. Whilst many people swerved travelling abroad again, it encouraged us to explore closer to home and discover what we have our own beautiful country and here at Visit South Devon we want to continue this trend throughout 2022. So if you're still looking for your next big getaway in 2022, let us tell you our top 10 reasons to visit South Devon this year!
If you're still not feeling comfortable with being in close proximity to others, we've got lots of wide open space for you to enjoy in South Devon and one of the most popular destinations for this is Dartmoor National Park. You could explore an ancient forest, climb to the top of a rugged tor for some seriously impressive views or simply walk in this vast landscape. The possibilities are endless on Dartmoor and you can learn more about the National Park here.
Three Areas of Outstanding Natural Beauty
Not only does South Devon boast an incredible National Park in Dartmoor, but the region is also home to three stunning Areas of Outstanding Natural Beauty (AONBs). These are East Devon AONB, South Devon AONB and Blackdown Hills AONB. All three have a multitude of reasons to visit and lots to explore. For coastal views, South Devon and East Devon AONBs are beautiful and for some historical places of interest head to Blackdown Hills. Find out more about each of them here: South Devon, East Devon, Blackdown Hills.
Bustling Cities
Maybe you're feeling pumped to get back out amongst people and feel the buzz of a city again? If so, we've got two brilliant cities for you to explore. Plymouth, known as Britain's Ocean City and Exeter, a hub for culture and the arts. Both offer plenty to see and do with lots of well liked attractions that all the family will enjoy. There's an aquarium and the charming Barbican in Plymouth whilst Exeter boasts an attractive cathedral and chic canal waterfront. Find out more about Exeter here and Plymouth here.
Seaside Resorts
If it's a family holiday jam packed with attractions and fun that you're looking for, there are a few hotspots in South Devon that are perfect for that. Some that spring to mind are the seaside resorts of the English Riviera; Torquay, Paignton and Brixham, as well as destinations such as Teignmouth, Dawlish and Dawlish Warren. All these lively towns are home to plenty of family attractions as well as a plethora of beaches and parks to enjoy. But South Devon seaside resorts aren't just for family fun with little ones, there are plenty that are perfect for couples getaways and just about any type of holiday! Salcombe and Dartmouth are gorgeous waterfront communities and the regency town of Sidmouth is perfectly placed for exploring the Jurassic Coast. Check out the towns on offer in South Devon here.
Quaint Villages
Alongside two cities and lots of exciting towns, South Devon is also sprinkled with quaint villages and settlements. One chocolate box village in East Devon that you won't want to miss is Branscombe; it's stunning location on the Jurassic Coast and thatched cottages feel like you're on a movie set! If you're looking for villages that are out of the way, be sure to have a look at places in Dartmoor National Park and Blackdown Hills AONB, both areas are home to lots of alluring hamlets and communities.
Unusual Events
With some events being cancelled in 2021, we're hoping to see our favourite events return with a bang in 2022! Of course, things are uncertain at the moment and we've still got a way to go until we'll see the usual big regattas, concerts and festivals back to the scale they used to be but that doesn't mean there won't be lots of fantastic and unusual events taking place in South Devon during the year. Even if the larger gatherings are smaller this year or adjusted to comply with Covid restrictions, there'll still be plenty to do. Many attractions host events throughout the year too so keep your eyes on our What's On page here to see what's coming up in the region.
Miles of Coastline
South Devon has miles of coastline to discover during your visit and the best views and walks can be enjoyed using the South West Coast Path. Viewing points are in abundance and there is something for everybody. Perhaps you'd like a circular walk, gentle stroll or want to test yourself with a challenging hike, you'll find something to suit. We're also lucky enough to have part of the Jurassic Coast World Heritage Site in the region so be sure to head to it in East Devon where you can explore the prehistoric era.
Dotted across Devon are a wide range of historical attractions and fascinating sites. From country homes and castles to Iron Age Hillforts, Bronze Age settlements and steam railways, whatever your interest, you'll find somewhere to explore. Delve into the selection of history and heritage in South Devon by clicking here.
Zoos, theme parks, museums, galleries and pools are just a handful of the types of attractions on offer in South Devon. We understand that this past year has been a struggle for many of our wonderful attractions so what better way to give them a boost in 2022 than making the most of the variety on offer! They've all worked so hard to put the correct safety measures in place to ensure that you can enjoy a Covid safe trip, so if you're able to, please visit them and show them your support, we can assure you that you won't be disappointed! Discover South Devon attractions here.
It probably won't come as a shock to hear that our fertile land and staggering coastline means that Devon produces some of the best food and drink around. Beautiful wines, yummy cheeses, tantalising soft drinks, ales, seafood, fudge, ice cream and more, you'll be spoilt for choice! You can pick up local delicacies at a market or enjoy a meal at one of our amazing restaurants. Similarly to attractions, the hospitality industry have been hit hard during the last couple of years so a visit to a local eatery, pub or bar is a great idea during 2022. They'll be ensuring any Covid measures are in place so you can dive into your delicious meal knowing that you'll be safe.
Now you know what you can look forward to in South Devon, we hope to welcome you during 2022! And we're positive it's going to be a lot better than last year, we can't wait to see you soon!
Keep up to date with all things South Devon by signing up to our e-newsletter here. We'll let you know about the latest competitions, blog posts, events and more!
Related
0 Comments