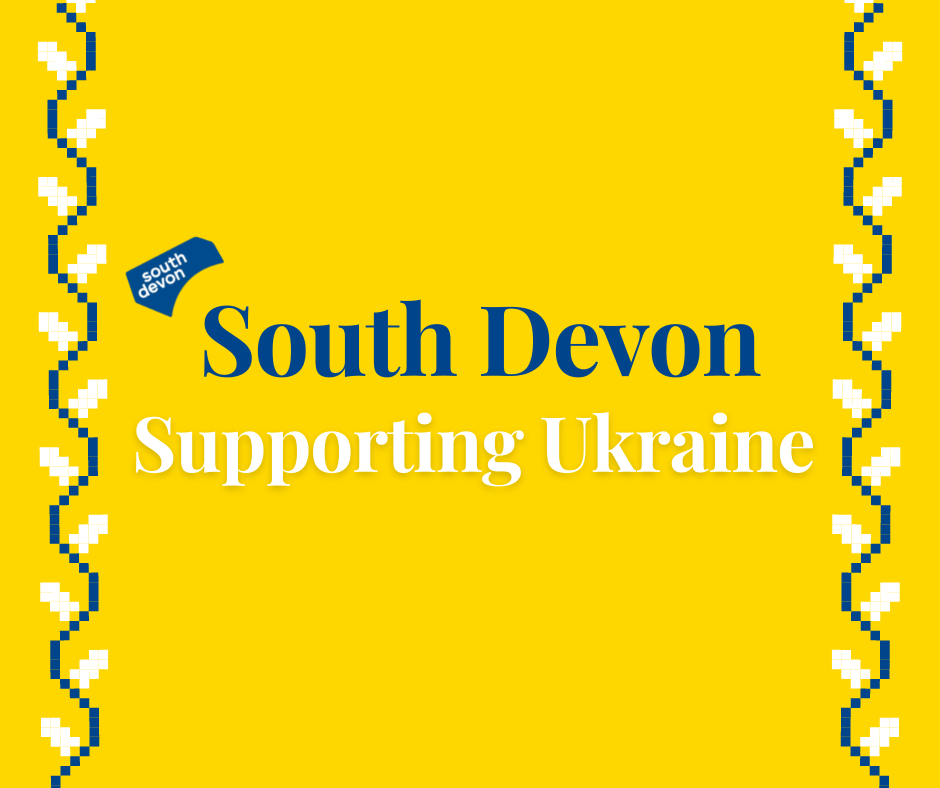 It's natural to feel a bit helpless and out of sorts with what is happening in the world right now. Luckily, there are many things we can do to support Ukraine, whether it's sign a petition, donating clothes or writing to your MP. Of course, this list is just the tip of the iceberg, and there are plenty more ways in which we can help.
Donate money
Charities helping Ukrainian refugees are in urgent need of funds. If you are able to, the British Red Cross, Project Hope, Unicef, Choose Love and the International Recuse Committee are non-governing organisations which are supporting the people of Ukraine. You can also donate to United Help Ukraine or Nova Ukraine on Facebook. To help support LGBTQIA+ Ukrainians, you can visit OutRight Action International. You can also donate through some of your local business as many local South Devon restaurants, shops and other businesses will also be collecting donations in store and online.
Write to your MP
Writing an email to your MP can encourage them to put pressure on the UK government to act. You can find your MP's contact details here, and send them an email using this template. It's a really short process, taking only 10 minutes. Just remember to sign it with your name and address at the top of the email so that the MP can see you are in their constituency.
Donate items
We've seen many businesses hosting fundraising events or collecting monetary donations for Ukraine. Torquay town centre have a collection point, collecting first aid essentials and hygiene supplies at the Punk Emporium, as well as Molloy's in St Marychurch. Darren's Cars, a taxi firm in Callington will be driving a minibus to the Ukrainian boarder with supplies for fleeing refugees. If you are unable to get to Callington, there are many collection points around Tavistock who will be happy to pass the donated items on to them. Furry Paws Dog Rescue in Okehampton are collecting clothes, sleeping bags, as well as pet items such as food and toys. Your Home Let are also collecting supplies in Ivybridge, and Ukraine: Dawlish Cares (UDC) have set up collection points in and around Dawlish for clothes, medicine and toys. If you do a quick search on Facebook or Google for collection points, you'll be sure to find one near you. You can also try asking others in your community.
Support a Ukrainian business
Buying from a Ukrainian business supports their economy, which gives them additional support to defend their country. Many members of the public have been paying for Airbnb rentals to help get money directly to residents in Ukraine, this is just one of the ways in which we can help – if you do this, just make sure you let them know that you will not be staying! Whether you do book an apartment for a week, purchase a small handmade item from a Ukrainian creative, or buy a digital download of a print from a marginalised artist online, these gestures will mean more than you know to those in need.
Take some time to research and learn
It can feel very overwhelming with news articles flashing up left, right and centre, but it really helps to dedicate sometime to understanding what is going on and who it's affecting most. Rather than having your phone buzz every time there's an update, perhaps take 30 minutes or an hour each day to research and learn some more about the situation. The growing crisis has also called attention to the fact that marginalised refugees face tougher challenges that their white or cishet (cisgender and heterosexual) counterparts. Black people and other POC have been faced with racism and xenophobia at the Ukrainian boarders. LGBTQAI+ Ukrainians fear increased repression from Russia as homophobia and transphobia is widespread with far-right organisations frequently attaching LGBTQIA+ groups and events. Russia also has a ban on gay marriage and an anti LGBTQIA+ 'propaganda' law, making it illegal to distribute materials such as leaflets, in support of the LGBTQIA+ community. Here is a useful link that may help you to understand a bit more about how these marginalised people are affected. - Here's how you can help LGBTQ+ and Black Ukrainian Refugees
Check in with your Ukrainian friends and colleagues
As much as you're worrying about the current situation, chances are the Ukrainian community in your area is a lot more scared as they may have family or friends still in the country. Take some time to check in with them, ask them how they're doing, offer support and be a shoulder to lean on during this tough time.
Related
0 Comments