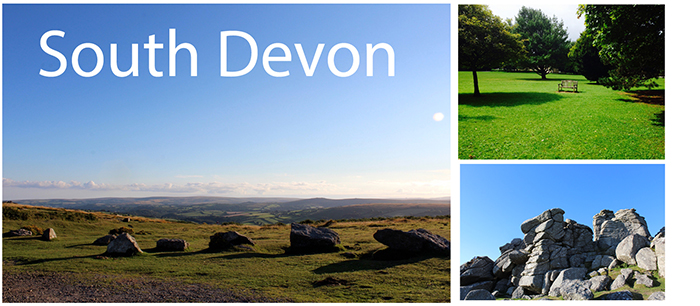 Guest Blog Post - Jonas
England – That's a dream for German students. I was lucky and can work and live for three weeks in one of the most beautiful regions in United Kingdom: South Devon. I have heard a lot about the South-west of Britain, but I was never there before. Most people in Germany know this area mainly because of the moors and the stories of Sherlock Holmes and the Hound of the Baskervilles.
And I have to say, it is exactly what I had imagined. The grey rocks, the little rivers with their gentle rippling, the green landscape and the plurality of sheep. I live in Germany in a City in the South of the country and you can say: I come from a town near to Stuttgart, which is sometimes really annoying, in a little green oasis.

Work
During the week, I am working in Bovey Tracey at the Devon Guild of Craftsmen. It's a place where local artists can sell and show their craft. The centre also includes a café and an gallery where artists show regularly changing exhibitions.
The food which you got there in the café is the complete opposite what you hear in Germany about "bad" British food!
I spend my work experience days in the craft centre - in the Marketing department. We work a lot with social media like #Twitter and Facebook and we look after the advertising and promote the many craft events.
This is important because we need more visitors, including young people, to know about the Guild, and the fact that the place is a hidden treasure on the edge of Dartmoor. It is a little remote but we hope to make it bigger on the tourist map, especially for walkers and cyclists.
Another aspect of the job is that I can make some pictures and little movies of the exhibition room and the craft. Here is an example film I made all about the Devon Guild here on YouTube I also have to find out something about the artists who show their work here. This will help inform the public and help people to learn about the next Guild exhibition.
On Tuesday we promoted some Beekeeping events at the Guild, on 31 Aug and 5 September, by putting up posters around Bovey Tracey, for local people to see.
Family
During the three weeks I am living with a family in Ashburton - a Devon town maybe 15 minutes drive from Bovey Tracey and also a very nice place. They have a lovely river and old fashioned houses. Even the weather was good in the first days. We visited Dartmoor together and will go to Exeter. They are very kind and I would say that I have a lot of luck to find two cool places here in the South west of England!
If you want to find more about Devon Guild click here: http://www.crafts.org.uk/
A bit more about me: My name is Jonas, I am 17 years old and I come from the south of Germany. I am going to finish school in the next two years and then I would like to study at University. I spent my free time playing piano, reading and being head boy - which means representing students' opinion.
Related
0 Comments