Guest Blog Post - Milly Cooksley
During some research of South Devon it became apparent that a few of the things most likely to appeal to young adults visiting the area were situated in Totnes. For example, the types of shops, places to eat and a couple of culturally enriching locations. Therefore I decided I would commit a whole day to the area to find out just how accurate this was.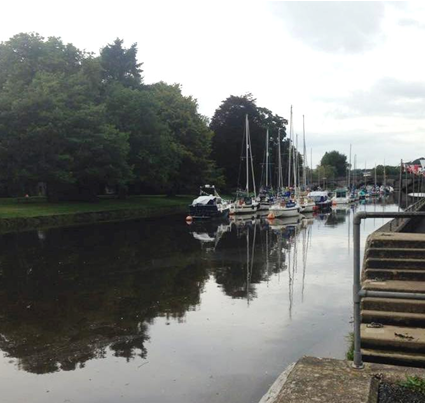 I actually started my day just outside of Totnes, visiting Sharpham, a vineyard and dairy which as the name suggests, produces wine and cheese. Sharpham offers tasting, guided and self-guided tours and has a restaurant. The staff could not have been more friendly; they were very knowledgeable and took the time to answer all my questions concisely. I embarked on the walk in the slightly soggy weather and before long had muddy feet because of my inappropriate footwear (take note) and I also managed to get lost which is quite impressive as the route is circular. However, when I finally make it to the vineyard that is open for the public it was a lovely new experience and you are treated to some truly spectacular views.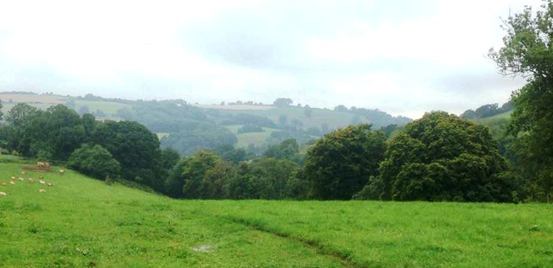 There are a number of ways to enjoy Sharpham at varying prices; the self-guided walk is £2.50, the cheapest fee to include tasting is £6.95 and allows to you taste three types of wine and two cheeses, it will cost you £8.95. The tasting is informal so you do not need to worry if you only ever drink wine bought in a two for £10 offer! Sharpham is a lovely thing if you are wishing to embark on a more 'treat yourself' activity, and although it would be splendid in the sun, I had a wonderful time on the self-guided tour despite the rain. Just remember, someone does need to drive home and it is not entirely suitable for the t-total, lactose intolerant friends among us.
Totnes High Street and Centre
After I'd found and accepted a slightly steep car parking fee I wandered into Totnes high street, crossing a bridge over the picturesque river of the River Dart on the way. I stopped in The Curator cafe for a coffee which proved to be everything someone like me is after from a cafe. The coffee was a great price and it tasted lovely, which I think is something often overlooked when seeking out coffee shops. It was small and cosy, lovely art and décor and had some great music playing which wasn't so loud it overpowered your thoughts. The cafe welcomed a range of people, of all ages, group sizes and carrying out different tasks. There was even a dog in there which I was pleased to see, as they are so often asked to stay outside with the smokers these days. Maybe I am getting too carried away about a simple cafe, but it's good to appreciate the little things that can make a real difference when visiting a place.
I somewhat unwillingly left the cafe to wander up Totnes high street and found myself surrounded by a variety of accents and languages! It seemed I was not the only person who had heard good things about this little South Devon town. Only a minority of the shops were chain shops, instead there were many gift type shops, selling shabby chic ornaments, kitchen and gardening goods, cards, all those types of things. I am a fan of these shops but I was not going to visit all of them. I made my way on to the part of the high street called The Narrows, of which the name is pretty self explanatory and where there is an increased chance of being run over! Thankfully the cars drive slowly and when you make it to the end of The Narrows, you are rewarded with a brilliant record shop, Drift, to mooch about in. I appreciate that a record shop may not be everybody's idea of a good time but it's there should you want it.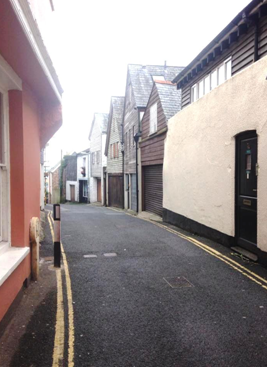 In addition to the many gift shops, another thing Totnes has plenty of is vegetarian eateries. I ate in Seeds 2 Totnes which is a self service restaurant, with lovely rustic tables and chairs and a very chilled out vibe. You pick up a plate and help yourself to as much as you want of the selections of salads, olive mixes, potatoes, pasta dishes etc. and then pay at the end with the set price of a plate being a justifiable £7.50. The food was rather yummy and filling and I was not at all self conscious about being sat in there eating alone. I settled down with my book and didn't feel pressured to leave even once my plate had been cleared away.
There are a few art shops along the high street which had some attractive pieces to look at, and made for a pleasant ten minute break from the crowds. I also visited the fashion, textiles and design museum; it cost me £2 to go in (student price) and although only small, it had a really fascinating exhibition on called Corsets and Crinolines, and because of the easy to read guide I was given, learnt a lot about the changing shape of fashion. The volunteer member of staff who was on duty was friendly and helpful, the clothes on display were beautiful and for such a small amount, I was very pleased I decided to pop in and have a look at something that I would not have otherwise come across. Also available to visit, providing you are the between the end of March and the end of September, is the castle. I chose not to visit, but if you do it is a £3.40 entry fee for students.
My last stop was the Totnes Brewing co. Microbrewery and Craft Ale House. It was very cosy inside, with a very helpful barman who had good knowledge of the ale on offer. It is situated next to The Barrel House pub which hosts music gigs and DJ nights on Friday and Saturday nights respectively. It is fair to say that South Devon is not prominently known for its nightlife, especially in the smaller towns, but a lot of this is down to knowing where to look for it! I was going to stay and go to the gig that was on that evening, but by 5.30pm the shops were closing, I was growing weary and wasn't quite sure how to spend my next three hours on my own. However, I would recommend Totnes and checking out The Barrel house on a Friday or Saturday night for an evening out that offers something a bit different than just the pub.
As a side note, somewhere else to visit for a pleasant evening, especially in the warm weather, is Shaldon. It's not the place to visit for clubs and pubs, but instead, visit to go for a lovely walk, a drink outside overlooking Teignmouth and to admire the wonderful array of architecture in the form of the wonderful houses that I can only wish to one day afford. It is a quaint and peaceful town, one I recommend you visit, and if you are lucky you may also get to witness a truly spectacular sunset much like the one I was lucky enough to see.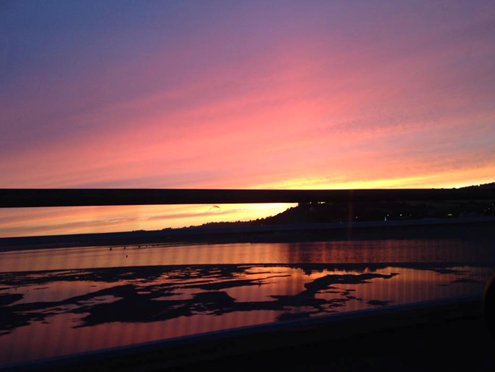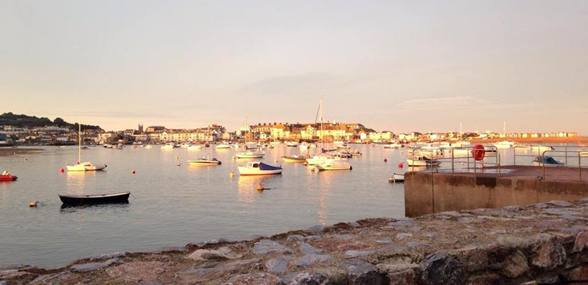 About me:
My name is Milly, I am 22 years old and I am about to enter my final year of my undergraduate Sociology degree at the University of Warwick. Writing has always be an activity I enjoy, especially when it involves voicing my opinion and recounting notable past-times. Alongside this, I have always loved to travel, my passion for which was furthered during and since my year abroad in Copenhagen. Therefore I jumped at the chance to combine both these elements; to explore South Devon, write about the adventure I embarked upon and share with others. My blog posts aim to both entertain but more importantly, enlighten young adults about the fun, charm and memorable experiences that South Devon has to offer.
Related
0 Comments