Guest Blog Post - Clare Mackenney
I was born and brought up in the Devon countryside, however it has been later in life that I have really started to explore and appreciate this wonderful county. I have been fortunate enough to travel all over the UK and the rest of the world, but at the end of the day, Devon really has to best one of the best places to live and raise a family.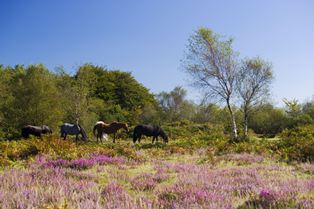 My home is in East Devon where we are surrounded by the rolling Blackdown Hills and acres of wonderful woodland. As a family, we are pretty easy to please and appreciate that there is plenty to do that is free and on our doorstep. We like nothing better than a good walk, especially if there are trees to climb, a den to make or a river to splash in. There are often fun activities to join in with at our local nature reserves and nearby Seaton Wetlands is a particular favourite. With bird spotting, pond dipping and seasonal events it's perfect for a stroll round at any time of the year. Also, it is very accessible for all ages, having been made suitable for pushchairs and mobility scooters, which is an added bonus for friends with little ones in tow.
Of course, the other great thing about South Devon is how close we are to the sea. I have to admit we are not ones for laying around on the beach in the heat of summer, but a paddle or a stroll along the seafront is not to be missed, simply skimming stones and running away from the waves keeps the children happy. Searching the rock pools for crabs and sea anemones is also a great way to spend an afternoon. If we are feeling a bit more energetic then a walk along the South West Coast path is sure to blow away the stresses and strains of daily life and can be rewarded with fish and chips or an ice cream! The short walk from Seaton to Beer is a great one to do as well as Beer to Branscombe if you are feeling a bit more ambitious.
When our children were younger we enjoyed days out at many of the local attractions; Crealy Adventure Park and Bicton Gardens were always good fun and we also recently returned to Wildwood Escot and are keen to go back and see the new wolf enclosure and try to spot the red squirrels.
Finally, but by no mean last on my list of things I never tire of, is a proper West Country cream tea. I know it might be a bit of a cliché and considered something for tourists, but you really can't beat it! As a local I really do love finding the best places for a cuppa with my mum or friends and the children are always keen to indulge in a big piece of chocolate cake.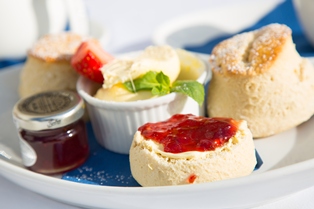 So there you have it. Of course there are lots of other great attractions throughout Devon that we are lucky enough to have nearby such as National Trust properties and wonderful gardens. Dartmoor is just an hour from me and Exeter is a fabulous city for shopping, culture, history and entertainment. To be honest I think I just need to be permanently on holiday so I can find the time to enjoy everything that South Devon has offer - now that would be nice wouldn't it!
Clare Mackenney manages the marketing for her family business - Andrewshayes Holiday Park in East Devon as well as writing a local travel blog called Flip flops or Wellies, which has lots of great ideas for walks and days out for locals and visitors alike.
Related
0 Comments