Guest Blog Post
Dartmoor National Park has been represented strongly on the ground by its Ranger Service since 1963, when Tony Owen-Evans was first appointed Dartmoor Head Warden. Today the Rangers, including full time and part time officers, and volunteer wardens, are the main interface between the National Park Authority, local communities, landowners, partner agencies and visitors.
The Rangers role is varied and over 365 days of the year and includes:-
• Byelaw enforcement under the Commons Act 1985
• Public Rights of Way and practical conservation work
• Educating and advising
• Assisting emergency services
• Research, surveying and monitoring
Dartmoor is divided into 9 different sectors, each managed by one ranger and supported by a small team of voluntary wardens. This ensures consistency with local contacts within the community and one point of contact for the parish councils. Each sector is around 40 square miles large.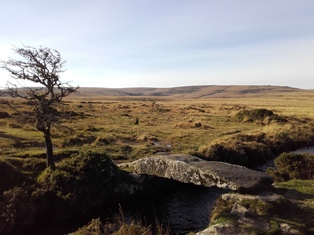 Every day is different with 50% of my work being pro-active (planned) and 50% being re-active (unplanned), but that's what keeps the job so interesting and varied, you never quite know what's around the corner. A typical working week may involve hosting a school group, responding to a wildfire, strimming some footpaths, attending a local parish council meeting and running a volunteering event. As Rangers we also work closely with other internal departments including our archaeologists and ecologists.
Weekends tend to be slightly different as we focus more on educating and advising, we tend to spend more time patrolling around, being visible and available, particularly at the busy "honeypot" sites. Here we will often stop and chat to people, offering advice about where to walk, what to see and how to care for the moorland by leaving no visible impact from their visit.
If it's a warm weekend we do obviously attract lots of visitors to the park, all recreating in their own way. Some like to come and bike ride, some like to walk or hike, others like to just sit and picnic, especially near riverside sites.
Unfortunately not every visitor to the park behaves in an acceptable manner or treats the area with respect. Disposable BBQ's are often put straight onto the grassy areas, leaving a perfectly rectangular scorched patch of earth in their wake. Picnic rubbish and leftovers are often not cleared away and are left on site, leaving ourselves and some willing volunteers to spend our summers months constantly litter picking.
The cute Dartmoor Ponies are often fed by well-meaning visitors, but this is often done in a roadside car park, or near to the road meaning the ponies are often attracted onto the roads in search of food, often with tragic consequences. It's up to us to then deal with the sad aftermath and try to contact the owners direct or through the Livestock Protection Officer.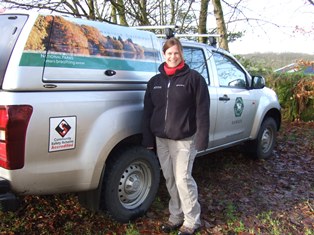 Having said all this, nothing quite beats the Summer sun on Dartmoor, it's fantastic to be able to spend my working days out on the moorland, listening to the Skylarks. The view from my office (i.e. truck) window is different every day and I love meeting new people and helping them to appreciate what a magnificent place Dartmoor is.
My favourite area has to be Burrator reservoir. There is so much to explore, and often not too far from the car parks. Medieval longhouses, old farm ruins, stone rows, potato caves, babbling brooks and bluebell woods to name but a few. This is often a very busy area, but you only have to walk for about 5 mins away from the reservoir to be on open moorland, or at the top of Sheepstor or in a shaded woodland area. There is just so much variety if you are prepared to explore a little.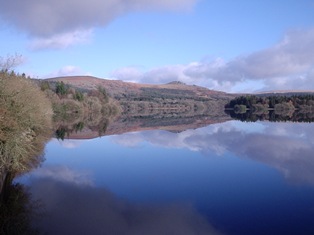 The best advice I can give for visiting Dartmoor is to always dress appropriately for the weather – it can turn pretty quickly on the moors from sunshine to showers and back again. Visit one of our Visit Centres at either Princetown, Postbridge or Haytor for information on short walks and things to see. Also ask our experienced centre staff for their best places to visit. There are some really beautiful hidden gems on the moor and these locals will be happy to advise you where to head off the beaten track.
Related
0 Comments