Guest Blog Post - Jon Pressling
I should have a message on my phone saying sorry I'm not available right now but you'll find me out cycling along the coast or up on the moors.
It's not that I'm always out on my bike but when there's so many places waiting to be discovered, along with a few two wheel favourites, there's a genuine sense of freedom and achievement in visiting somewhere you've made an effort to reach.
Being born and bred in Devon I've collected a fair few routes along the way, from bimbles through picturesque country lanes to epic windswept journeys across Dartmoor and invigorating coastal journeys breathing in the fresh sea air. Where's my favourite route? Well it depends on the mood (and weather) but here's a few highlights to inspire…
Haytor to Widecombe-in-the-Moor
Fancy following in the peddle strokes of Sir Bradley and Cav? Having featured in several editions of the Tour of Britain, it's no surprise Haytor is a popular choice for cyclists to challenge themselves on but the stunning panoramic views from the top are honestly worth it.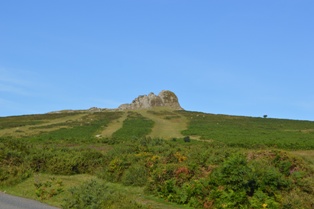 Setting off from Bovey Tracey, fuelled by a café stop at the cycle friendly Brookside Cafe, the only way is up but you'll never be alone as this is a popular spot for locals and visitors alike. You may even spot some Dartmoor ponies lining the route. Although not the steepest climb in the area, you'll still be thankful of the downhill ride into Widecombe-in-the-Moor, where you've earned that piece of cake and can enjoy one of Dartmoor's most famed villages.
Distance – 7.5 miles (actual Haytor climb 4 miles)
Challenge – 4/5 (up to Haytor)
Kingsbridge to Dartmouth via Slapton Sands
Another route that has previously featured on the Tour of Britain, you don't want to be racing along here as you'll miss all the fabulous scenery around every corner. Starting from Kingsbridge and you can leisurely wind your way through rolling hills but just watch out for the tractors on the narrow streets.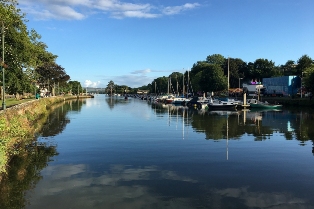 Arriving in Slapton and you're treated to a rarity in Devon – a long, flat road! With the sea to your right and the south west's largest natural lake, Slapton Ley, to your left, don't miss the Sherman tank which is a memorial to those who died in Exercise Tiger. Onwards, and upwards, passing the award winning Blackpool Sands, don't forget to take in the views to your right which are truly some of the most stunning you'll ever gaze down on back towards Slapton.
It's a fair slog up the coast and heading inland before you begin the speedy decent into Dartmouth and greeted by its beautiful river setting surrounded by stunning countryside. You've earned your coffee stop at popular Al Fresco's, with the cinnamon toast highly recommended.
Distance – 16 miles
Challenge – 2/5 (4/5 after Slapton)
Exeter to Exmouth via Topsham
This is what (lazy) summer days are all about as you take a leisurely peddle and soak up the tranquil life along the River Exe. You're sure to be in good company as this is a popular route for all ages and abilities, and particularly families, but there's also plenty of activity on the water to enjoy as rowers and wildlife drift alongside.
Starting from Exeter and you're spoilt for choice as to where to fuel yourself but there's also plenty of places on route too just waiting to be discovered and tempt you with their local produce. A good stopping point is Topsham, where there's a strong maritime flavour and cluster of specialist shops to explore away from the bike. With character flowing through the narrow streets of this small river-side town, when the sun's out this is a glorious spot to just sit back and watch the world pass by. Peddling along to Exmouth and there's not much cause for breaking a sweat as this cycle-friendly route continues. With the sea air and open waters welcoming you to Exmouth, the most challenging thing now is deciding which ice cream to enjoy as you gaze out to sea.
Distance – 10.5 miles (4.5 miles to Topsham)
Challenge – 2/5
Jon Pressling has lived in South Devon all his life and can often be found exploring the region on two feet or two wheels. As a freelance journalist, Jon has a passion for travelling and sharing his experiences, often indulging in some hearty cake at the end of any adventure.
Related
0 Comments