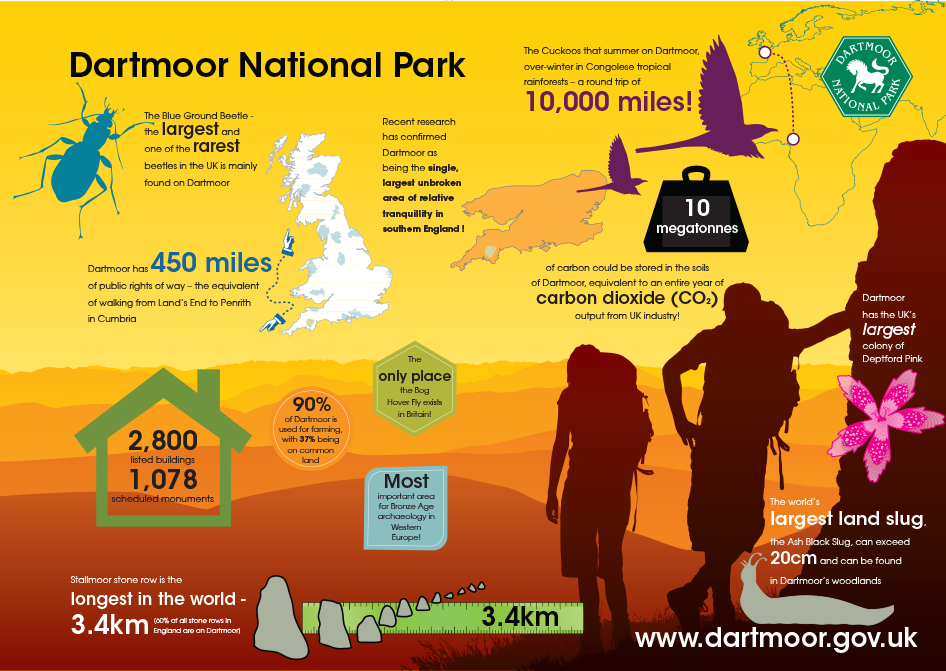 Guest Blog Post - Visit Dartmoor
I think everyone knows that Dartmoor is beautiful, wild and completely glorious, but not everyone knows these fascinating facts about it.
So many of us love to walk, ride, cycle or even wild swim on the moor, so the next time you are enjoying the stunning scenery and wide open spaces, you can maybe consider some little nuggets of information!
• We have 450 MILES of public rights of way! That's the equivalent of walking from Land's End in Cornwall to Cumbria!
• Dartmoor National Park has 2,800 listed building, and 1,078 scheduled monuments on it's beautiful landscape.
• Dartmoor granite was formed 280 million years ago, thrusting upwards underneath the area we now know as Devon and Cornwall.
• Most important area for Bronze Age archaeology in Western Europe!
• 10 MEGATONNES of carbon could be stored in the soils of Dartmoor National Park. That's the equivalent to an entire year of CO2 output from UK industry.
• Stallmoor stone row is the longest in the world at 3.4km!
• 90% of Dartmoor is used for farming, with 37% being common land. Many farms breed ponies, cattle and sheep. A third of it is owned by Duchy of Cornwall.
• The ONLY place in Britain where the Bog Hover Fly exists!
• Home to the LARGEST land slug. The Ash Black Slug can exceed 20cm and is found in Dartmoor's Woodland.
• Bonus fact - Dartmoor attracts 2.3 MILLION visitors a year, that's a value of £120 million!
Of course, it's not just the moor itself that so many people come to visit and enjoy each year, we have the most beautiful towns and villages, and some tiny, enchanting hamlets too.
A number of festivals, shows, fairs, sporting events, endurance challenges and family events take place on Dartmoor every year. From Chagstock or Dartmoor Folk Festival to Ten Tors and Tour of Britain, we always manage to put on an amazing display! Keep an eye on our What's On pages so you don't miss anything.
Pretty special isn't it? Why not come and see for yourself?
Official Dartmoor Tourism Organisation - www.visitdartmoor.co.uk
Or email jenny@visitdartmoor.co.uk
Related
0 Comments