Guest Post* - MyPetNeedsThat.com
If travelling can make you feel so stressed out, imagine what it can do to your pet. However, if you take the time to carefully plan your trip with your pet, you can actually ensure a more hassle-free, more enjoyable, and truly more memorable experience. So when you plan to spend a much-needed holiday with your family and beloved pet in South Devon or any other holiday destination, make sure to consider the following tips and pieces of advice in your travel plans.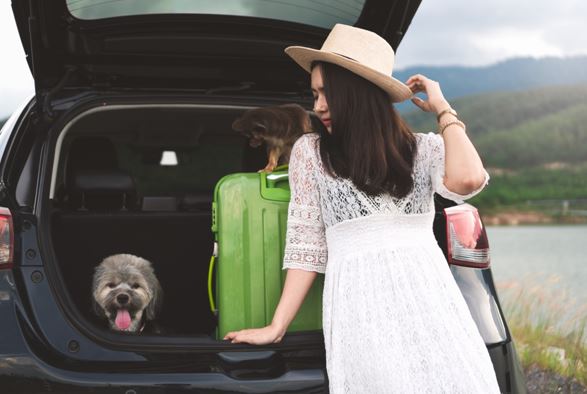 Make sure your pet is fit to travel
There are two things that you really need to ascertain about your pet if you want to bring it with you on your travel. First, make sure that it is small enough that it can easily fit inside a small pet carrier that can be placed under an airplane passenger seat. As such, if you've got a Great Dane or perhaps a Mastiff, good luck looking for an airline that will allow you to bring your pet. Second, it should have the right temperament for the flight or the travel. In other words, your pet should be as well-behaved as a Teddy bear when you bring it with you. Otherwise, other passengers may complain and get you in trouble. If you can ascertain these two things then you're almost as ready to go.
Shop for an airline that offers you the best value
Most airlines today accept pets in their passenger cabin. Some airliners even have slots for those in the executive or business section of the plane. The important thing here is to shop for airlines that will offer you the best value for both you and your pet. Some airliners will not want pets to be carried into the passenger cabin. Instead, they are placed in the cargo hold in a specialized section built specifically for pets. Make sure you understand the fees inherent in taking a pet with you in such flights.

Get a comfortable pet crate
A comfy pet crate is as important as your travel luggage. An even more important thing to remember is to have an airline-approved pet carrier to put your pet into for the duration of the flight. There are different size limitations observed by airline companies. It would be wise to check the size requirements of the airline of your choice so you can get a pet carrier that meets these requirements. It is better to get soft-sided pet carriers since these can be squeezed into the space underneath the airplane passenger seat in front of you.
Prepare your pet's essentials for the travel
Don't forget to bring your pet's essentials such as pet food, water, and treats. It is also best to bring a collapsible pet food bowl and water bowl to optimise space in the pet carrier. Your pet's brand of food may not be readily available in your destination so it is always a good idea to bring enough food to last the entire duration of the travel. High-quality treats are a must since these can be great motivators for pets to display a certain kind of behaviour that is highly desirable especially in public places such as airports. You may also need to bring your pet's favourite toy to keep it company and feel more secure during the travel. Of course, a comfy pet bed is also important.

Call your airline in advance to book a space for your pet
Depending on the policy of your airline it may be wise to call them in advance to book a space for your pet. Some airline companies do not accommodate advanced bookings as they observe a first-come-first-served policy when it comes to pet carriage into the passenger cabin. Make sure you understand these policies. If the airline doesn't have advanced booking facilities, you'd definitely want to go to the airport a lot earlier than usual to make sure your pet gets its slot for the flight.
Have your pet's health certificate ready
It pays to have your pet immunised or vaccinated and get a health certificate from your veterinarian certifying that you pet has received the required shots. Some international destinations require animals to have the appropriate shots prior to being allowed entry into the country. Additionally, if your pet is on medications, make sure that you're taking enough supply that will last the duration of your holiday or travel. You may not have ready access to your pet's medications in your destination without a written prescription from your vet.
Traveling with your pet need not be very stressful. With careful planning, you can almost always guarantee a hassle-free and truly enjoyable travel experience. This way you will have more positive energy to spend with your pet as you explore the many interesting things your destination has to offer.
*Sponsored
Related
0 Comments