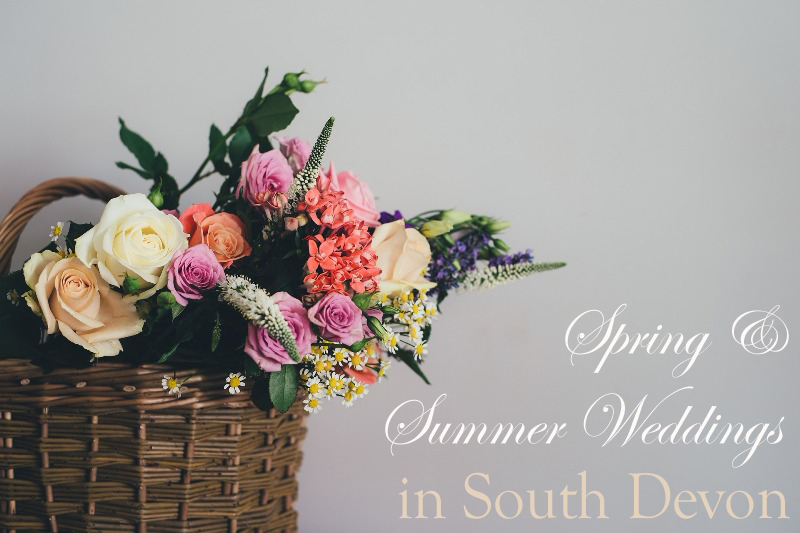 Some of the most popular months of the year to get married are spring and summer. With an abundance of greenery, longer days and higher average temperatures, we can see why so many plan to say their vows at this time of year. Below we've listed some of the great reasons to celebrate your love with a summer or spring wedding in South Devon.
Enjoy the Outdoors
If you're looking to hold some or all of your wedding outside, then spring or summer is the perfect time of year to plan an outdoor element in your celebrations.
From walking down the aisle surrounded by the stunning countryside or coastal views, to watching your guests enjoy reception drinks and canapés in beautiful gardens, laughing at the speeches in a grand marquee or sipping cocktails under the moonlight, the lighter evenings and longer days of the summer and spring months make including these elements in your wedding easy.
And in South Devon we have some of the most gorgeous stretches of coastline; dotted with charming coastal communities like Salcombe, Dartmouth, Dawlish and Sidmouth as well as natural beauty like our stunning beaches or the enchanting history of the Jurassic Coast in East Devon. Throughout the county you'll also find spectacular countryside and undulating hills in places like the Blackdown Hills AONB and Dartmoor National Park. So wherever you pick to host your wedding in Devon you're sure to be surrounded by impressive views providing the perfect backdrop to your celebrations.
Get Dazzling Pictures
With the above mentioned scenery providing an impressive setting for pictures and the extended hours of sun light which we are treated to in the spring and summer months, your photographer will be spoilt for choice when capturing your big day on film.
And even if the Great British weather isn't playing ball all day, there are sure to be some breaks in the rain to grab a few spectacular pictures to remember the day by. A few showers could even be the perfect chance to include some props or unusual settings; from umbrellas to wellington boots, or hidden doorways and sheltered trees, adding one of these to your images make sure your wedding pictures are unique and a real talking point.
Seasonal Food
The best food is always local, fresh and seasonal. So when planning your spring or summer wedding in South Devon make sure to include some of the local delicacies, but also pick dishes which are based around fresh, seasonal ingredients. In the spring and summer your wedding day chef will have lovely fresh green vegetables and salads to pick from, wonderful bright berries and soft fruits to offer and fresh seafood and meat for you to choose from.
Not only will incorporating seasonal and local food in your menu choices give your guests the most delicious food, but you will also be reducing the air miles of your menu, helping to make your big day more sustainable.
There are many great venues which are perfect to hold a summer or spring wedding in South Devon. From hotels with coastal or countryside views to licensed venues with fantastic grounds, you'll find the ideal setting for your marriage celebrations in South Devon.
To find the perfect wedding venue for a spring or summer wedding in Devon check out the wedding venue section of the website here.
Other Posts You Might Like
Related
0 Comments