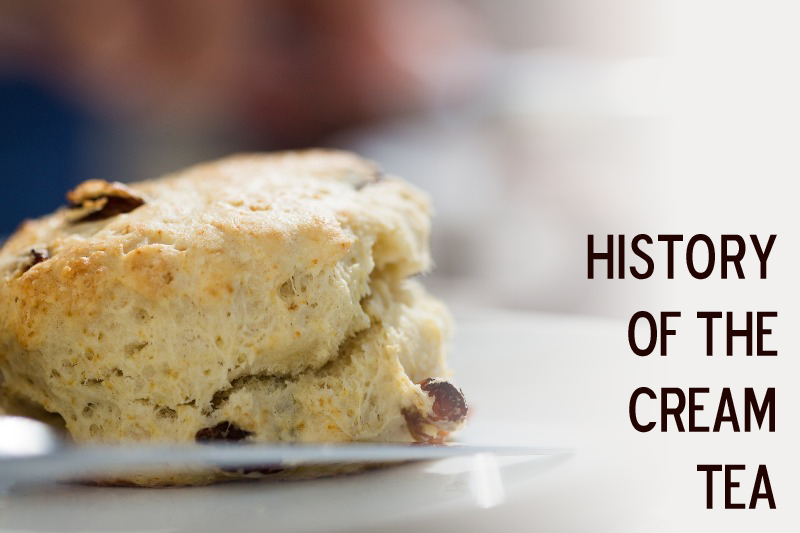 It's National Cream Tea Day so we thought what better way to celebrate than by delving into the history of this delightful treat as we tuck in to a Devon favourite!
The origin of the cream tea is often disputed (Cornwall, we're looking at you!) but for the most part, according to local historians, it would seem that the act of adding jam and cream to bread seems to have originated in Devon at Tavistock Abbey during the 11th century. The cream tea we know and love today is of course a little different to those enjoyed back then, nowadays it's a simple combination of a freshly baked, warm scone, sumptuous clotted cream and tangy fruity jam, traditionally strawberry, and a steaming pot of tea.
Both Devon and the neighbouring county of Cornwall are renowned for their cream teas and over the years it has become somewhat a rite of passage when you visit either county. The argument over whether or not cream should be added first or jam has divided the two West Country holiday spots for years. As for us here in South Devon, it's always cream first, but quite frankly, as long as you're enjoying it, we don't think there's need to worry! For the best places to have a cream tea in South Devon, have a read of our list here.
For those looking for an all out feast of this sort when you're visiting South Devon, an afternoon tea could be the perfect indulgence. Not to be confused with a regular cream tea, the afternoon tea is said to have been introduced in England during the mid 19th century by a Duchess of Bedford when she requested bread, butter, cake and tea at around 4 o'clock in the afternoon. From here it became more of an event and by the 1880's upper-class women would dress up to enjoy their afternoon luxury. These days, afternoon tea is widely enjoyed across the UK, but of course here in Devon, we do it best. From themed teas to traditional, ones that look too good to eat, to the little more unusual; you can be sure to find some finger sandwiches, scones, treats and maybe a glass of fizz or two for you and your loved ones to enjoy. Check out our most Instagram-worthy cream teas in South Devon here.
We hope that you'll be joining us this National Cream Tea Day as we raise a tea cup to this delicious Devonshire tradition and have yourself a cream tea wherever you are in the world!
Keep up to date with all things South Devon by signing up to our e-newsletter here. We'll keep you posted with upcoming events, new blog posts, competitions and more.
Other Posts You Might Like
Related
0 Comments