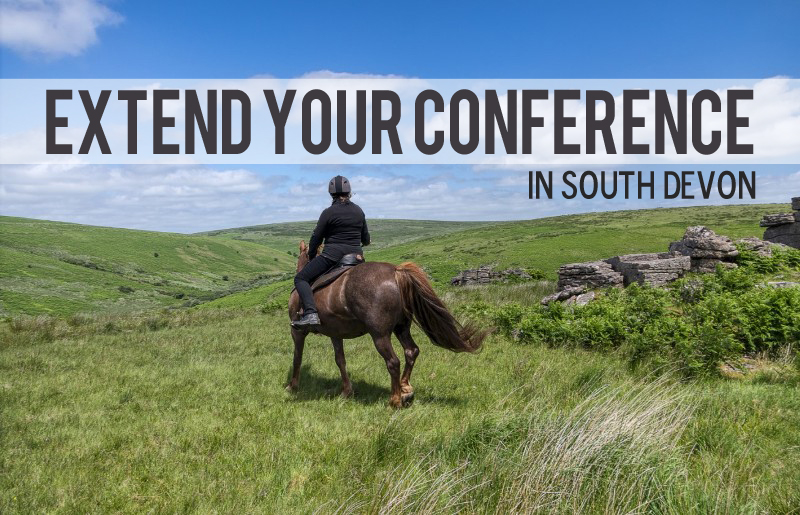 If you're visiting South Devon for a conference or event you might not get to explore and experience all the great things which this county has to offer. Conferences are often all in the same building, with dinner often served in the same place or you are ferried there by coach, giving you little chance to see what makes Devon so great.
But as you're already here, why not add on a day or two to your stay and see for yourself what Devon is all about and try some of the great activities and attractions found throughout the region.
Devon is an adrenalin junkie's playground with a wide variety of sports or activities on offer, so if your passion is getting active take some time after your conference to experience what we have on offer.
The vast landscapes of South Devon provide miles of cycle routes, mountain biking trails and countless way marked walking routes as well as plenty of places to explore on horseback. The region's rivers and estuaries are great places to go kayaking, canoeing or wild swimming, with sailing, stand up paddleboarding and coasteering all offered along the coast.
Inland you'll find indoor climbing centers, high rope courses and even hot air balloon rides.
If you want to explore South Devon's history heading to Exeter is a great place to extend any visit. With Roman ruins, a Gothic style Cathedral and medieval underground passages as well as museums and a historic quayside, Exeter is a treasure trove of historic sites.
If prehistoric and ancient history is your passion, make your way to the Blackdown Hills AONB where you can find Iron Age hillforts and Bronze Age barrow cemeteries or visit Dartmoor National Park where stone circles and ancient settlements can be found.
For the nature lovers among you South Devon won't disappoint if you decide to stay an extra day or two. With nature reserves and Areas of Outstanding Natural Beauty as well as a National Park, there's wildlife waiting for you around every corner.
If you want to combine your wildlife spotting with a bit of speed, then Devon Sea Safari could be just want you're looking for. With a range of tours on offer you can see the region's wildlife from their RIB Whistler.
With some of the country's best food and drink on offer there are a number of spectacular food based attractions throughout the region which are a fantastic reason to extend any visit. For wine lovers Sharpham Wine and Cheese is a must, you can enjoy a tour of the vineyards followed by wine and cheese tasting. If beer is more your thing, why not visit Salcombe Brewery where tours and sampling and be enjoyed, as well as a well stocked shop.
Stay up-to-date with all things South Devon by following us on Twitter here and liking our Facebook page here.
Other Posts You Might Like
Related
0 Comments