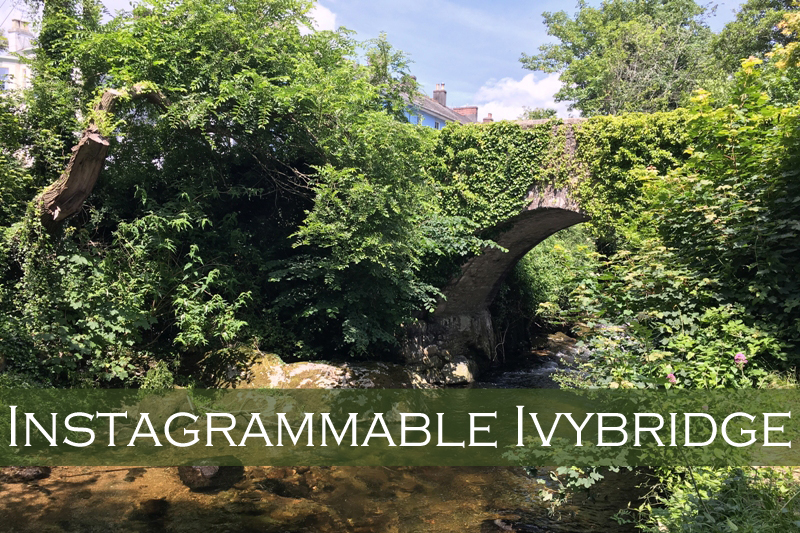 The charming town of Ivybridge is just a stone's throw from Dartmoor National Park and is the ideal South Devon destination for those looking for a quieter break in the region. Its close proximity to Dartmoor and easy access to some staggering coastline in the South Hams means it's no surprise that there's a ton of superb photos to be had in and around the town. Find out our favourite spots to photograph in Ivybridge and the surrounding area below.
Ivy Bridge
First on our list, we couldn't talk about Ivybridge without mentioning the actual Ivy Bridge in the town from where Ivybridge gets its name! It is reported that a bridge has been in this location to cross the River Erme since as early as 1250 and it has been photographed, painted and appeared as the postcard image for the town for hundreds of years. As such an iconic landmark, we just had to include it in our most Insta-worthy spots in Ivybridge.
Filham Park
A wonderful recreational area, Filham Park is located just outside the town centre. The perfect place to enjoy a family picnic or take your dog for a walk, the park also boasts a fishing lake, ideal if you're a keen angler. The lake makes for a very pretty photograph and the surrounding walks mean there are plenty of great opportunities for a snap which will certainly look good on your social media feed.
Situated in the South Devon Area of Outstanding Natural Beauty, Thurlestone Beach is a short drive from Ivybridge. The golden sands and unspoilt scenery of this beach makes it popular with those looking for a quieter beach day away from the hustle and bustle of the main tourist spots. The most distinctive feature of Thurlestone Beach is Thurlestone Rock, an impressive archway in the sea that has been shaped over time. For more information about Thurlestone Beach, please click here.
Longtimber Woods
Longtimber Woods in Ivybridge rests on the edge of Dartmoor National Park. Covering around 53 acres, the woods are a magical area to explore with plenty of interesting historical features. One being a disused swimming pool which started its life as a reservoir to serve the town, it's now a barbecue and picnic area. Probably the most photographed historical landmark in Longtimber Woods is the railway pillars that are left from the original 1848 Brunel line.
The Exeter Inn
About a 15 minute drive from Ivybridge in the small market town of Modbury, you'll find The Exeter Inn. A 14th century coaching inn, this traditional country pub has an open fire to cosy up to in winter and a fantastic beer garden for the warmer months. However, it's The Exeter Inn's fabulous exterior that landed it a spot on our list of the most instagrammable spots in and around Ivybridge.
A little way from Ivybridge on the South Devon coast opposite Bigbury-on-Sea Beach, Burgh Island is one of the South Hams' most popular spots. The tidal island can be reached on foot at low tide but as the water level rises, visitors can hop aboard the famous sea tractor to make the crossing. Whether you're on Burgh Island looking back to shore or gazing out to the island from the mainland, you're certain to get an idyllic Insta-worthy shot. Explore Burgh Island here.
Turtley Corn Mill
If you follow the border of Dartmoor National Park from Ivybridge round to the north east, you'll come across Turtley Corn Mill, a family run pub with 6 bedrooms offering bed and breakfast. 6 acres of land surrounds the establishment and they even have their very own lake, perfect for feeding the ducks! The real showstopper that you'll definitely want to take a picture of is one side of the property, often covered with foliage and complete with mill wheel.
Although a short drive from Ivybridge, we wanted to include Bantham Beach on our list as it's a destination that won't leave you disappointed if you fancy heading to the coast whilst staying in the town, and it's nearby to Burgh Island so you can hit two of our favourite spots in one go! A vast expanse of golden sand and an extremely popular beach with surfers, Bantham Beach provides all one might need for a great day at the beach, as well as being a particularly picturesque setting with the River Avon estuary, meaning you're sure to get that photo for your social feed. Explore Bantham Beach here.
Lukesland Gardens
Lukesland Gardens are on the edge of Ivybridge within Dartmoor National Park. The family-run, 24 acre gardens are open seasonally during the spring and autumn months and have an onsite tea room. Lukesland Garderns are beautifully kept and definitely deserve a visit if you're nearby when its open to guests, we can assure you that you won't struggle to choose a perfect spot to photograph!
Erme Estuary
Finally on our list, we have the Erme Estuary. The River Erme wends its way through the centre of Ivybridge providing ample photo opportunities, but if you follow the Erme towards the coast, you'll reach the part that we truly love, the estuary. On a sunny day this part can look like something from a Caribbean island, particularly around Mothecombe!
Make sure you're following us on Instagram here where we're sharing our favourite photos taken by you! For your chance to be featured, tag us in your photos of South Devon using #southdevon, #visitsouthdevon or @visitsouthdevon.
Other Posts you Might Like
Related
0 Comments